Macca's Monopoly came back for 2023 with a gigantic selection of prizes to be won! And while it's already over, it's worth reading how it all went down, so you know what to expect from the promotion in 2024.
If you're lucky enough to live in Australia and enjoy a McDonalds meal, then you might have also been the lucky winner of some incredible prizes including cars, home appliances, gift cards worth thousands of dollars and a whole lot more – with a total prize value of over $786 million!
Whether you want to know more about the prizes that were available, the eligible items on the menu, the rare pieces you needed to collect or how the app works, this guide will tell you everything you need to know.
(Not in Australia? Head over to the UK McDonalds Monopoly page, the Irish McDonalds Monopoly page or the Canadian McDonalds Monopoly page)
Macca's Monopoly Start and End Dates
The Macca's Monopoly promotion started on 6th September 2023 at one minute past midnight (Sydney time). It ran for a total of 7 weeks although prizes could be claimed past this date.
McDonalds Monopoly for 2023 ended on the 24th October 2023, which is the deadline for registering your tickets on the app. Prizes were eligible to be claimed until 29th October 2023.
So after 24th October, you weren't be able to buy any items from McDonalds that had stickers, but you did have a few more days to register them on the MyMacca's app. You had until 29th October to claim your prizes.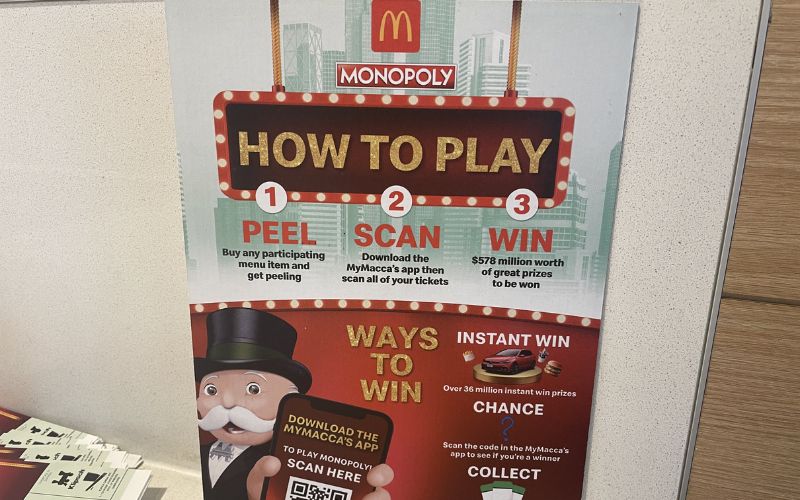 Any prizes that weren't claimed by that date will go into a Second Chance Draw. You gain entries for the draw every time you scan a token in the app. The draw will be made at 3pm on 7th December 2023.
And once that draw is made, if any prizes still aren't claimed by 27th February 2024, then another Second Chance Draw will take place on 7th March 2024. So the promotion could end up rumbling on for almost seven months if prizes aren't claimed.
How To Get Maccas Monopoly Tickets
You get Macca's Monopoly tickets by ordering eligible items from the menu. They'll come attached to the box or cup containing your food – just peel them off to see what you have won.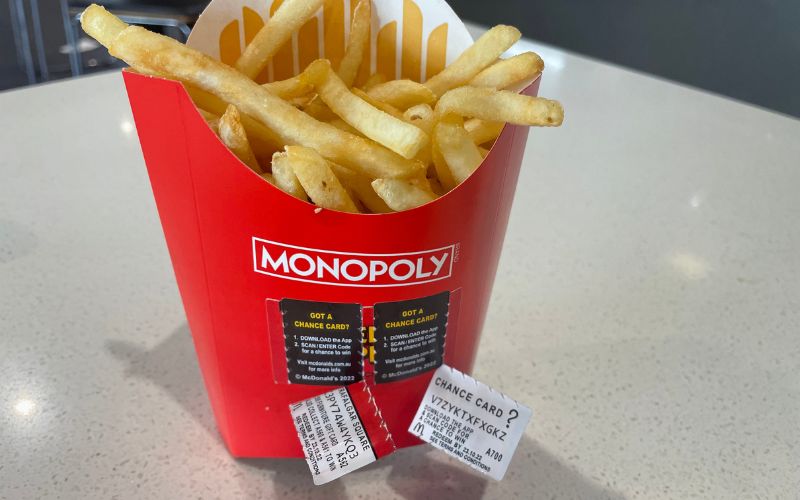 Some of the tickets are Chance cards – these need to be scanned into the app and will either let you collect a property or win a prize, either food or a non-food item.
Chance cards are also earned on the MyMacca's app, and can be awarded randomly, or when you redeem a MyMacca's Reward using your points.
Can You Buy Maccas Monopoly Tickets?
According to the terms and conditions of Macca's Monopoly, you aren't allowed to sell or trade Monopoly tickets to anyone else. It is possible to find tickets for sale, often on eBay, but be careful – tickets already registered on the MyMacca's app are worthless to anyone else.
McDonalds tries to discourage the sale of pieces, which is why they can now only be claimed through the MyMacca's app. The fact that all tokens must be registered is a deterrent, because you take a huge risk buying them when the seller might already have registered the code.
You have to keep any Monopoly pieces that you wish to make a claim with, even if you have registered them on the app. You may be asked to provide the winning tickets alongside your claim as validation, so make sure you keep them safe.
Not all tokens are physical – you may win digital properties through the app. Obviously, for these you won't have a physical ticket, but as long as you keep the hard copies of any that you do have, you should be fine. You can make prize claims using a mix of both physical properties and pieces won digitally.
Maccas Monopoly Prizes
There are millions of prizes to be won as part of McDonalds Monopoly each year. There are 9 different prizes to be won through Collect & Win – one for each set of properties, including the stations. And there are many more that are available as an Instant Win.
The top prize in 2023 was an Isuzu MU-X LS-T SUV. There were two of these up for grabs – one in the Collect & Win side of the game, and another available as an Instant Win.
Within the Instant Win prizes, most were either single items, prize bundles or gift vouchers. There was a list of food prizes too, and also some prizes that are discount codes, offering money off at certain retailers but requiring you to spend a minimum amount to qualify.
You can see the full list of Macca's Monopoly prizes here.
How To Play Macca's Monopoly
In order to play Macca's Monopoly, you'll need to download the MyMacca's app and set up an account. This is where you can redeem your prizes and collect your properties, tracking how far you have to go until you win.
Of course, you can only play while the promotion is running. You won't see anything about Maccas Monopoly in the app during the rest of the year.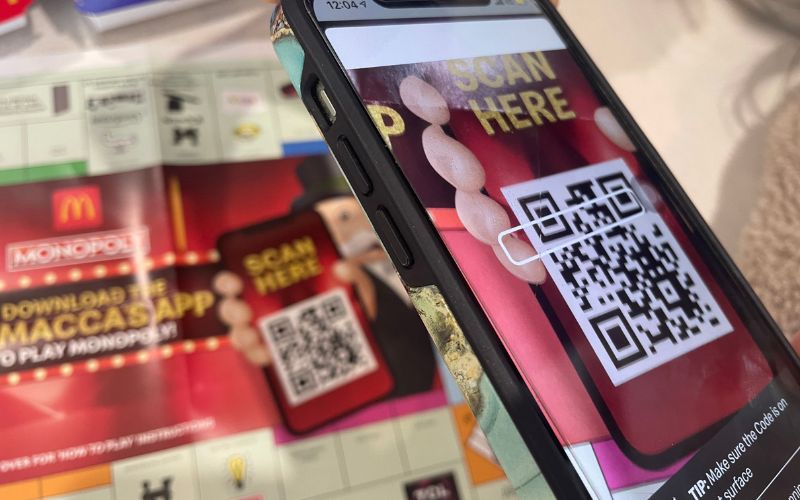 Then, every time you order an eligible item from the menu, you'll be able to collect pieces. These pieces will take one of three forms:
1. Instant Win
If you pull an Instant Win card then you win the prize on the token. You can register it in the app, but make sure you keep the piece safe as you'll need that to claim as well. These can range from a small fries all the way up to a car.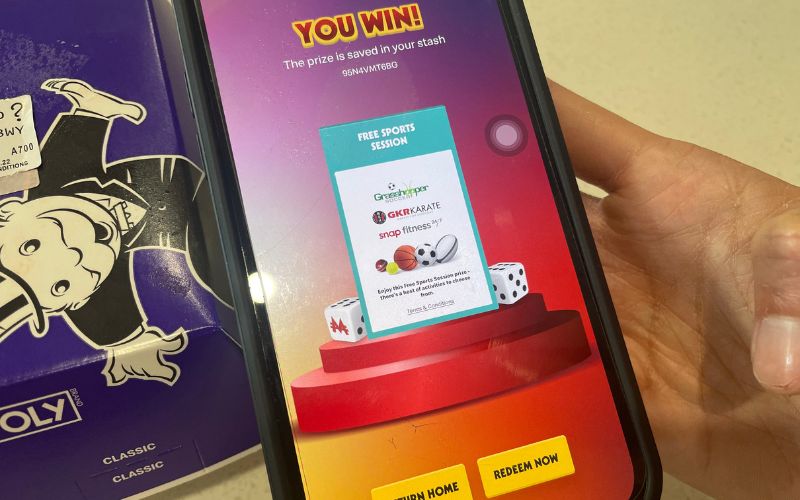 2. Chance Cards
Chance cards are like bonus cards – as you enter the code for them on the app, you'll then either receive a property card, or an instant win. These digital pieces work exactly the same as the physical stickers you've pulled, and you can mix and match between them to create a set.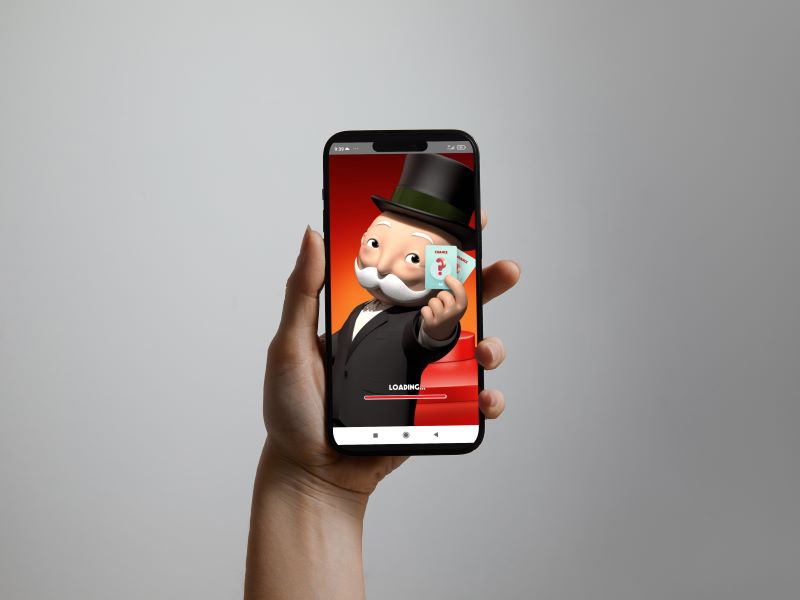 3. Collect to Win
The third type of token will be a property – either one of the coloured pieces from the game board, or a rail station. If you collect the whole set then you win the prize for that set.
Eligible Food Items
Not every item of food on the Macca's menu is eligible for the promotion. If you want to take part, make sure you find out which items include pieces.
Generally, any cold cup beverage or hot drink will be included, along with medium and large fries, sharer nuggets, chicken salads, larger burgers and McFlurries. At breakfast, hotcakes and hash browns are included.
Notable items that don't come with tickets include smaller burgers, bottled and frozen drinks, sundaes, wraps and the main vegetarian and vegan ranges, including the McVeggie and McPlant.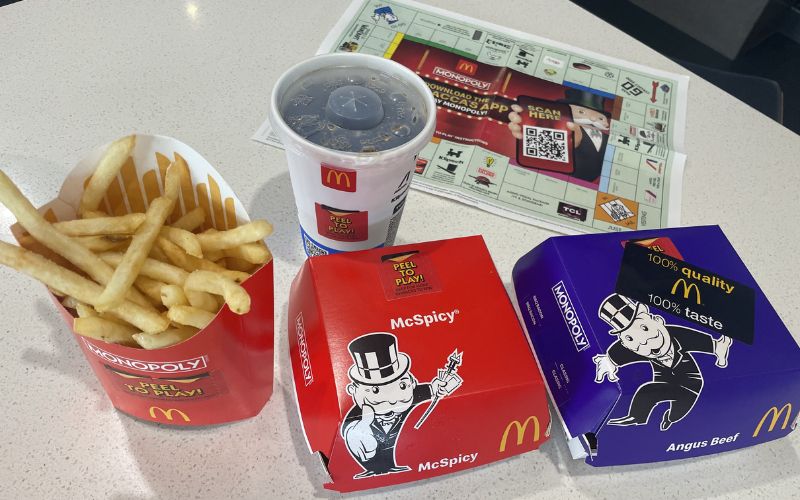 See the full list of Maccas Monopoly qualifying menu items.
Rare Macca's Monopoly Pieces
There were not equal numbers of each property for the Collect & Win game in Macca's Monopoly 2023. Instead, some of the properties are considered to be rare pieces. There are only as many of these as there are prizes for that colour group, so they are exceptionally rare.
The rare Monopoly pieces for 2023 included Park Lane, Regent Street, Piccadilly, Fleet Street, Marlborough Street, Whitehall, Euston Road, Old Kent Road and Fenchurch St Station.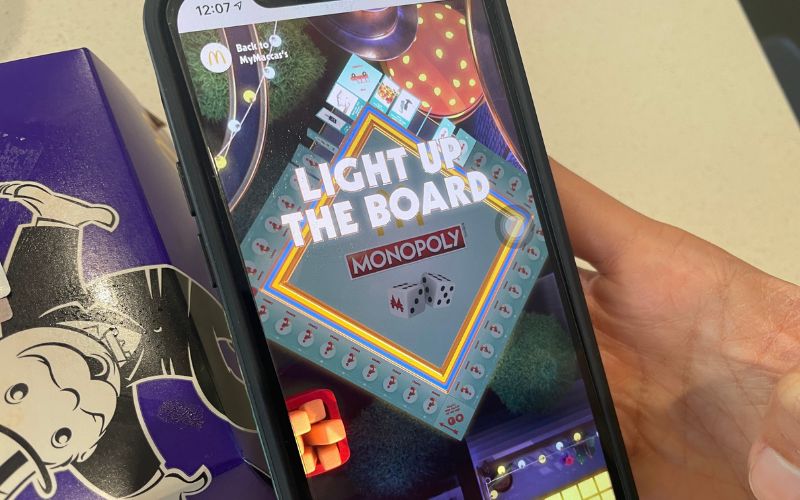 Read more: Is Mayfair Rare in McDonalds Monopoly?
How To Redeem McDonalds Monopoly Prizes
When it comes to how to claim a prize, everything is a lot easier now through the MyMacca's app. Once you've collected the tokens you need to win a prize, just hit the 'Redeem' button in the Macca's Monopoly section of the app and follow the instructions.
Some higher-tier prizes will require you to provide the physical tickets as proof, otherwise, your prize claim won't be validated. So make sure you retain all pieces until you claim.
If you get a food Instant Win, you don't need to add this to the app, you can just exchange it in store. If you want to use it for a mobile pay order then you will need to register it in the app.
Can You Redeem Multiple McDonalds Monopoly Prizes?
If you have won multiple McDonalds prizes, either through Collect & Win or Instant Win, you can claim them all. The only exception is where you have won multiple food prizes – it's one food prize per person, per visit. You can claim them all, but not at once.
But yes, there is nothing stopping you from claiming more than one prize with Macca's Monopoly if you're very lucky.
Has Anyone Won Maccas Monopoly?
Every year there are a lot of winners in the Monopoly Maccas game. The prizes do get given away, even if they have to make it to the Second Chance Draw that happens a few months after the promotion closes.
In 2019, a 14-year-old boy from Shepparton won the major prize of a Suzuki Swift, which he had to share with his parents until he was legally old enough to drive it himself.
And in 2021, a 26-year-old revealed that he dropped his food on the ground when he found out he'd won a $10,000 gift card.
So there are winners every year – why won't it be you?
Maccas Monopoly FAQs
Where can I use my Maccas Monopoly retail voucher?
There are multiple vouchers given away as prizes in Macca's Monopoly, including for McDonalds itself. Retail gift card instant win prizes are for ShopBack, with a huge range of fashion, food, home and other stores where you can spend your voucher.
Can you use Maccas Monopoly on Uber Eats?
You can't use any Instant Win food prizes from Macca's Monopoly on Uber Eats or any McDelivery platform. They can only be redeemed in-store or in the drive-through. You can claim them via mobile order if you're collecting your food.
Can you use more than one Monopoly coupon at McDonalds?
You can only claim one Monopoly Instant Win food prize at McDonalds per person, per visit. So if you have three prizes but there are three of you, you will be able to claim them all at once. Otherwise, you will need to make repeat visits to claim your prizes.
Can you use McDonalds Monopoly Instant Win at the Drive Thru?
Monopoly Instant Win can be used at the drive-through. You just need to state that you're using a prize when you place your order. You can also order on the mobile app, and collect it at the drive-through. There's an option to generate a code that you'll need using your prize sticker.
Can Maccas employees play Monopoly?
Maccas employees aren't eligible to take part in the Monopoly promotion, and neither are their immediate family members. If your immediate family member works at Macca's and you win a major prize, it will be rejected by the promotion team when you try to verify your claim.