It's the time of the year when McDonalds stores around the world begin their McDonalds Monopoly promotions, and in Ireland, it's no different.
We're already underway and for the next few weeks, every time you order specific food items in a participating store you'll have the chance to win some amazing prizes.
But what's up for grabs? What are the rare properties that you need to be on the lookout for this year? And how do you claim if you do win? Don't worry, I've got all the answers.
When Is McDonalds Monopoly?
McDonalds Monopoly 2022 in Ireland is already over – it began on 7th September 2022 at midnight. It ran for around six weeks in total, which is a little shorter than in some places around the world but is normal for McDonalds in Ireland.
With the promotion already over for 2022, you'll need to wait until next year if you want to try your luck.
When Does McDonalds Monopoly End?
McDonalds Monopoly ran in Ireland until Tuesday 18th October 2022. You won't be able to collect any more prize stickers, but you can still claim any prizes you've won until 15th November 2022.
Some instant win prizes actually have an extended deadline too, giving you until the end of the year to claim. But you should try to hit that 15th November deadline regardless, to make sure you don't miss out.
This is a more generous prize claim window than in many countries, where the deadline to claim prizes is just a few days after the end of the promotional period.
How To Play McDonalds Monopoly
If you want to play McDonalds Monopoly the next time the promotion is running, you'll need to head to your local McDonalds store and buy eligible items from the food menu. Items come with game pieces stuck to them – peel them to see if you've won.
You'll either find a property token, or an instant win. If you find an instant win then you have won the prize immediately, but with properties you need to collect the entire set of one colour in order to claim the prize.
You can register your tokens on the McDonalds smartphone app to register them in your name, but you still need to keep them safe as they'll be needed to validate your claim.
How To Use McDonalds Monopoly Coupons
If you've collected any properties, then you can register on the McDonalds app on your smartphone. This makes sure that the properties are assigned to your name – nobody else can claim that voucher. Use the McDonalds Monopoly code checker on the app to register your property.
You don't need a McDonalds Monopoly board, but there is one on the app to remind you of any properties that you've collected, so you can see at-a-glance which ones you need to collect to complete a set.
If you've won an instant win prize, you can redeem that on the app, unless the prize voucher has different instructions (some will direct you to a third-party website set up by the prize provider).
To redeem McDonalds Monopoly coupons for free food, you can either use them in-store or at the drive-thru, or register them on the app to get a code if you want to use mobile ordering.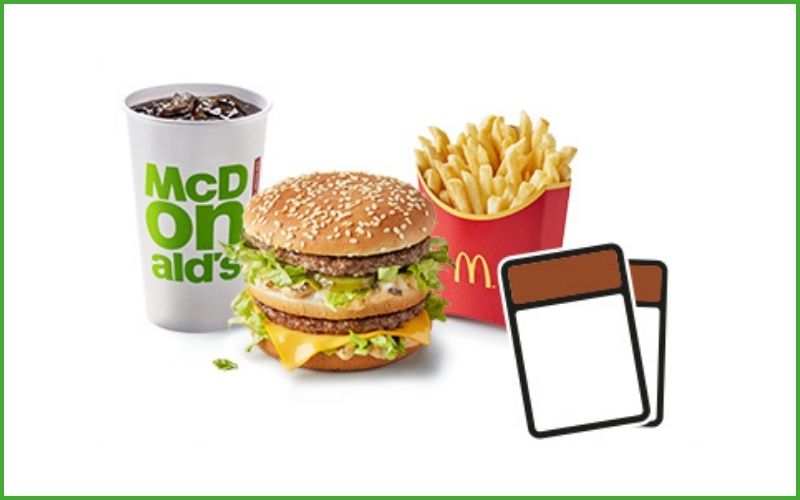 What McDonalds Items Have Monopoly Stickers?
Not every item on the McDonalds menu comes with Monopoly game pieces. You'll get them with selected larger burgers, soft drinks, chicken salads, selected wraps, fries, McFlurries and mozzarella dippers.
There are different numbers of game pieces depending on what you buy, so here's a full list including the number of pieces you get with every item:
Big Tasty – 2 game pieces
Big Tasty with Bacon – 2 game pieces
6, 9 or 20 Spicy McNuggets – 2 game pieces
3 or 5 Chicken Selects – 2 game pieces
Chicken Legend – 2 game pieces
Big Flavour Wrap – 2 game pieces
Veggie Wrap – 2 game pieces
McPlant – 2 game pieces
Soft drink – 2 game pieces
Caramel Iced Frappe – 2 game pieces
Frozen Strawberry Lemonade – 2 game pieces
Chicken & Bacon Salad – 2 game pieces
Chicken Salad – 2 game pieces
Fries (Medium or Large) – 1 game piece
Mozzarella Dippers – 1 game piece
Mars McFlurry – 1 game piece
Twix McFlurry – 1 game piece
What Are The McDonalds Monopoly Prizes?
There are three main prize categories in McDonalds Monopoly 2022 in Ireland. The top prize in the Collect To Win prize list is €10,000 cash, while there are hundreds of instant win prizes including gift cards, subscription passes and more, along with food items.
Starting with the Collect To Win prizes, these are the ones that you needed to collect a full colour set of properties in order to win. The prizes available this year were:
Dark Blue – €10,000 cash
Green – €2,000 holiday
Yellow – €1,000 to spend on home entertainment
Red – Nintendo Switch
Orange – €100 fashion voucher
Pink – Skullcandy wireless earbuds
Light Blue – €50 JD Sports gift card
Brown – Medium Extra Value Meal or Big Flavour Wrap Meal
Stations/Airports – TV with 12 Month Paramount+ Subscription
Then there's a huge list of instant win prizes that you can win just by peeling the relevant sticker on your game piece.
Here are the instant win prizes that you could've got:
€1,000 One4All Gift Card
McDonalds Gold Card – one meal per week for a year
€200
Tayto Park pass for 4 people
McDonalds bean bag
Paramount+ Annual Subscription
Skullcandy wireless earbuds
€50 Beauty Box from Glossybox
€50 JD Sports gift card
€50 Prezzybox voucher
Hype backpack
€30 fashion voucher
Pair of cinema tickets
McDonalds branded reusable water bottle
Choice of a licensed t-shirt from Zavvi
There are also many thousands of discount codes that you could've won. These do require you to spend your own money, but you could get some decent offers, including €10 off when you spend €30 at Skullcandy, or a massive €75 off when you spend €750 with Tui.
Finally, there are the food prizes – instant win prizes that let you pick up a free food item on your next McDonalds visit. These almost always give you an option, so if you're picky then you at least can choose between two items. The only exceptions are when you win a hash brown, or a Coke Zero.
The food prizes were:
Free Quarter Pounder with Cheese OR McPlant
Free Big Mac OR Big Flavour Wrap
Free McFlurry OR Fruit Bag
Free Mini McFlurry OR Fruit Bag
Free Apple Pie OR Fruit Bag
Free Sugar Donut OR Fruit Bag
Free Hash Brown
Free Medium Coca-Cola Zero
Free 6 McNuggets OR Mayo Chicken
Free Sausage & Egg McMuffin OR Cheese Toastie
Free Small Fries OR Veg Bag
Free Regular McCafe Hot Drink
Free Hamburger OR Side Salad
What Are The Rarest McDonalds Monopoly Pieces?
When you're trying to win a Collect To Win prize, you need the complete set of properties. But in each set, there is a rare piece – one that is super-hard to find.
There are only enough of these as there are prizes to claim, so if you find one of these in the next promotion, keep it safe! And then get to work on completing the set with the common properties you're missing.
The full list of rare McDonalds Monopoly pieces is:
Dark Blue – Shrewsbury Road (M351)
Green – Grafton Street (M349)
Yellow – North Earl Street (M345)
Red – Abbey Street (M341)
Orange – Dame Street (M339)
Pink – Nassau Street (M337)
Light Blue – South Circular Road (M333)
Brown – Crumlin (M330)
Stations/Airports – Shannon Airport (M355)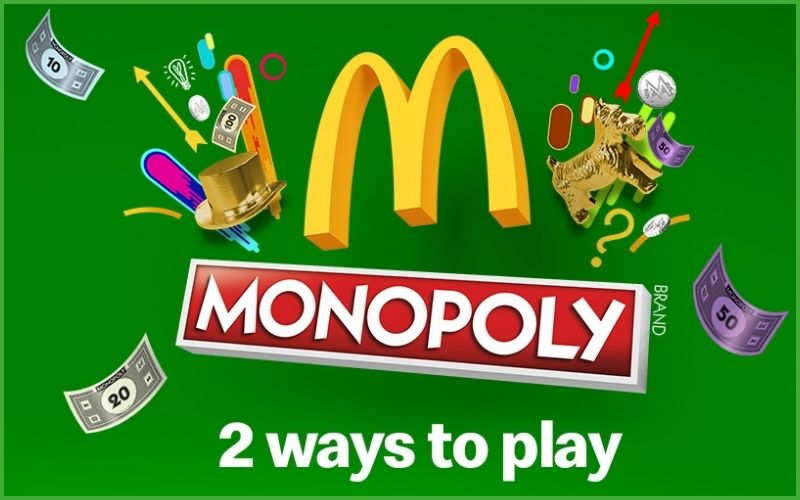 The Bottom Line
McDonalds Monopoly is already finished for 2022 so if you want to take part, make sure you keep an eye out for its return. Good luck hunting down those instant win prizes and rare properties – and if you don't win, just enjoy your meal!
Related Posts: