While the majority of the prizes in Macca's Monopoly are Instant Wins, some of the biggest prizes rely on you collecting the properties to gather a full colour set. And a lot of the stickers that you get will be for the common properties.
But which are the hard-to-get properties – the rare ones that will win you the prize? There aren't many of these stickers at all, so if you do get one then you should absolutely keep playing until you get that prize.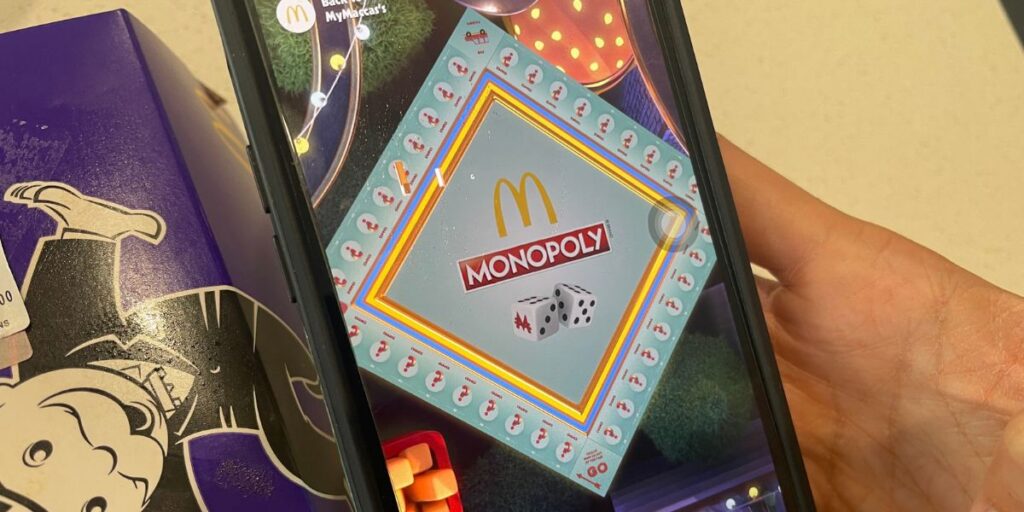 Here's a full guide to the rare pieces in the McDonalds Monopoly game for Australia in 2023.
What Were the Rare McDonalds Monopoly Pieces in 2023 in Australia?
| Piece | Colour | Voucher No. | Prize | Number Available |
| --- | --- | --- | --- | --- |
| Park Lane | Dark Blue/Navy | A209 | Oppo Find X5 Smartphone | 5 |
| Regent Street | Green | A211 | Isuzu MU-X LS-T SUV | 1 |
| Piccadilly | Yellow | A202 | $10,000 Amart Furniture Gift Card | 1 |
| Fleet Street | Red | A221 | $10,000 Amazon Gift Card | 1 |
| Marlborough Street | Orange | A218 | Free Fuel for 1 Year | 2 |
| Whitehall | Purple | A224 | Weber Family BBQ | 30 |
| Euston Road | Light Blue | A215 | 10-night South Pacific Cruise for 4 | 5 |
| Old Kent Road | Brown | A207 | TV & Soundbar | 10 |
| Fenchurch St Station | Stations | A206 | Eftpos $25,000 Gift Card | 1 |
Unlike some versions of Macca's Monopoly (such as the UK McDonalds Monopoly game), the colour of the pieces doesn't necessarily equate to the best prizes.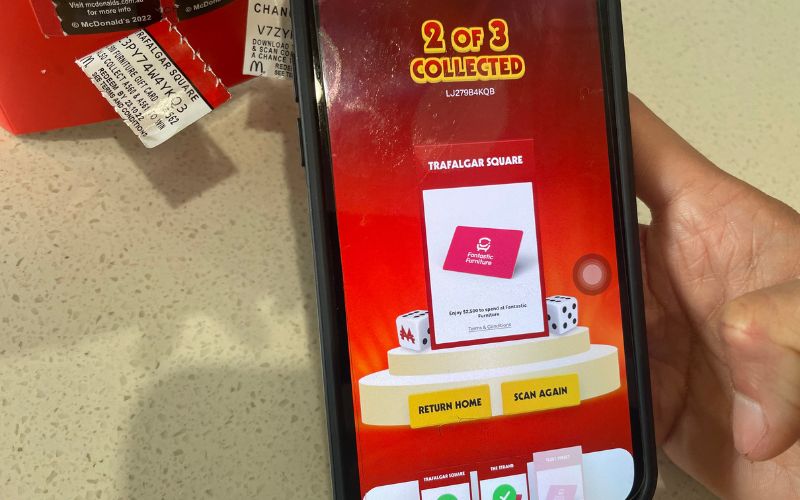 Dark blue is the most valuable piece in the game, but it isn't the top prize – that's the car, which you get for the green properties. Some of the other best (or at least, most valuable) prizes are assigned to yellow, red and the stations.
The lowest value prize is the one you win if you collect the pink/purple properties, which in 2023 was a family BBQ from Weber worth $999. So it's still a great prize!
You can see a full list of all Macca's Monopoly prizes (including Instant Wins) here.
What is the rarest property in Maccas Monopoly?
The rarest properties in Macca's Monopoly 2023 were Regent Street (Green), Fleet Street (Red), Piccadilly (Yellow) and Fenchurch Street (Stations). There was only one of each. The most common of the rare pieces was Whitehall, with 30.
The other rare prizes are still high value, including a year of fuel (worth $4,000) and gift cards worth $25,000 and $10,000.
There are a maximum of almost 200 million tickets to be given out as part of the game, so finding one of these four rare unique ones had odds of 1 in 50 million.
But finding any of the rare stickers, which are the key to a Collect & Win prize, has slightly better odds since there are 56 in total. That means you have a 1 in 3.5 million chance of pulling one of the hard ones to get.
How to Win the Car in McDonalds Monopoly
To win the Isuzu MU-X LS-T in McDonalds Monopoly 2023 you needed to either collect all the green property tokens, or get an Instant Win for the car either with a physical sticker or in the app. There were just 2 cars available – one with property tokens and one as an instant win.
You were looking for the green tokens, but expect to collect a lot of Oxford Street and Bond Street ones. Regent Street was the rare one this year, and there was only one of them in the whole game.
If you get Regent Street, you have to keep playing until you get the others either with a physical sticker or as a digital property. Make sure you keep the stickers, even if you register them in the app, otherwise you can't claim your prize.
What To Do if You Find a Rare Maccas Monopoly Card
If you find a rare Maccas Monopoly card, you have to register it in the MyMacca's smartphone app. While you can get a physical gameboard on your tray liner if you eat in, everything is being managed through the app.
Tickets have a unique 12-character code, so once you enter it in the app, it'll verify that you have a rare one. Make sure you keep the sticker! Even once registered, you'll need it to verify your claim.
Then, once the rare one is registered, you're on the hunt for the common pieces in that colour. Make sure you keep buying McDonalds Monopoly menu items so that you have the best chance of pulling the tickets you need to complete the set.
Once you have a complete set and you register it in the app, you'll be given the option to claim your prize.
The Rare McDonalds Monopoly Tickets In Each Colour
Dark Blue
The rare Macca's Monopoly ticket for dark blue in 2023 was Park Lane – voucher number A209. If you completed the Dark Blue set, you won an Oppo Find X5 Smartphone worth $1,199.
Green
The rare green ticket in 2023 Macca's Monopoly was Regent Street, voucher number A211. Completing the green property set won you the top prize of the Isuzu car worth $75,014.12.
Yellow
Piccadilly was the rare yellow property in McDonalds Monopoly 2023, with the voucher number A202. Completing the yellow set of properties won you a $10,000 gift card to spent at Amart on furniture.
Red
The rare red property card for Macca's Monopoly in 2023 was Fleet Street – voucher A221. If you got the complete red set of properties, you won a $10,000 Amazon gift card.
Orange
Marlborough Street was the rare property token for the orange colour set in 2023 Monopoly for McDonalds. Gathering all three orange property cards won you free fuel for a year worth up to $4,000 from Ampol.
Purple
The rare property token for the purple set of properties was Whitehall, with the voucher code A224. If you got all three purple properties then you won Family Q+ Premium BBQ from Weber, worth $999.
Light Blue
Euston Road (A215) was the light blue property that you wanted to look out for, as that was the rare one for 2023 Macca's Monopoly. If you got all three blue properties, then you won a 10-night South Pacific Cruise for 4 people with P&O Australia, worth up to $8,000.
Brown
The rare brown property for Macca's Monopoly 2023 was Old Kent Road – voucher number A207. If you found both Old Kent Road and Whitechapel Road, you won a TV and Soundbar set worth $4,698.
Stations
Of the four rail stations, the rare property card in McDonalds Monopoly 2023 was Fenchurch Street Station – voucher A206. Collecting this and the other three stations won you an impressive $25,000 Eftpos gift card to spend anywhere it's an option.
The Bottom Line
You have much higher odds of winning an Instant Win prize in Macca's Monopoly, but that doesn't mean you should disregard the Collect & Win property tickets. There are some great prizes to be won, if you're lucky enough to find a rare one.
Check every sticker you get when playing Monopoly Maccas, and as soon as you find a rare one, make sure to register it on the MyMacca's app and then keep it safe until you've found the rest of the property set. Good luck!