There over 3,000 versions of Monopoly, which is quite an intimidating amount of choice. And the list continues to grow all the time!
While some Monopoly versions simply change the tokens and rename the properties, some have very different rule sets too.
To help you find the best Monopoly version for you, here are 20 of the most popular Monopoly board game according to the number of copies sold and their review scores on Amazon.
If you like to play Monopoly online or on your games console, you should also check out this list of the 12 Best Monopoly Video Games.
1. Monopoly Classic
Age: 8+
Number of Players: 2 to 6
The original and standard-bearer. Of all the Monopoly games you can buy, the most popular is always going to be the original game. It's the one that everyone loves, with traditional property names (localized to where the game is sold) and the standard set of playing tokens, even though they've been updated over the years.
A lot of people don't want to deviate from pure Monopoly and prefer this version over all others. It's worth reading the rules though because not everyone knows the correct ones and you might be surprised to find that you've actually been playing it wrong all along.
2. Monopoly Unicorns vs. Llamas
Age: 8+
Number of Players: 2 to 6
Brace yourself for an overload of rainbows and cuteness with this adorable version of Monopoly. The board is similar to a standard one, although a little simplified with fewer spaces. The real difference is that players play on one of two teams, choosing to be a unicorn or a llama, and working together with teammates.
It's very popular because of just how cute and cuddly it is, for a game that is normally quite cut-throat. And it's one of the few Monopoly editions to encourage teamwork too, which is a nice change of pace.
3. Monopoly Ultimate Banking
Age: 8+
Number of Players: 2 to 6
Few versions of Monopoly bring it into the modern age quite like the Ultimate Banking edition, which replaces the paper cash with digital currency and bank cards. Simply swipe your card to make rent payments or when you gain money from passing Go or Chance/Community Chest cards.
It isn't just a fun novelty, it helps to speed up gameplay too, and means you don't need to spend ages sorting cash into respective notes at the end of each game – no wonder it's so popular.
Did you know? There are several electronic banking versions of Monopoly. You can see them all here, although I'd say that this Ultimate Banking version is the best of them all.
4. Monopoly: Cheaters Edition
Age: 8+
Number of Players: 2 to 6
Have you ever tried to cheat at Monopoly and swipe a little extra cash from the bank? If you were caught then you probably weren't very popular. But, the Cheater's Edition actively encourages it, with challenges that earn you rewards if you manage them without being caught.
This is one of those Monopoly versions that's worth getting because it really shakes up gameplay. And it's perfect for people who are usually stickers for the rules too – get out of your comfort zone and try being sneaky for once.
5. Monopoly Deal
Age: 8+
Number of Players: 2 to 5
Monopoly Deal is one of the best travel versions of the Monopoly. It's not a board game but instead is a fast-paced card game that retains a lot of the spirit of the main game – players can gain properties, make trades and take various actions to outwit their opponents.
A lot of people (me included) prefer Monopoly Deal to other travel versions of the game because it's not clunky but it's still a lot of fun, and short 15-minute games are perfect for quick games on vacation when you're winding down.
Suggested read: Monopoly Deal Rules
6. Monopoly Junior
Age: 5+
Number of Players: 2 to 4
Don't want to wait until the little ones turn eight years old to start playing? Monopoly Junior is a great edition aimed at kids as young as five. although my four-year-old loves it too!
It has cute, chunky tokens that are easier to hold. The property values are much lower which makes the math is a lot simpler for young kids.
Even the properties are kid-friendly too. A couple of the classics like Boardwalk keep their place, but others are replaced by the Ice Cream Parlor and the Zoo. This is the perfect introduction for younger Monopoly players.
7. Monopoly Junior: Unicorn Edition
Age: 5+
Number of Players: 2 to 4
Take the regular Monopoly Junior system, with fewer properties and cash in single-dollar denominations. Now throw in a whole load of magic and sugar and you get the Monopoly Junior: Unicorn Edition.
Play as the eponymous Unicorn or as the Unibunny, the Magic Puppy, or the Turtlecorn (no, seriously) and collect properties. If you can get a monopoly on the dark blue properties of 'Rainbows' and 'Clouds' then you're onto a winner!
8. Monopoly: Friends The TV Series
Age: 8+
Number of Players: 2 to 6
A lot of the most popular Monopoly editions are those where the rules are the same, but everything is just themed around a certain topic. And what better topic than the biggest sitcom of the late 90s (possibly the biggest ever?).
Tokens are themed around the main cast, such as an acoustic guitar (Phoebe) or a Joey special – two pizzas. Properties are replaced with episode references too. It's sure to hit the nostalgia spot for any die-hard Friends fan.
9. Monopoly Fortnite
Age: 13+
Number of Players: 2 to 7
Fortnite is one of the most popular video games ever, and so it's no surprise that the Monopoly version also ranks highly on the list. It doesn't follow normal Monopoly rules either – instead, players have to move around the board and avoid the storm, battling other players to be the last one standing – just like in the actual Fortnite game.
Players can choose from 27 different character outfits (made from card in a plastic stand – don't expect 27 solid tokens) and have to track health points while they play. Up to 7 players can play at once but it's only recommended for ages 13 and over.
10. Monopoly Game of Thrones
Age: 18+
Number of Players: 2 to 6
Game of Thrones was huge – so big that it's one of the few TV series to ever have multiple Monopoly editions. This latest one has a few quirks. Firstly, it's for adults only – this is due to some of the content on the chance cards that, while not explicit, touches on themes from the show more suited to grown-ups.
The chance cards sit on an iron throne too, and each playing piece is themed like a house sigil. The real selling point though is that there's a button you can press that plays the TV show's theme tune – so now you can really feel immersed in the world.
11. Monopoly Star Wars: The Child
Age: 8+
Number of Players: 2 to 4
If you don't know who 'the child' is, you haven't been watching The Mandalorian on Disney+. However, it's become such a cultural phenomenon you probably know it by its nickname: Baby Yoda.
It's inevitable this super-cute Star Wars creature would get a lot of merchandise and yes, it has its own Monopoly game. It's standard rules but on a smaller board (maximum of two properties per color) and each player plays as a differently-posed Baby Yoda. Disappointingly these are cardboard tokens on a plastic stand, but the artwork is still cute.
Suggested read: The 15 Best Star Wars Monopoly Games
12. Monopoly: Marvel Deadpool
Age: 16+
Number of Players: 2 to 6
Everyone's favorite Merc with a Mouth of course gets his own Monopoly edition. And it is super-Deadpool themed too. Every property is a variation of the Deadpool character, with Dr. Pooly and Maid Deadpool making up the dark blue section.
Unsurprisingly this is for mature audiences of 16+ (the center of the board has a twerking Deadpool image), with variations of the rules including the chance to steal from other players and take on contract cards.
13. Monopoly Stranger Things
Age: 14+
Number of Players: 2 to 6
Netflix's smash hit series Stranger Things gets its own Monopoly version themed around the first three seasons of the show. The game has 11 tokens but be careful not to get confused as one of them is a D20 to represent the boys' love of D&D – this isn't a die you should use in the game.
The game does have a special die that you do use though – a four-sided die lets players maneuver around the board through tunnels to get to new properties quickly. Just don't try flipping the board to the Upside Down – the pieces will fly everywhere.
14. Monopoly Toy Story
Age: 8+
Number of Players: 2 to 6
Celebrate the classic Toy Story movie series with this special edition board game. It's another variant that runs the classic rules on a slightly simplified board, making family games quick and action-packed.
Play as six of your favorite characters including Woody, Buzz, and the three-eyed alien as you collect properties from all four films in the series. Just make sure to keep an eye on all the tokens – perhaps they'll come to life when you aren't looking?
15. Monopoly Pixar
Age: 8+
Number of Players: 2 to 6
If you're a fan of all of Pixar's movies then this is a wonderful edition to add to your collection. Properties are taken from the entire range of films right up to Onward, so it's very up to date. This is a full-size Monopoly game using standard rules.
Pixar movies are super-popular so it's no surprise that this celebration of the studio is also popular with board game collectors. Just try not to fight over who gets the desk lamp playing token.
16. Monopoly The Lion King
Age: 8+
Number of Players: 2 to 6
For many people, The Lion King is one of Disney's finest animated movies. This full-size classic rules Monopoly game uses properties based on memorable moments from the story, including iconic quotes – 'Remember Who You Are' and 'The King Returns' are two of the green properties you may want to collect.
This is another of the Monopoly editions to feature a musical item to hold the Chance (or Destiny, in this game) cards. The Pride Rock stand plays music from the movie to really bring game-night to life.
17. Monopoly Black Panther
Age: 8+
Number of Players: 2 to 6
The Marvel movies were already on a hot streak when Black Panther was released in 2018 and it remains one of the most popular in the whole MCU. This has been celebrated with a Monopoly edition themed around the world of Wakanda, including playing tokens that represent the hero's helmet, spear, gauntlet, and more.
There are no special rules or features but if you love Black Panther or just the wider Marvel lore then this is a great choice for your main classic Monopoly board game.
18. Monopoly Disney Animation
Age: 8+
Number of Players: 2 to 6
With the Disney Company owning so many franchises, quite a few of the Monopoly versions on this list technically are Disney ones. This is the classic Disney option though, celebrating the animated movies from the studio over the last 80 years.
It's another re-skinned standard edition but it does include a special Apprentice Hat token as one of the playing pieces. Also to avoid the controversy of which movie is given Boardwalk, the properties are simply in the order of their cinema release – so Snow White replaces Mediterranean Avenue while Big Hero 6 gets the prestigious final dark blue spot.
Suggested read: The 15 Best Disney Monopoly Games
19. Monopoly Super Mario Bros
Age: 8+
Number of Players: 2 to 6
There are a few different Monopoly games that celebrate the world's favorite plumber, but this is a charming collector's edition that is entirely themed around the very first game in the Super Mario Bros. series (although not the first game Mario ever appeared in, before anyone complains).
Properties are themed around the actual levels from the 8 worlds of the game, and tokens include Mario, Luigi, and a Super Mushroom. Houses and hotels are replaced with castles and flag poles too, which is another nice authentic touch – many themed games often just stick to the classic house and hotel design.
20. Monopoly Speed
Age: 8+
Number of Players: 2 to 4
One of the biggest complaints about Monopoly is that games take too long to complete. Often that's because people aren't following the correct rules, but even then games can take up a solid hour or two.
Monopoly Speed is popular because it throws that time out of the window. The average game – with players all taking their go at once during four timed turns – lasts around 10 minutes. It's fast and frenetic and a great way to play Monopoly when time is a little more limited.
What is the best Monopoly game?
You can't deny that Classic Monopoly is the best Monopoly game. It's the best-seller and the one that you should play first if you're new to the game. For most people, the best version of Monopoly is this traditional set.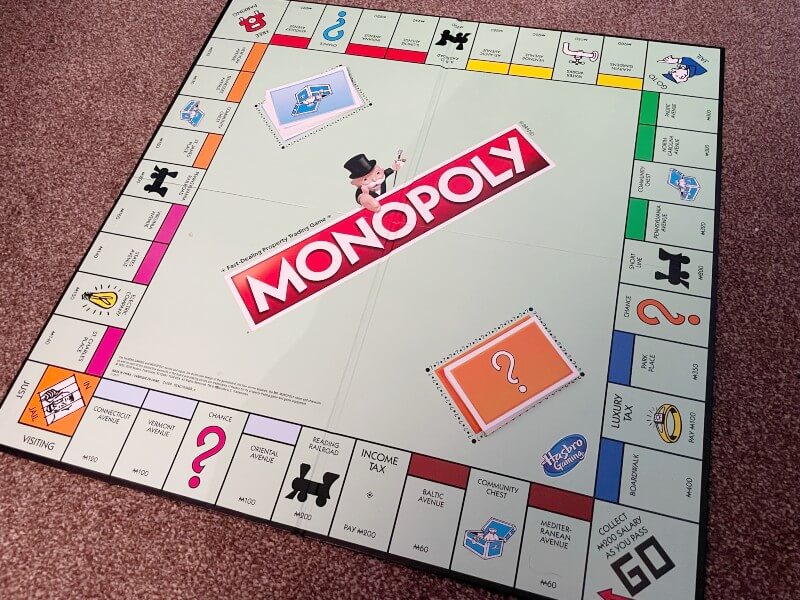 However, if you fancy something a bit different, then I recommend that you try Monopoly Unicorns & Llamas as it's really fun and kids love it. Or for a more serious game for adults, you can't beat Monopoly Ultimate Banking.
If none of these top 20 Monopoly games catch your eye, then just take a look on Amazon to see more Monopoly versions – there really is a Monopoly game out there for everyone!
Monopoly games range from simple Monopoly card games costing as little as $5 to beautiful hand-crafted wooden Monopoly sets that will stay in your family for generations to come. These Monopoly special editions really are something.
And all Monopoly games offer hours of fun – so does it matter which Monopoly is the best?
Whatever your interests, whether it's your sports team, favorite video game, or just your closest major city, there's likely a Monopoly board game ready for you to buy – the best versions of Monopoly are those that are tailored to something you love. And there's bound to be one!
Related posts: