The Monopoly board game was first released in the 1930s, just as some of the first board games were being released in the mainstream. So, it's no surprise that video game versions of Monopoly have also led the way in that medium, with the first being released way back in 1985.
Since then, there's been a version of Monopoly on almost every major home and handheld console. Some have been really good, others… Less so!
So, here's a round-up of the best Monopoly video games of all time…
But first, take a look at this short video to see how they've evolved over the years. If like me, you played Monopoly on the computer as a child, it should bring back some fond memories!
Is there a Monopoly video game now?
There have been many Monopoly video games made over the years. The main current one is Monopoly Plus. It's available on PS4/PS5 and Xbox One/Xbox Series S/X, with the Nintendo Switch having its own version too.
But which is the best?
Here they are from best to worst. This is based on my own experiences of playing the games as well as what people have been saying in gaming forums online…
The Best Monopoly Video Games
1. Monopoly Plus
Available on:
Xbox 360 and Xbox One consoles (and compatible with Xbox Series consoles)
PlayStation 3 and 4 consoles (and compatible with PlayStation 5 consoles)
Windows 10/11
Year of release: 2014
Developer: Asobo Studio
The newest and the best Monopoly video game to date, Monopoly Plus is the primary Monopoly game that you can play on most major consoles and on PC.
With Monopoly Plus you can play single-player, local multiplayer, or online. It's not cross-platform though, so you'll all need to have the same type of console if you're playing online.
The game has a mix of classic and living boards to keep things interesting. You can set house rules and different winning goals too.
Loading times are a mixed bag depending on the platform and games themselves can be a little slow, but otherwise, it's the complete Monopoly experience for the modern day.
This is the Monopoly video game that I play most often these days. I have the Monopoly Family Fun Pack which includes Monopoly Plus, My Monopoly, and Monopoly Deal for pretty much the same price as just Monopoly Plus.
To buy Monopoly Plus, you can get the physical game or you can buy a CD key. CD keys are legal, fast, and often cheaper. You can see Monopoly Plus CD keys here.
Check out my Monopoly PS4 review to learn what's good and bad about this game.
---
2. Monopoly for Nintendo Switch
Available on:
Nintendo Switch (including Switch OLED and Switch Lite)
Year of release: 2017
Developer: ported by Engine Software
This version of Monopoly is the same as the Monopoly Plus game, but actually with slightly more content (an extra board, and extra tokens you can use). The version is specific to the Nintendo Switch.
With it, you get the benefit of being able to play either on the big screen or on-the-go, which makes it one of the better all-round experiences.
Read my full Monopoly Switch review.
To buy Monopoly for Switch, you can get the physical game or you can buy a CD key. CD keys are legal, fast, and often cheaper. You can see Monopoly Switch CD keys here.
---
3. Monopoly for iOS and Android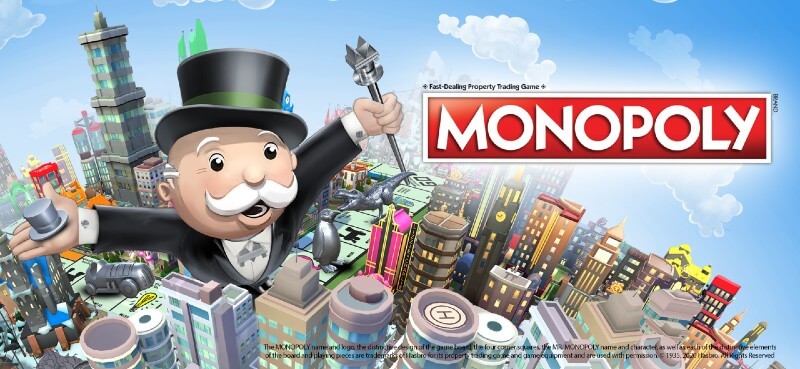 Available on:
Year of release: 2019
Developer: Marmalade Game Studio
The latest version of Monopoly on smartphones is completely free of advertisements (which you'd expect since it's a paid app, but it's worth clarifying).
It lets you play on your own or against friends with video chat available within the game – perfect for taunting someone as they land on your hotel.
You can pay for an extra season pass to unlock five extra boards too, otherwise, you're stuck with the classic board only.
Read my full Monopoly mobile review.
Monopoly for iOS and Android is the only cross-platform version of Monopoly available. Android and iOS users can play against each other, which is a nice feature to have.
---
4. Monopoly Deal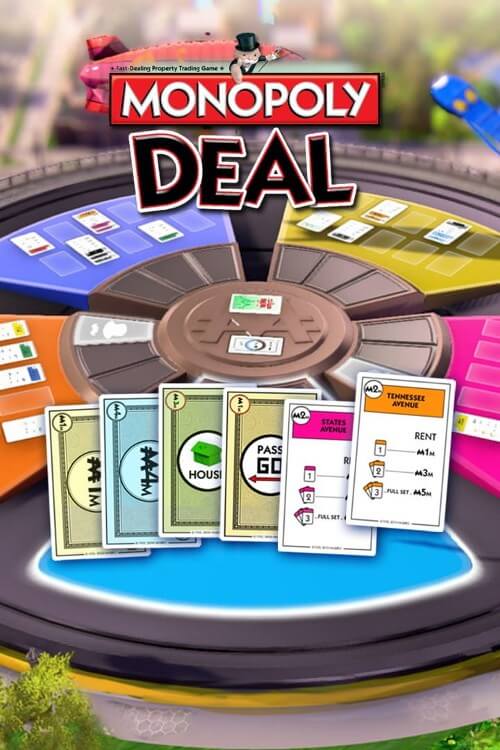 Available on:
Xbox One consoles (and compatible with Xbox Series consoles)
PlayStation 4 consoles (and compatible with PlayStation 5 consoles)
Windows 10/11
Year of release: 2014
Developer: Asobo Studio
Available either as a standalone game or as an expansion to Monopoly Plus called Monopoly Family Pack, this lets you enjoy the fun and fast-paced Monopoly Deal card game against AI opponents or online against your friends.
If you're looking for the classic board game experience, this isn't it – it's themed in the same way but is a strategy-based card game with different rules. But if you want a fast-paced version of Monopoly then you'll love this.
One thing to note is that you can't play this game with others in the same room as you. The nature of the Monopoly Deal game means that your cards must be kept secret from other players, and that just wouldn't work if you're sharing a screen.
To buy Monopoly Deal, you can get the physical game or you can buy a CD key. CD keys are legal, fast, and often cheaper. You can see Monopoly Deal CD keys here.
---
5. Monopoly Streets
Available on:
PlayStation 3
Xbox 360
Nintendo Wii
Year of release: 2010
Developer: EA Salt Lake
Monopoly Streets, like most games on this list, is a replica of the board game at its core. The main thing to make it stand out is that, as you buy properties, illustrations of the properties are brought to life, representing the economic status of that area of the board.
This video game is the main version of Monopoly on the Nintendo Wii, which is still being used in many homes despite it being around 15 years old. The only problem is that the Wii version didn't have online multiplayer, which the PS3 and Xbox 360 versions of Monopoly Streets did.
---
6. Monopoly Here and Now video game
Available on:
iOS
Android
Windows
Nokia N-Gage
Year of release: 2006
Developer: EA Mobile
This is the video game version of the updated physical board game Monopoly Here and Now. It started life as a mobile game before it was ported to Windows XP and Vista PCs and the Nokia N-Gage.
If you were one of the few to buy the doomed Nokia N-Gage handheld games console, which was discontinued only three short years after its release, then at least you had a modern Monopoly game you could play on it.
If you'd like to try out this retro Monopoly game you can get the CD-ROMs for it on eBay.
---
7. Monopoly Party
Available on:
PlayStation 2
Xbox
Nintendo GameCube
Year of release: 2002
Developer: Runecraft
Monopoly Party was released to the main consoles of the early 2000s and gained a lot of popularity because of its Party Mode.
While the game could be played using Classic Mode, Party Mode allowed everyone to take their turns at the same time, which massively increased the speed of games, making them frantic and fun.
It's a shame that this feature has disappeared from future versions, although you can still do that with the board game Monopoly Speed.
---
8. Monopoly Tycoon
Available on:
Year of release: 2001
Developer: Deep Red Games
Monopoly Tycoon is one of the only video games to try and do something different with the Monopoly name. Instead of being a replica of the board game, it was a tycoon simulator in the vein of the popular Sim City or Transport Tycoon games.
You still bought the same properties and earned rent but there was no board involved. The game got some really high review scores when it was released and is an example of how the brand could be adapted to fit a more popular genre of game.
---
9. Monopoly (2000 video game)
Available on:
Windows
Macintosh
PlayStation Portable
Year of release: 2000
Developer: Artech Studios
One of the reasons this PC, Mac, and PSP version of the game was so-loved was because it included a board editor – you could rename the properties to whatever you wanted to. This was perfect if you wanted to create your own version of the game for your hometown.
If you liked this feature you'll be pleased to know that you can also rename the properties with an extension to the Monopoly Plus game called My Monopoly.
---
10. Monopoly Star Wars
Available on:
Year of release: 1997
Developer: Artech Digital Entertainment
This PC version of Monopoly is the same as the Monopoly Star Wars board game, with themed properties around the popular movie franchise. However, it stands out because players could choose a famous character from the series as their token, which would then move around the board as an animated figure.
Plus, when you landed on a property, a video clip or animation from the Star Wars movies would play, relevant to that space. For Star Wars fans who liked Monopoly, it was perfection.
---
11. Monopoly (1995 video game)
Available on:
Year of release: 1995
Developer: Westwood Studios
Notable as the first version of Monopoly to be available on a CD-Rom and, more importantly, the first with online multiplayer, this version of Monopoly was also the most inclusive – it was released in multiple languages at once with the correct currencies too.
The 1995 CD-Rom version of Monopoly was a huge hit, selling over a million copies in the United States alone.
---
12. Monopoly (1985 video game)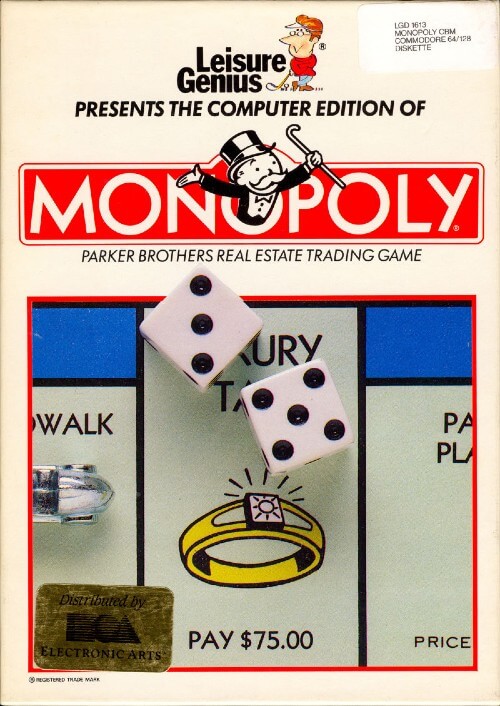 Available on:
Amiga
Amstrad CPC
BBC Micro
Commodore 64
MS-DOS
MSX
Tatung Einstein
Thomson MO
Thomson TO
ZX Spectrum
Year of release: 1985
Developer: Leisure Genius
The one that started it all. Understandably, considering its age, 1985 Monopoly doesn't have amazing graphics but it's a perfectly serviceable version of Monopoly all the same.
The issue a lot of people had at the time was that video games were very expensive, and so this cost a lot more than the physical board game. Considering this didn't have online multiplayer (since it was before the internet was a 'thing') and no extra features, there wasn't any real reason to buy it over the board game itself.
How many people can play Monopoly video games?
Most modern Monopoly video games allow up to six players. Playing Monopoly video games lets you play online, so it's easier to get a full game – you don't all need to be in the same room, and you can play with complete strangers.
If you're looking for a Monopoly video game that will let you play online with friends, I suggest that you take a look at my guide: How to Play Monopoly Online With Friends
It's worth noting that for the best experience, the optimal number of players for any game of Monopoly is four. This is the same number as used in official Monopoly tournaments – but you can, in theory, play with as many players as you want to on a physical board game.
To conclude
This list only scratches the surface of the many versions of Monopoly video games that have existed.
It doesn't touch on some of the classic console editions of the 90s, including the popular PlayStation, Nintendo 64, and Nintendo DS editions, or the edition that made portable Monopoly possible for the first time on the Game Boy in 1991 (with really terrible graphics).
And while they aren't likely to trouble the lists of the best videogames of all time, there's still a lot of fun to be had playing Monopoly digitally, especially if you're looking to play Monopoly alone.
The best versions are the latest, since they have the most options, but there are some really cool editions from the last 35 years too. So if you have an old console, they're worth playing.
If you'd like to play Monopoly on your Xbox, Nintendo Switch, PS4, or PC the fastest and often cheapest way is to buy a CD key online. I like to use Kinguin as it's one of the largest marketplaces for verified video games, selling over half a million each month.
Related Posts: