Monopoly is an excellent game to play as a family and there are so many different versions to choose from.
But can seven-year-olds play Monopoly? And which is the best Monopoly edition for kids of this age to enjoy?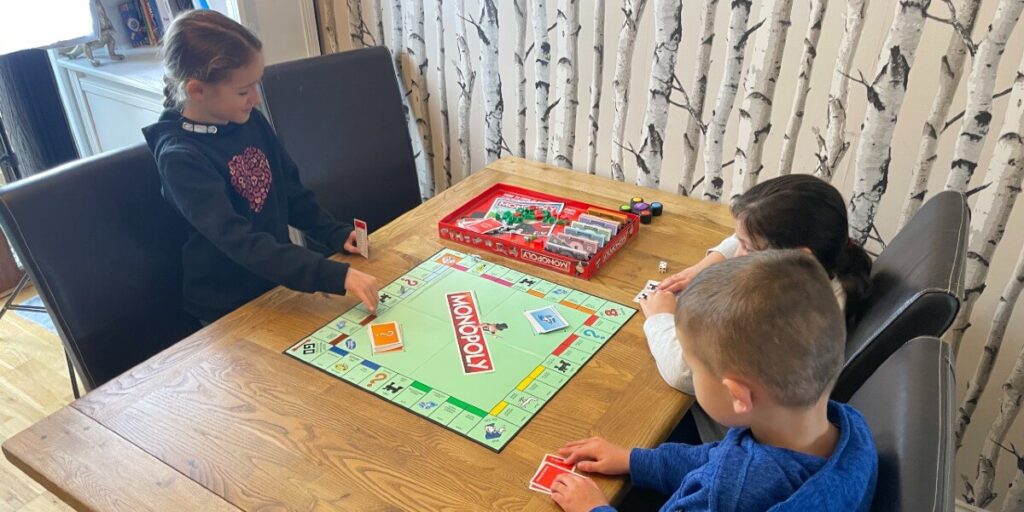 I have an eight-year-old and she loves to play Monopoly. But when she was seven, and even now, she still preferred the Junior versions to the adult versions of Monopoly that are designed for ages eight and up.
She does love any of the novelty or themed Monopoly games more than the classic ones to.
So, if you're wondering which is the best Monopoly game for a seven-year-old, read on to find out.
How did I come up with this list?
I asked my seven-year-old which Monopoly games she prefers, which ones other kids her age would like and I also looked at which were the best sellers on Amazon.
The Best Monopoly Editions For 7-Year-Olds
Seven-year-olds can be at an in-between stage where they're a bit old for Monopoly Junior but not quite old enough for adult Monopoly.
However, there are lots of kids' Monopoly games that are simpler than classic Monopoly but with more features than Junior Monopoly. These often have smaller game boards, fewer rules, and more fun themes.
Here are the top Monopoly versions to consider for kids aged seven…
Kids who love unicorns will go crazy for MonopolyUnicorns Vs Llamas!
The game is quite different from standard Monopoly and although it's recommended for ages eight and up, it's quite a lot simpler to play, making it ideal for six- or seven-year-olds.
Monopoly Unicorns Vs Llamas is unusual in that it's played in teams – Players can choose to join Team Unicorn or Team Llama. Instead of properties, you can win titles like 'fluffiest', 'most likely to save the day', and 'twinkliest eyes'. The game ends when all the titles have been claimed and the team with the most titles wins!
If you'd like a unicorn-themed Monopoly that's good for younger kids, you should also consider Monopoly Junior Unicorn Edition which is perfect for unicorn lovers aged five and over.
Official age recommendation: 8+
Players: 2 to 6
Everyone loves the Toy Story movies, right? This Toy Story-themed Monopoly board game featured characters and landmarks from all four of the movies and is great for families to play together.
This game has similar rules to classic Monopoly, but with a slightly smaller board for faster play. There are only two properties in each color set and all of the tokens are stored in a cute toy chest.
Official age recommendation: 8+
Players: 2 to 6
If your child likes the L.O.L. dolls then they'll love this L.O.L. Surprise-themed Monopoly board game.
Made for kids, this game is simpler than standard Monopoly, with a smaller board and only one set of 'Surprise' cards instead of Chance and Community Chest.
Instead of properties, players aim to collect and trade the rarest L.O.L Surprise dolls. The more dolls you have, the more rent you can collect. Houses and hotels are replaced by stars and emojis.
Official age recommendation: 8+
Players: 2 to 4
This construction site-themed Monopoly set is perfect for kids who love diggers, dump trucks, and bulldozers.
Suitable for kids aged six and up, this unofficial Monopoly game teaches kids about construction, with cool trivia about the equipment and vehicles.
With a smaller game board and banknotes up to $5, this simple game is perfect for kids who aren't quite old enough for the standard Monopoly game but who are a bit too old for the regular Monopoly Junior.
Official age recommendation: 6+
Players: 2 to 4
This pet-themed game of Monopoly is played in teams. Players choose whether they wish to be on Team Cat or Team Dog and instead of buying properties, they claim titles for their pets such as 'bright eyes' or 'little spoon'.
This game comes with funny cat and dog chance cards that remind players of the silly things their pets do.
Perfect for kids, this game has a smaller board and only $100 and $500 banknotes for simpler math.
Official age recommendation: 8+
Players: 2 to 6
If you're considering buying Monopoly Junior for your kids then you should definitely consider the electronic banking versions which could be much more fun!
This game comes with a banking unit and bank cards. Kids love putting their card into the machine and pressing the buttons rather than handling the cash.
Monopoly Junior Electronic is pretty much the same as the regular Monopoly Junior. It's easy for kids as young as three or four to play with help, and seven and eight-year-olds should be able to play it independently.
Official age recommendation: 5+
Players: 2 to 4
Whether your kids are familiar with the classic 80s arcade game or not, Pac-Man themed Monopoly is a fun game for all the family.
The best thing about Pac-Man Monopoly is that you get to play the arcade game on a mini console each time you pass Go! No cash changes hands in this game as the arcade unit tracks everything for you.
This Monopoly game is much simpler and more fun than the original Monopoly, making it a great choice for seven-year-olds.
Official age recommendation: 8+
Players: 2 to 4
Now, if you're still undecided as to which is the best Monopoly for your child or grandchild, read on for some more info that should help you out…
What age is appropriate for Monopoly?
Officially, the Monopoly board game is recommended for children aged eight and over. There's also a kids' version of Monopoly called Monopoly Junior which is recommended for children aged five to eight. The actual age at which a child can enjoy playing Monopoly will be different for every child.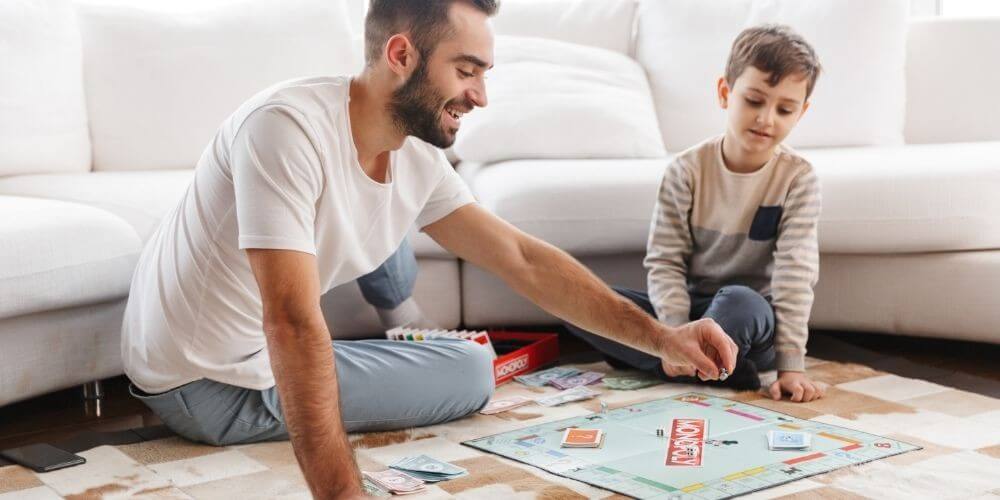 Can a seven-year-old play Monopoly?
Although Monopoly is recommended for kids aged eight and over, some children who are five, six, or seven years old have all the skills needed to play Monopoly with the help of adults.
The official recommendation of eight years old is more relevant to the age that kids can play Monopoly without any adult supervision. If adults are playing the game too, then most seven-year-olds can enjoy playing Monopoly.
What skills do kids need to play Monopoly?
Monopoly is quite a complicated game. This can be a good thing as it means that it gets kids' brains working as they play, boosting their skills in math and critical thinking.
To be able to play Monopoly properly, kids should be able to:
Wait patiently for their turn without losing interest
Understand numbers up to 500
Be able to read the board and the cards
If your kids don't have the skills to understand math like '50 minus 24' or to read words like 'mortgage', they can definitely still play Monopoly, but they will need help from an adult or older sibling.
What's the difference between Monopoly and Monopoly Junior?
Monopoly Junior is a simplified version of Monopoly that's recommended for kids aged five to eight.
The main differences between Monopoly and Monopoly Junior:
Board size – Monopoly Junior has 24 spaces rather than 40
Properties – Instead of streets, Monopoly Junior has amusements such as the zoo
Dice – Monopoly Junior uses only a single die
Money – Monopoly Junior only uses $1 bills
Auctions – Buying properties is compulsory in Monopoly Junior, there are no auctions
Houses and hotels – You can't build on properties in Monopoly Junior
Mortgaging – You cannot mortgage properties in Monopoly Junior
Chance and Community Chest – Monopoly Junior has only Chance cards
Monopoly or Monopoly Junior for a seven-year-old?
Classic Monopoly is the best if you're looking for a board game that a family can play together with a seven-year-old. However, if you want something that seven-year-olds can play without any help, then you would be better off buying Monopoly Junior.
According to the official age recommendations, seven-year-olds should be playing Monopoly Junior, as this is recommended for kids aged five to eight. However, they may soon get bored with the simplicity of the game and grow out of it.
'Adult' Monopoly will be complicated for a seven-year-old, but most kids of that age will enjoy playing it as long as they have help with the tricky math and reading. They should have no problem with understanding the concept.
The Bottom Line
Monopoly is a great game for kids of all ages and seven-year-olds are no exception. Most kids of this age will be able to play classic Monopoly with a little help.
However, you might find one of the fun Monopoly versions better at holding their interest. With smaller boards and fewer banknotes to deal with, these kids' versions of Monopoly are generally easier to play.
Related posts: