Take Monopoly, add a bit of Disney and surely you have a perfect board game recipe? I think so.
And I must not be the only one as there are now plenty of Disney Monopoly games that you can buy. In this post, I will run through the best Disney Monopoly games…
Is there a Disney Monopoly?
There is a Disney Monopoly. In fact, there are lots of different Disney Monopoly games to choose from that include your favorite characters from Disney movies. There are theme park editions, animation editions, and versions that are dedicated to Disney Princesses or Villains.
Disney Monopoly first came out in 2002. Since then, there have been several different versions brought out. Whilst there are some that are specific to certain movies (eg. Frozen), there are many that cover a range of different Disney movies and characters from the animation studios' long history.
The best Disney edition Monopoly games are:
Monopoly: Disney Villains Henchmen Edition (2021)
Monopoly: Disney Villains (2020)
Monopoly Junior: Disney Princess Edition (2020)
Monopoly Disney Theme Parks Edition (2020)
Monopoly: Disney Princess Edition (2018)
Monopoly: Disney Animation Edition (2017)
Monopoly: Disney Vacation Club Edition (2012)
Monopoly: Disney Theme Park Edition III (2010)
Monopoly: Disney Edition (2009)
Monopoly Junior: Disney Channel (2007)
Monopoly: Disney Pixar (2005)
Monopoly: Disney Edition (2004)
Monopoly Junior Disney Princess Edition (2004)
Monopoly: Disney Theme Park (2002)
Monopoly: Disney Edition (2001)
List of Disney Monopoly Board Games
1. Monopoly: Disney Villains Henchmen Edition (2021)
The latest Disney Monopoly game for 2021 is a special edition that features the malevolent henchmen characters from Disney movies.
This game is very similar to the Disney Villains Monopoly from the previous year – the main difference being the tokens. You can choose to play as your favorite Disney baddie out of Queen of Hearts, Hades, Ursula, Tamatoa, Yzma, and Dr. Facilier.
As you move around the board, your aim is to hire all the henchmen in a color set and begin building Thickets and Lairs (houses and hotels). When you pass go, you can
There are a couple of minor rule changes in this game that make it feel a little different from standard Monopoly. In this version, each character has a different special power which can be activated by getting the Flames of Power ring, and there are also Poison Apple cards that let players do slightly evil things like stealing money and properties.
2. Monopoly: Disney Villains (2020)
This edition is dedicated to the bad guys and girls from Disney movies. You can choose a playing token that represents one of the famous baddies – Cruella, Jafar, Scar, Evil Queen, Maleficent, or Hook.
As you move around the game board you are not buying properties but adding other villains to your crew by buying Villain Contracts. Villains for hire include the likes of Dawn Bellweather and King Candy. The more villains you can hire, the more rent you can collect.
Just like the Henchmen edition, you'll also get to put Flames of Power on your token each time you pass go.
3. Monopoly Junior: Disney Princess Edition (2020)
Young children who love Princesses are sure to enjoy playing the Monopoly Junior Disney Princess Edition. This simplified version of Monopoly is ideal for those aged 5 to 8.
Players can choose to play as Rapunzel, Moana, Mulan, or Cinderella. The properties on the gameboard feature unforgettable moments from your favorite Disney movies, including Mona Meeting Maui, Rapunzel's Flying Lanterns, and Cinderella's Wish.
This new version of Monopoly Junior Disney Princess replaces an older edition from 2004. More on that below…
4. Monopoly Disney Theme Parks Edition (2020)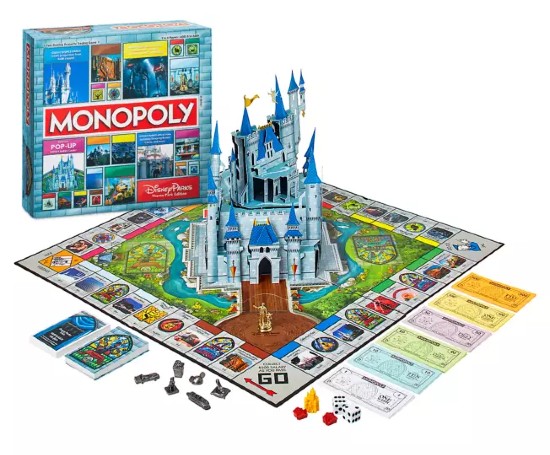 Disney Theme Park Monopoly is only available to buy in the Theme Parks or from the Disney store, although you can also pick up second-hand games on eBay.
At the center of the board is an incredible pop-up Fantasyland Castle. The spaces are based on Disney Parks attractions like Sleeping Beauty Castle, Space Mountain, and The Haunted Mansion.
Instead of houses and hotels, you can buy Toontown Houses and Castles. Tying in with the Disney theme, the Chance and Community Chest cards are replaced by Magic and Fantasy cards.
This game also includes some optional 'speed play' rules, which are great if you'd like to make sure that the game is finished in under an hour.
5. Monopoly: Disney Princess Edition (2018)
This edition of Monopoly is all about the Disney Princesses and comes in a great (and very pink) open and play case. This makes it great for traveling with or taking to a friend's house.
The character tokens are Ariel, Rapunzel, Cinderella, and Belle so this game can only be played by 4 people (most of the games in this list of the best Disney Monopoly games are for between 2 and 6 players). The playing tokens are nice metal versions of the princess, and you also get colorful princess tokens to place on your properties.
The properties themselves are also princess-themed with places like Mulan's Shan-Yu School, Jasmine's Magic Carpet Ride, and Merida's Archery Lessons up for grabs. The rules are a bit simplified, and it is just the player with the most properties at the end that wins the game.
6. Monopoly: Disney Animation Edition (2017)
The Disney Animation edition of Monopoly features all of the best-loved movies and characters from the Disney back catalog. From out and out classics like Pinocchio and Peter Pan to more modern movies like the mega-hit Frozen, there is sure to be something here for everyone.
The game board is a homage to Disney animation and features nice pencil drawings of Mickey Mouse and other Disney characters in the center. As you move around the board the whole game has been Disneyfied and the properties that you buy are all animated movies including the likes of Cinderella, The Lion King, and The Little Mermaid.
Instead of taxes, you must hand over your cash due to the Evil Queens magic spell. The Community Chest and Chance cards have been replaced by Magic Mirror and Ariel's Treasure Chest cards.
The playing tokens are quality metal pieces and include things like the hat from Fantasia, the apple from Snow White, the Sword in the Stone, a honey pot from Winnie the Pooh, and Aladdin's lamp.
In other areas, the game is more standard with regular houses, hotels, and dice. There is also a traditional look and feel to the property cards and Monopoly money.
7. Monopoly: Disney Vacation Club Edition (2012)
Disney Vacation Club Monopoly is a super-rare Disney Monopoly game that was given to Disney Vacation Club members on Disney cruises in 2012. Collectors can expect to pay around $200 for a new and sealed game.
This is a nice-looking version of Monopoly as the box has been designed to look like a suitcase. The travel theme is continued on the game board which features a map of the world in the center.
The properties are from around the world but are mostly based upon the Disney empire and include places like Disney Beach & Boardwalk Villas, Disney's Vero Beach Resort, Hong Kong Disneyland, Saratoga Springs Resort, and Disneyland Paris.
The set includes tokens of classic Disney characters, you can choose between Mickey, Minnie, Donald, Goofy, Pluto, and Chip & Dale
The place of Chance and Community Chest cards has been taken by Mousellaneous and Community Hall.
8. Monopoly: Disney Theme Park Edition III (2010)
There are a few versions of Monopoly that are only available from Disney resorts and theme parks. As you may have guessed, this is the third version of this exclusive game. The standout feature of this game is that the center of the board has a pop-up Disney castle in the middle.
Around the edges, the properties that you buy and sell are all rides and attractions from the theme parks, including the likes of Sleeping Beauty's Castle, Space Mountain, and The Haunted Mansion, and even some newer attractions like Star Wars: Rise of the Resistance.
Once Upon A Time and Happily Ever After cards replace community chests and chance cards and you get nice little Toontown buildings for houses and Disney castles for hotels. The metal player tokens include Mickey Ears and Cinderella's Slipper and the famous partner's statue (Walt Disney holding Mickey Mouse by the hand).
9. Monopoly: Disney Edition (2009)
A popular Disney Monopoly edition, this one features over 25 movies including Disney Pixar classics like Finding Nemo and Toy Story as well as live-action movies like Hannah Montana and High School Musical.
Like the best Disney Monopoly games, this one features the golden Tinker Bell mover. She starts on the Go space and moves on each time someone rolls a double. If you land on an owned property with Tinker Bell on it, she will use her Disney magic to make the bank pay the rent for you! If the property is unowned, you'll get it for free!
Instead of houses and hotels, this game includes cottages and castles. Instead of utilities, you have Special Powers – Pixie Dust and Magic Wand.
10. Monopoly Junior: Disney Channel (2007)
This is a version of Monopoly aimed at a younger audience and featuring characters from the Disney Channel. You can pick up properties like The Suite Life with Zack and Cody, Kim Possible, Jump In! or The Cheetah Girls.
There are no taxes in this version but instead, you will have to pay Ms. Darbus and Dr. Drakken if you land on them. There are other Disney Junior twists, like getting sent to detention and having television sets instead of houses.
The playing tokens are cardboard versions of Disney Channel characters including Hannah Montana and Kim Possible.
11. Monopoly: Disney Pixar (2005)
This Disney Monopoly set is dedicated to the early Disney Pixar movies including Toy Story, A Bug's Life, Monster's Inc., Finding Nemo, and The Incredibles. The collectible metal tokens include Nemo, Buzz Lightyear, Sulley, Remy, Mr.Incredible, and Lightning McQueen.
Once you have chosen your token you move around buying properties that are locations from the movies, examples include Ant Island, Andy's Room, and Fleas' Circus.
The four railroads are represented by The Incredible, Dinoco Helicopter, Tow Mater Towing and Salvage, and R.C (the car from Toy Story). The utilities are Scream Power and Laugh Power from Monsters Inc. Instead of standard hotels and houses you get little orange traffic cones and Al's Toy Barn in red plastic.
12. Monopoly: Disney Edition (2004)
This is the only non-theme park edition of the game to feature a pop-up castle in the center of the game board. It is a really cool feature, but this limited edition game is very hard to get hold of. Complete games have sold for over £100 on eBay.
The collectible playing pieces include Snow White and Pinnochio and there is also a special golden Tinkerbell that isn't controlled by any single player and comes with its own special rule.
The properties that you can buy are all based upon classic Disney movies while the railroads have become modes of transport linked by a magical pixie dust trail that means you can move around the board more quickly. The usual houses and hotels have been replaced with Fairytale Cottages and Sleeping Beauty castles.
13. Monopoly Junior Disney Princess Edition (2004)
The first Monopoly Junior Disney Princess Edition, this has now been replaced by a more modern version with new princesses. But, if you prefer Ariel, Jasmine, and Snow White, to Moana Rapunzel, then this version may be better for you.
I actually prefer this version as it has a better, rectangular board and sturdy plastic castles rather than cardboard pieces. You can also choose to play as one of eight princesses, rather than just four with the new version.
14. Monopoly: Disney Theme Park (2002)
The first Disney Theme park edition of Monopoly came in a tin box and could only be bought at the Disney Resorts and Theme Parks. The properties are rides and attractions including many of the classic older rides like Pirates of the Caribbean, the Matterhorn, It's a Small World, and Star Tours. These are all set around an awesome pop-up Disney castle.
There are 8 tokens based around modes of transportation, including a ship and a plane, they are a bit disappointing, to be honest. But the gameboard does have a fantastic pop-up castle.
Main Street USA buildings take the place of houses while Disney castles represent hotels. The game comes with some really colorful money that features characters like Tinkerbell, the Genie from Aladdin, and Jiminy Cricket.
15. Monopoly: Disney Edition (2001)
The first-ever Disney version of Monopoly features 8 playing tokens including Snow White and Pinnochio. The gameboard spaces are Disney Movies, including Tarzan, Toy Story, and Peter Pan while Magic Moments and Show Time cards take the place of Chance and Community Chest.
I always like it when you get something other than standard houses and hotels in special editions of Monopoly and this game doesn't disappoint with nice little White Rabbit Cottages and Sleeping Beauty Castles to place on your properties. I also love that this game comes with a Scrooge McDuck tax and Aladdin's Flying Carpet instead of a railroad!
My Recommendation
If you're looking for a Disney Monopoly set to buy as a gift, then the newest games featuring Princesses or Villains would make excellent choices and are easy to find online. If you happen to be visiting a Disney theme park, then the new Disney Parks Edition with the pop-up castle would make a lovely souvenir.
When it comes to the older versions, you can find some great deals on second-hand Disney Monopoly games online. Just be sure to make sure that you're purchasing a complete set with all of the pieces and instructions.
A rare Monopoly Disney edition can be worth upwards of $100, particularly if it is in excellent condition, and even more if it's new and sealed in the original wrapper. So if you have one of these, be sure to look up the value on eBay before you sell it.
Overall, Monopoly editions make up some of the best Disney board games you can buy, so if you have a Disney fan in your life then it's a great gift.
Also, don't forget that Star Wars is now owned by Disney, so check out the best Star Wars Monopoly games too.
How much money do you start with Disney Monopoly?
In Disney Monopoly, you start with $1500. This is the same as in the classic rules of Monopoly and you should be given two $500, two $100, two $50, six $20, five $10, five $5, and five $1 bills.
How much is Disney Monopoly worth?
There are lots of versions of Disney Monopoly. Some are common, so only worth the retail price, but there are rare ones you can buy including Disney Parks Monopoly, which can be worth more. The rarest games are worth over $100.
Related Posts: