Playing Monopoly in real life isn't super expensive – you buy the board game for $20-30 depending on the version, and you're done. The only challenge becomes getting all your friends together in one place.
So instead, what if you want to play online? Well then instead of only one of you paying for the game, you all need to buy it. Suddenly, convincing all of your friends to spend $10-20 can add up if you have a large group.
Don't worry though – there are plenty of options for playing Monopoly free online – and I'm going to tell you all about them…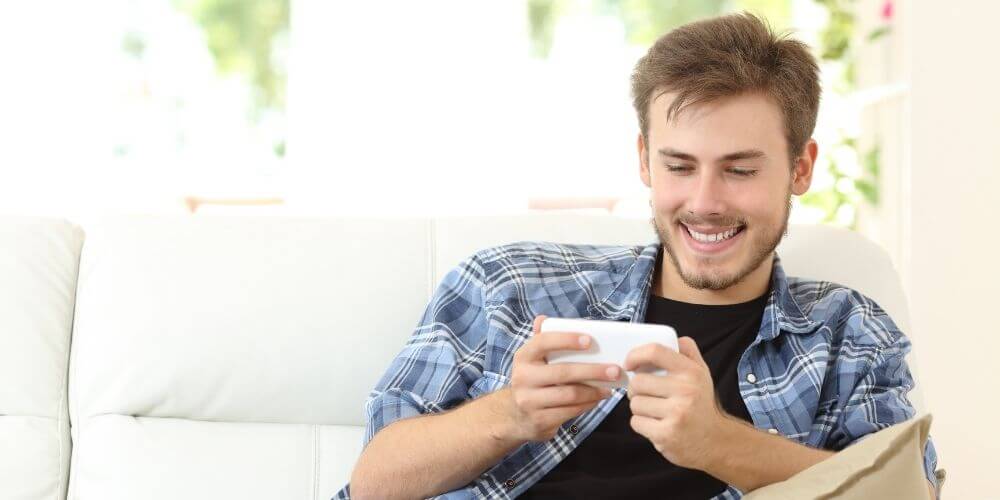 Can I play Monopoly for free online?
You can't play the official Monopoly game online for free, but there are some unofficial versions that you can play without any cost involved. These usually won't have the standard property spaces, as that infringes on the main game, but the rules will be the same.
The best versions of online Monopoly are the official paid ones, and with those, you get better graphics and guaranteed support if there's a technical issue. But, the free versions usually solve one of the biggest problems of the official games, which is cross-platform play.
If you don't all own the same device, then free versions usually still let you play together. The official ones are locked to either PC or their specific console or phone app.
Where can I play Monopoly online for free?
The best place to play Monopoly online for free is by visiting Gidd.io and playing Capitalista. It's a multiplayer online game that you can play on your desktop, laptop, tablet, or smartphone and it's really quick. Up to 20 players can join one chaotic game.
There are other versions of the game online too, many of which also work on different devices. Let's take a look at those…
Free Monopoly Games on a Laptop or Desktop PC
On a personal computer, you have a choice of playing the official Monopoly game like Monopoly Plus for a price, or one of the unofficial Monopoly online free multiplayer alternatives…
Is Monopoly Plus free on PC?
Monopoly Plus is not free on PC. The price can vary depending on where you buy it and whether a deal is available, but expect to pay in the region of $10-20 for it. It won't cost as much as a major game release.
The game was free to play for a week back in April 2020. Ubisoft announced a Free Week for the game that ran from Tuesday, April 21 to Monday, April 27, where users could download the full game and play it at no charge.
After that week ended, anyone who wanted to could buy the game from the store and retain their progress and any saved games, with discounts offered.
However, there have been no free options for the game since and if you want to play the official version on your PC, you will need to buy it.
Is Monopoly free on Steam?
Monopoly is not free on Steam – the only version of Monopoly you can buy via the Steam platform is Monopoly Plus. Also, there are no free alternatives on Steam either – if you want to play Monopoly on your PC for free, you won't be able to do so through your Steam account.
How can I play Monopoly on my computer for free?
There are some unofficial versions of Monopoly that you can play for free on your computer. Some can be downloaded from the Microsoft Store but the best are played through your web browser, with no download needed.
Read more about the various official versions of Monopoly for your PC here.
1. Capitalista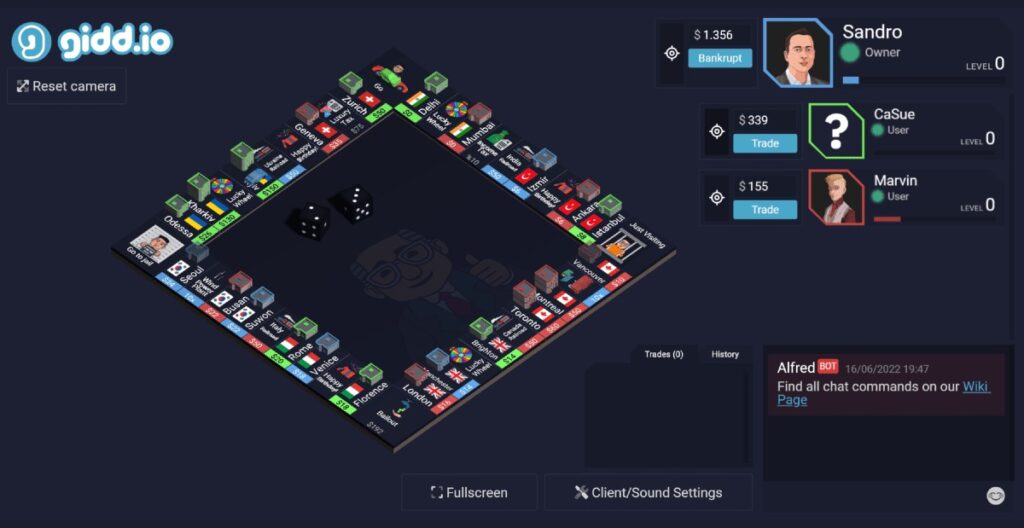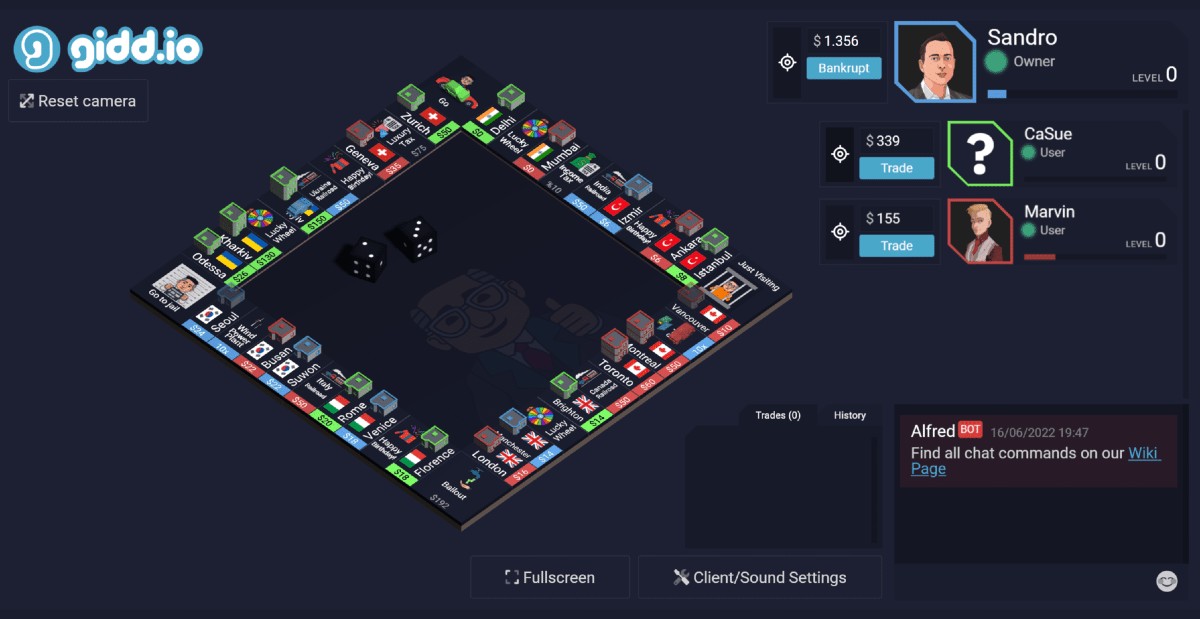 Capitalista is a Monopoly game that you can play at the website Gidd.io, along with alternatives to other popular games like UNO and Yatzy.
It's multiplayer-only and you won't be able to play with strangers, so it's best for anyone that wants to play against their friends. That said, you can join in games with real people that are organized via the Monopoly Discord group.
The rules are the same as a standard game of Monopoly, although the properties have been renamed to avoid any copyright issues. Instead, each color set is themed by a country, with individual properties being major cities.
Capitalista doesn't have a huge number of customization options, but you can tweak some of the rules. You can decide whether to allow auctions or if players can collect rent in jail. You can also change the starting money that each player receives.
What makes Capitalista stand out is the novel option of hosting up to 20 players. Don't expect a fluid game if you have 20 players using the standard rules – things will probably get drawn out as nobody can build up any color sets – but it can be fun chaos. It's the ultimate crazy Monopoly online multiplayer experience.
Capitalista is a great option due to how fast it works compared to the official Monopoly game. You won't be sat waiting for ages for each player's turn to play out.
2. Rento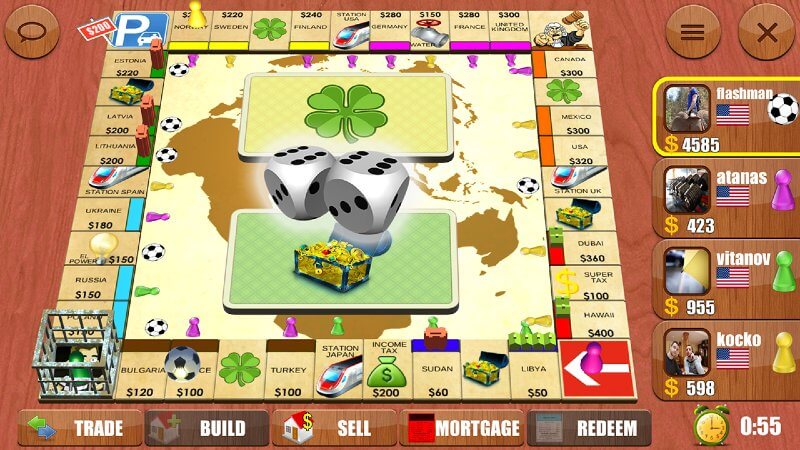 Rento is another free Monopoly game that you can play online. It also has an unofficial board, although this uses countries rather than cities as the individual properties. It also mixes up the rules slightly, with some spaces letting you spin the wheel to gain or lose money or advance to another space.
Rento has some interesting advantages over Capitalista, in that you can play with strangers or play solo games against computer players. However, it's also a slightly slower game with longer loading times, and the fact that you can't play with the official rules will probably put some people off.
There are some excellent customization options – unfortunately, many of them are locked behind a paid VIP wall. You can tweak similar basic options to Capitalista for free but other options need a paid account.
Rento has versions available on other platforms too, but some of these are paid-for versions.
3. Board Boss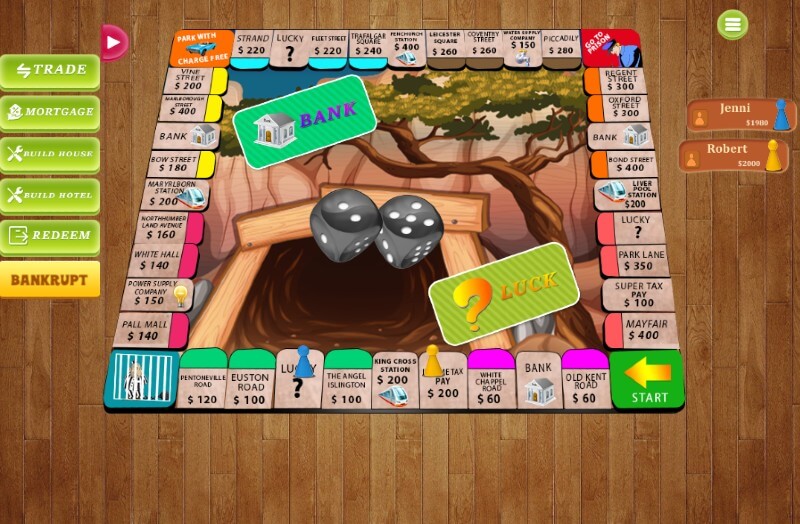 Board Boss is an interesting online game that you can play for free, in that it's designed to be an accurate replica of the UK version of the game.
You can play multiplayer locally, but not online, or you can choose AI opponents to play against. The rules are the same, with only the Go, Chance, and Community Chest spaces fully renamed to Start, Luck, and Bank respectively.
However, a lot of the UK property names are misspelled. Whitechapel Road becomes White Chappel Road, and Marylebone Station is butchered to become Maryrlborn Station. Even the word "Bought" is misspelled when you buy a property. It's not intentional either – many are correct, it's just littered with mistakes.
If you want a fast-loading game to play around one screen, Board Boss works OK. If you want something polished, maybe look elsewhere. Playing Board Boss definitely has that feel of playing a rip-off game.
4. ArcadeSpot Monopoly Online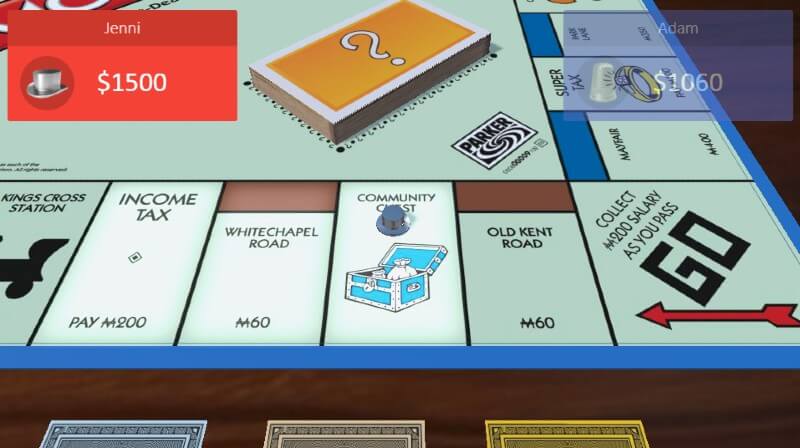 Games website ArcadeSpot has another version of Monopoly you can play for free online around a computer, either with friends who are in the room with you or against an AI.
This game is also themed around the UK Monopoly board, except this time we get an official board design and correctly-spelled properties. You can even choose from eight classic Monopoly tokens to play with.
The only thing that doesn't look official is the overlaid graphics when buying a property or doing a trade.
I wouldn't be surprised if this version of Monopoly Online is taken down, since it's definitely infringing on the official game! But, if you want to enjoy the classic board (albeit with UK properties) without paying then this could be a good option for now. You can't customize the rules at all though.
5. RichUp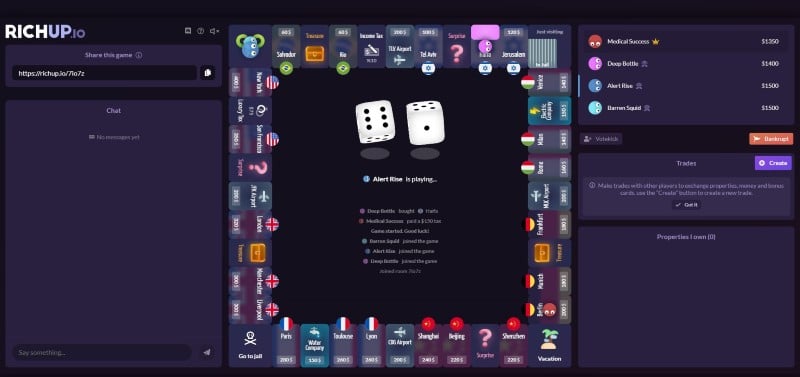 RichUp is quite close to Capitalista, in that you can play it through your browser on your computer or smartphone, and the boards are very similar in style, although not quite an exact match.
RichUp doesn't have quite the same smooth experience as Capitalista, but it is just as fast-paced and they are trialing bots too, plus you can play with strangers easily.
If you really want to use bots for your Monopoly online game, then RichUp may be the way to go, but for playing with friends it's probably a better experience if you use Capitalista.
Free Monopoly Games on a Mobile Phone
Of course, you don't need a computer to play Monopoly online for free. There are some really great games that you can play on your cell phone, either with an app or by visiting a games website and playing online there.
Is Monopoly free on Android?
The official Monopoly app on your phone is not free. It doesn't cost a lot, usually less than $4, but if you want to play with friends then everyone will need to buy it.
Is there a free Monopoly app?
There are some free versions of Monopoly available on Google Play and the Apple Store, so if you don't mind an unofficial game you can play for free on your phone. Many of them are supported by adverts though, so don't expect a smooth and quick gaming experience – you will need to watch ads in order to play.
1. Rento
Yes, the same game that's available on your web browser is available as an Android app or iPhone app, and this one is still free, unlike the console versions. It's also 3D, which is an upgrade over the web version's more basic flat graphics.
Reviews of the app aren't consistently good though – a lot of people have complained about the AI being too difficult on the hardest settings, or even miscalculations with rent payment or dice rolls.
It won't be perfect but if you just want an app that works and lets you play against others online, Rento might do the job.
2. Europoly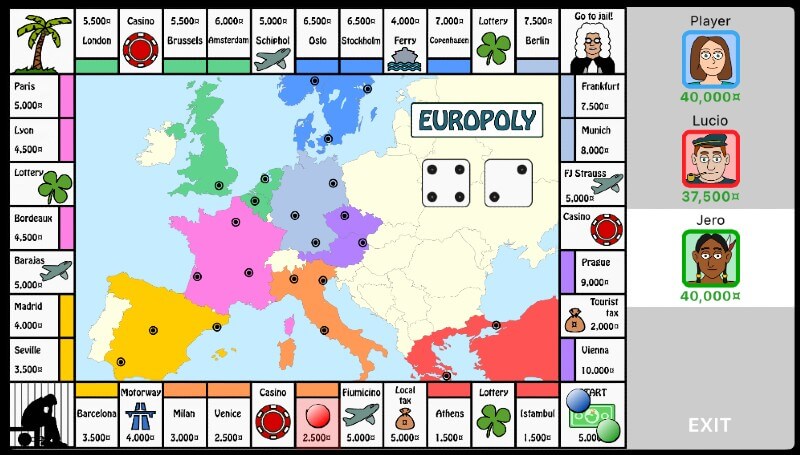 You won't be surprised to learn that Europoly has a board that's inspired by Europe. What might surprise you more is the fact that – unlike any other game on this whole list – the board isn't square.
The Android and iPhone apps are optimized for mobile devices with a rectangular board, which means some color sets don't have all their spaces along one side.
As with most unofficial versions of Monopoly, the graphics aren't great, and that's the main complaint of most people who have downloaded the app, along with issues with the AI and the user interface.
It's quirky, but it does allow for bots or local multiplayer, and it has some good options for customizing the rules. It's worth a download even if you end up deciding to look elsewhere for your regular Monopoly fix.
3. CrazyPoly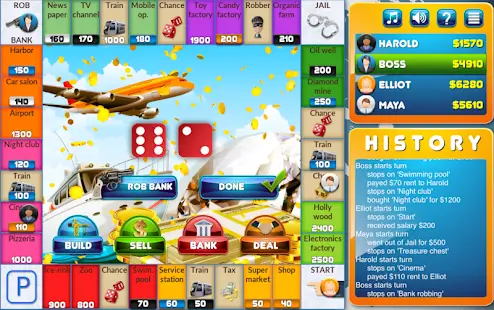 CrazyPoly – The Business Dice Game is another Monopoly clone you can get for free from the Google Play store for Android devices. You can't play it on an iPhone, though.
The graphics are a step up from Europoly, and it's got one of the more unique boards – instead of buying cities or countries, you'll buy "Toy factory" or "Pizzeria" or "Diamond Mine". Perhaps most interesting is the unlikely pairing for the best color set in the game – "Hollywood" and "Electronics Factory".
Again, you can play local multiplayer or against bots, with the app promising that online multiplayer is coming soon.
Other ways to play Monopoly on your phone
You don't need to download an app to play Monopoly on your phone. Some of the computer versions can be played through your phone's web browser, and they've been designed to work just as well on a smaller screen.
The better option for this is probably Capitalista, although RichUp.io and Rento will work too. Rento is the slower of the three, so you're probably better downloading the app version of that if you want to play it on your phone.
With Capitalista and RichUp you're getting a completely cross-platform experience. You can play against Android, iOS, and Windows players all at the same time.
Free Monopoly on a Games Console
As with any official version of Monopoly, you can't play the main game for free on your games console. Each console has its own version of Monopoly Plus, which you'll need to pay to download.
On consoles, your options for free games of Monopoly are much more limited. In fact, I couldn't find any free options for PlayStation, Xbox, or Nintendo Switch owners. Rento is on those stores but you need to pay for it.
There used to be a game called Business which you could download on an Xbox One console, but that's been removed now.
My Recommendations
The official version of Monopoly will always have the best customization options, and because you know it's properly licensed there's no risk of it suddenly being taken down. But with no cross-platform play, it can often be easier to choose a free alternative.
Unfortunately, if you're on a games console that's not an option, and the smartphone apps aren't the best. But the PC versions of Monopoly that are played through a browser are surprisingly good.
If you want to play Monopoly online free, I'd go for Capitalista. Yes, you don't get an official board, and the graphics are often little basic, but everything works as it should, it's really quick and simple to set up, and most importantly it's cross-platform.
You could be playing Capitalista on your laptop against your partner who's taking it easy on their phone on the sofa, and with friends across the world who might be playing on their tablet while sitting in some fancy coffee shop.
So, while the unofficial games are far from perfect, they do offer a good free experience and they're worth trying out.
Did you know that you can also play Monopoly Deal online? If you're a fan of the Monopoly card game, this is also worth looking into.
Related Posts: