Whether you're unwinding after a day of work, or even sneaking in a game in the background when you should be finalizing that report for the boss, Monopoly video games are a great way of playing the world's favorite board game without having to spend time unpacking the box and counting out all the cash and playing tokens.
There are a few different versions available, so if you're looking to see which is the best Monopoly PC game then you're in the right place.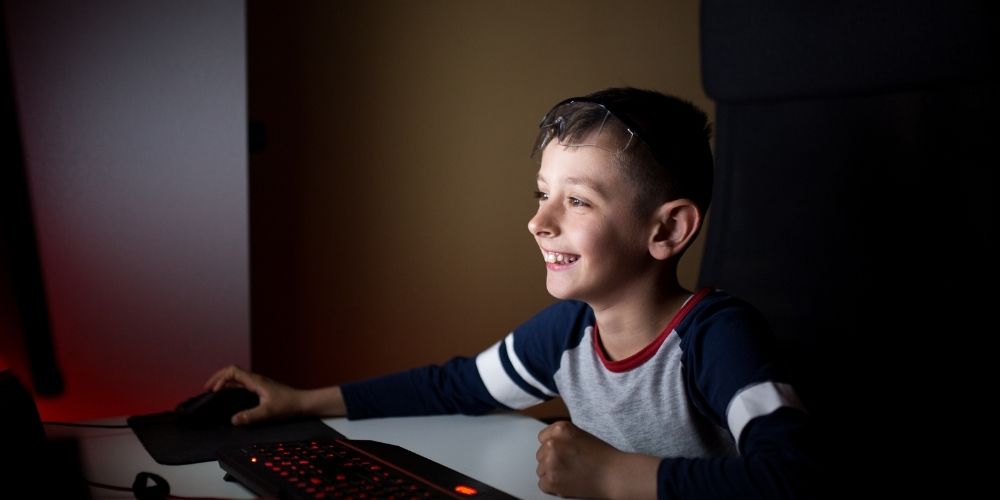 Is Monopoly available for PC?
Yes, Monopoly is available for PC. The official game is called Monopoly Plus and can be bought either directly from the Ubisoft store or from the Steam or Epic Games stores.
You can also find a load of unofficial options on the Microsoft store if you just want the same gameplay experience without all the official property names or licensing.
Is Monopoly free on PC?
To download and play the official Monopoly for PC game you'll need to pay for it. It generally costs between $15 and $20 but can sometimes be more. It does usually cost less than buying the physical board game though.
There are some unofficial Monopoly versions for free, but they don't have the same features and they're a lot simpler. They also don't have the official rules and property names, so it depends on what matters most to you.
If you want the best technical support and options for playing online multiplayer against others from around the world, it would be best to buy the official Monopoly game.
The best versions of Monopoly for PC are:
Monopoly Plus
Monopoly Free
Rento
RichUp
Capitalista
Old Monopoly PC games
Monopoly Madness
The Best Versions of Monopoly for PC
1. Monopoly Plus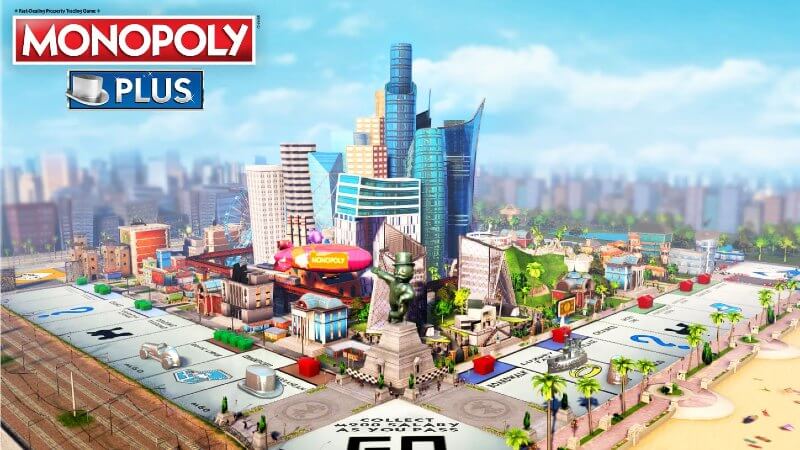 Monopoly Plus is the official main Monopoly game that you can play on PC.
Your Monopoly PC download is available to buy from the Ubisoft game store as well as from Steam and the Epic Games store. You'll need Windows 7, Windows 8.1, Windows 10 or Windows 11, with an Intel Core i3-550 or AMD Phenom II X4 945 processor or better to run it, along with 4GB of RAM.
If you're no tech wizard, don't worry – those processors are many years old now so as long as your laptop or PC was bought within the last 4 to 5 years then you should have no problems running it.
I'd recommend having an SSD for storage though – the game can load a little slow from a hard drive.
Once you've hit download and installed the game, you'll be hit with a load of official options including Classic Rules, Action Cards, the Speed Die, and House Rules.
With Monopoly Plus for PC, you can play:
Online multiplayer – With friends or strangers on different computers
Local multiplayer – With friends all sharing your computer
With AI opponents – Against the computer
There have been many official versions of Monopoly video games over the years for PC and this is the latest one, released in 2014.
It's got solid support for online gaming with a good-sized community – this means you won't have to wait forever to find a game to join.
And you'll get a couple of options for classic and living boards too, to give you even more variety.
The only downside is that Monopoly Plus isn't cross-platform – you can only play against other PC users. Even though 'Monopoly Plus' is the same game on PlayStation and Xbox consoles (the Nintendo Switch version is slightly different), there's no cross-play, which is a shame.
2. Monopoly Free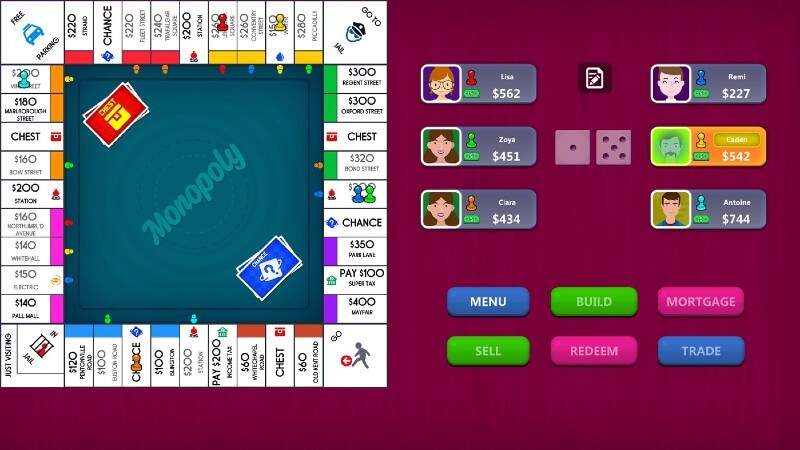 If you head to the official Microsoft Store, you'll be able to search for Monopoly and find a few different versions of the game to download – many of them are free.
These are unofficial, and a lot more basic in terms of graphical style, but that might not be a concern for you. They'll also be less demanding on your hardware, so if you do have an older machine then it might be preferable.
Some of the free Monopoly games will use the correct property names too, although how long these games will be available is questionable – there's probably a copyright claim waiting in the wings!
And that's where the biggest issue is with these free unofficial Monopoly games – they're not reliable.
They might offer online multiplayer, but they won't have the player numbers for you to regularly join games against strangers. And when you play against friends, these games don't have stable servers, so you're more likely to drop the connection.
If you don't play Monopoly too often, then trying these free options will save you money, but don't expect a great experience.
3. Rento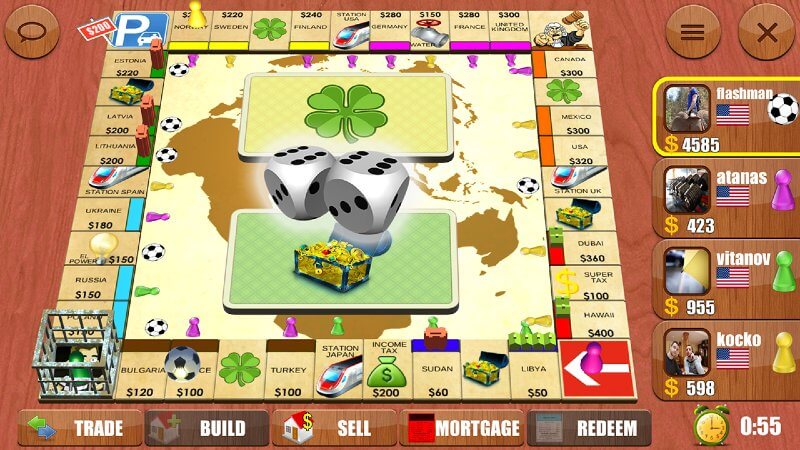 Rento is a proudly unofficial version of Monopoly that actually claims to be the best version of Monopoly – even better than the original. And if you aren't someone who is too obsessed with the official game then it might have a valid argument.
The game is still a lot more basic than Monopoly in terms of graphics but the options available are pretty staggering.
There are multiple boards to choose from, in-depth customizable rules (which you can tailor in a lot more ways than you can with Monopoly Plus), and it's cross-platform too.
Rento is available to download on mobile and consoles too. PC players can play against anyone no matter the version they're using.
Oh, and it's free.
Rento even allows virtual reality play, so if you have a VR headset you can step right into the board! Here's what that looks like…
Rento is so popular that they've even now released a physical board game version that you can order online. And unlike Monopoly, this one's NOT made in China.
It's definitely one to try if you want fast Monopoly-style gameplay on your PC.
4. RichUp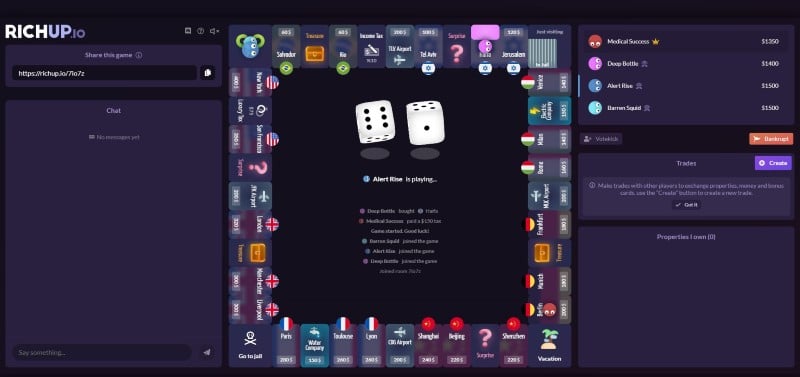 Another free online game that's like Monopoly is RichUp. You can play it on your desktop or laptop computer, tablet, or mobile phone. Play with friends, with strangers, against the computer, or with a mix of each.
There's no download needed, you just play it live on the website and can share the link with any friends that you want to join you.
Just like Rento, this game has cities instead of streets, but aside from that, it's almost the same as Monopoly. RichUp gives you the option to turn house rules like auctions and collecting rent in jail on and off, so you can customize the game to play it exactly how you like.
5. Capitalista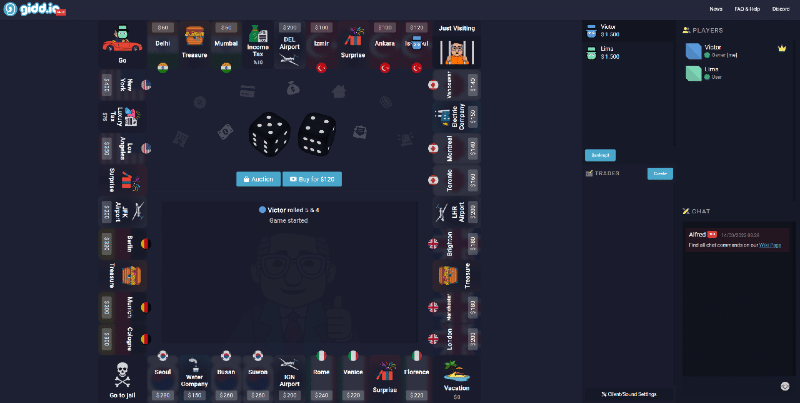 One of the most recent options, released in 2022, is the free Monopoly alternative Capitalista. This one is certainly a contender for one of the best Monopoly games out there and it also has the bonus of being free to play.
What's great about Capitalista is that you can play with up to 20 players at once, so if you have a larger group of people who all want to play Monopoly together – this is the game to go for.
It's cross-platform too, so you don't all need a PC – some players can join in on their tablet or mobile phone. The only real downside is that there are no AI computer players, so you can't play this game alone.
Read my full Capitalista review.
6. Older Versions of Monopoly
Another option would be to seek out older versions of Monopoly, either for PC or using emulators of older games consoles.
However, this is where legality might become an issue. Downloading old games that should be paid for, without paying for them could be copyright infringement and you might be downloading an illegal file.
If you love retro games you can buy old Monopoly CD-ROMs for cheap on sites like eBay and Amazon, but even with a CD drive, you can't just pop them in and expect them to work. You might need to enable compatibility mode or use an emulator. There are details on how to do that here.
Using emulated games is legally allowed if you own the physical ROM of the game. This is true of PC games and other consoles.
So, if your attic has your old Super Nintendo with a copy of Monopoly, you should be fine downloading a SNES emulator and the ROM for that game.
It's all a bit of a minefield though and if you're not tech-savvy at all it could give you a bit of a headache. Your safest bet is sticking to the latest PC games.
7. Monopoly Madness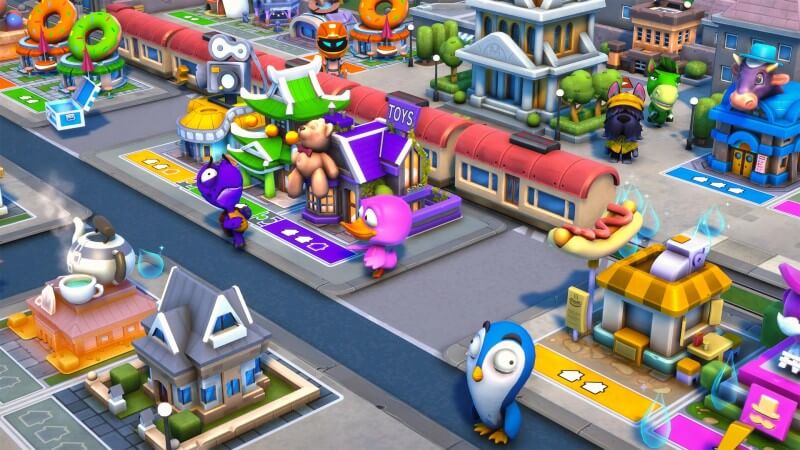 The most recent release on this list, the reason Monopoly Madness isn't right at the top is that it isn't traditional Monopoly as you know it.
It's very much a video game that involves some aspects of Monopoly, rather than a virtual version of the main game itself. Instead of moving around the board, you just dash around the streets however you want to.
You still collect resources and then buy and upgrade properties, but it's not about rolling the dice and getting lucky as you move around a circular board. It's a lot more chaotic!
If you aren't too concerned with playing a faithful recreation, then check out Monopoly Madness on PC, Xbox, PS4 or Nintendo Switch.
Which is the best Monopoly game for PC?
The best Monopoly game for PC is Monopoly Plus since it's the official one, with all the correct details and proper rules. It's also the most reliable if you want to play online. The game may not be perfect, but it will give you the best options for either matchmaking with friends or playing against new people online.
However, if you're not someone who plays a lot of Monopoly and you just want a casual experience, spending around $20 on a game might be overkill. In that instance, you might want to try one of the cheaper or free unofficial versions to scratch that itch for an occasional game. Capitalista, especially, is excellent.
Otherwise, you might be able to get an older version working if you'd prefer to try something retro, but there might be some issues around legality. If it's a PC version then don't assume just because you can download it that you're allowed to. And if it's a console version that you're emulating on PC then you need to legally own the original too.
In summary
There are a surprising number of options available if you want to play Monopoly on your PC, and while the official Monopoly Plus is broadly the best, you might not want to spend the full amount on it.
If you want to play Monopoly on your PC for free then give Capitalista a try. But, if you want a reliable option for online multiplayer games against friends that sticks to the official Monopoly rules, then Monopoly Plus would be the way to go. That's why it's my top pick for Monopoly video games of all time.
Related Posts: