Thinking about picking up Monopoly for Nintendo Switch? I've bought and played it, and it's pretty good – but not perfect.
In this Monopoly Nintendo Switch review, I'll show you the pros and cons of the Monopoly Switch game and my opinion on whether it's worth it or not.
Monopoly Switch Review
Summary
If you're looking to buy a video game version of Monopoly, you won't get any better options than the Nintendo Switch version. It's got plenty of options, online multiplayer and you can play it on-to-go, so it's essentially your own travel game too. It has a couple of minor issues with the speed of play, and you can occasionally have problems with online games, but overall, it's a winner.
How does Monopoly work on the Switch?
The Monopoly Nintendo Switch game is really easy to pick up and play. Once you start the game, you can be playing within a couple of minutes at most – the menus don't take long to navigate at all.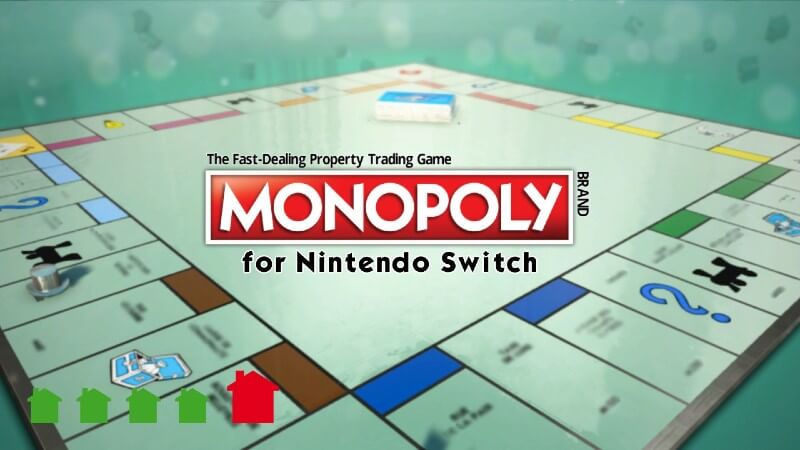 Start by selecting your language. Except it's not just language, you're also choosing your region here, which is why you've got the American and British flags on screen – you can make sure you have the right properties, whether you're gunning for Boardwalk or Mayfair as the final dark blue space.
There are 11 languages to choose from, each of which has its own custom board and voiceover too – a nice bit of attention to detail.
Then you're at the main menu, where you can either play a game locally, set up or join an online game, view the Objectives, or look at the options.
You can have up to three games on the go at any time, with games autosaving at the end of each turn – perfect if you have a family game you want to play, as well as a solo one and one with your partner.
Choosing your board
There are five different boards you can choose when setting up your game of Monopoly:
Classic Board – Your original Monopoly board, with all the same spaces and design you'd expect if you bought the physical standard Monopoly game.
Rabbids Board – Exactly the same as the Classic board but with a Rabbids theme from the Rayman offshoot Rabbids franchise. It's purely a cosmetic change – the properties and cards are named exactly as they are in Classic Monopoly but there are pictures of Rabbids on spaces. That's the only difference. A bit of a disappointment, really.
Living Board: City Theme – The Living Boards work in the same way as the Classic ones but have much more going on graphically in the middle of the board itself. The City Theme uses the same properties and just has a lot of city-related items to liven up the look of the board.
Living Board: Amusement Theme – The first of the boards to change the properties, this whole board is amusement park-themed, with graphics and properties related to rides and attraction
Living Board: Haunted Theme – The second board with new spaces, these are all 'spooky' properties such as Ogre's Den, The Haunted Corner, and so on, with the board having an overall Halloween-esque graphical theme.
None of the boards change how you play, but it's nice to have a little variety to keep things fresh.
Rules and players
Once you've chosen your board, it's time to set the rules – there are loads of options, from classic, to speed dice and action cards, or to specific goals. I won't cover them all here, but you can read about them in full in this post about the Monopoly for Nintendo Switch instructions.
Then it's time to set your players. Up to six people can play Monopoly on Switch at once, and you can use computer AI to fill any gaps too.
So, you can choose a one-player game and add one to five AI players, or six humans, or a mix of multiple human and AI-controlled players. You can also set the difficulty by choosing how good the AI is – from Very Easy through to Hard.
You also get to choose which token you use. You start with the standard 8 tokens included in modern Monopoly: Scottie Dog, T-Rex, Top Hat, Car, Duck, Cat, Penguin, and Battleship.
There are another 12 tokens you can unlock by completing objectives through the game, such as a Tortoise, Roller Skate, Gold Ghost, and more.
One thing to note – with the Nintendo Switch Monopoly game, you already have two controllers at least – you only need one JoyCon per player. However, you can also share controllers, so with one JoyCon you could have up to six human players. It's great for making sure the whole family can play!
Play modes: Docked vs Tabletop vs Handheld
If you're buying Monopoly for Nintendo Switch, then you have the choice of three play modes. And this is really one of the key benefits of the Switch version of the game compared to some others like PS4 or Xbox. No other physical board game or video game version of Monopoly is as versatile as this one.
Docked mode
If you play it docked, you can put Monopoly up on the big screen. It's perfect when you're at home playing with the whole family, as everyone has the best view of the board, and all you need to do is pass the controller around.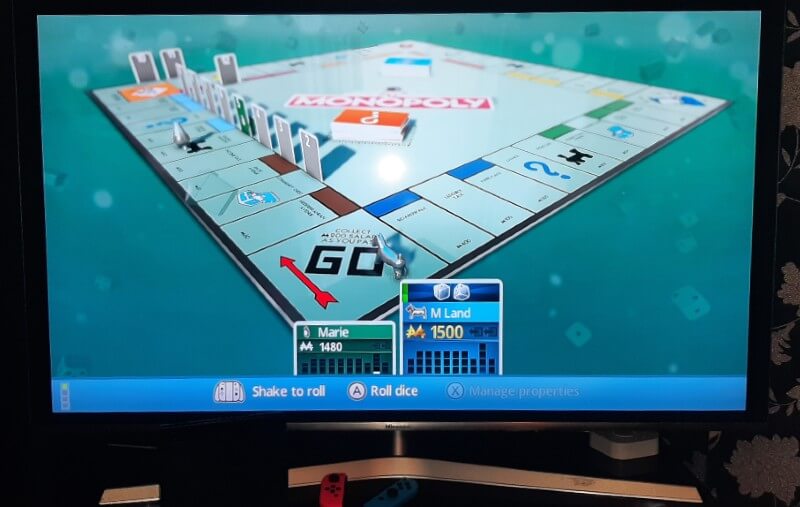 Tabletop mode
You can play Monopoly on Switch in Tabletop mode – where the console is placed on the table using the kickstand, and you crowd around it. It's perfect for sending the kids away to play in another room, or for taking to a friend's house, or their garden if it's a warm evening. The screen is a little small, but for Monopoly, it's perfectly fine.
Handheld mode
And then there's Handheld mode – where you're playing on your own holding the console. No version of Monopoly, except maybe the mobile version for Android and iOS, is as portable and easy to play on the move.
This mode is ideal for the commute to work or for taking on a long flight. The Switch version of Monopoly has a lot more options than the mobile one, and the bigger screen here really helps.
So essentially, Monopoly for Nintendo Switch is your family board game on the TV and your perfect travel Monopoly for yourself or playing with friends – with no fiddly pieces that can get lost in transit. This is a huge tick in the pros column.
Online play
Another great reason to buy the Switch version of Monopoly is the online play. Providing you're a paying member of Nintendo Switch Online ($20 a year for an individual membership) then you can play online against friends or just random players.
This is amazing if you prefer playing against real people but just don't have that many Monopoly fans in your social circle. And, when you join an online game, you don't have to wait for a load of internet strangers to start, you can jump right into an existing one, taking over an AI player in that game.
However, there are some drawbacks – online games can be a lot slower because you need to wait for everyone to take their turn and there's a little bit of lag with waiting for people to make their decisions.
Plus, you can sometimes get a player who is AFK – 'Away From Keyboard' – and it takes a bit of time for the game to realize and kick them out, so you can be left waiting.
And sometimes, unfortunately, the internet can go a little awry and you might get kicked out of your own game. It's rare – it happened to me once in around 15 tests – but it's infuriating if it happens late in the game when you're about to win.
Objectives
There are two ways to judge Monopoly for Nintendo Switch – as a version of Monopoly, and as a video game.
What I mean by that, is that you tend to buy a Switch game to be something you'll play every day, or at least a few times a week. And you wouldn't really buy a Monopoly board game for that same reason unless you were a die-hard fan!
So, for longevity, Hasbro has added in a few objectives to make single-player gaming worthwhile. They're nothing amazing but at least it's something to aim for.
There are 12 objectives for you to complete, each of which unlocks a new token to play with. A lot of them are luck-based – for example, avoiding landing on a property for 20 turns, or taking 8 die rolls to complete a slow lap of the board.
It won't have you playing every single night, but it does add a little bit to the game.
Is Monopoly fun on the Switch?
Monopoly on the Switch is as faithful to the real game as it could be, and so you'll find it as fun as you find regular Monopoly. It's got a lot of rules and options to change up to keep games varied, and because you can take your game online you can play against real players whenever you want.
How long does a game of Monopoly last on Switch?
The main problem that I have with Monopoly on Nintendo Switch is that it takes a long time. Technically, a game of Monopoly on Switch lasts around the same amount of time as the Monopoly board game – 45 to 60 minutes.
However, there's just a certain sluggishness to the game. Everything is very deliberate, and there are very few options to bypass animations to speed things up.
Once you've rolled you can skip to the space you're meant to move to, but just getting through turns and even rolling the dice feels slow.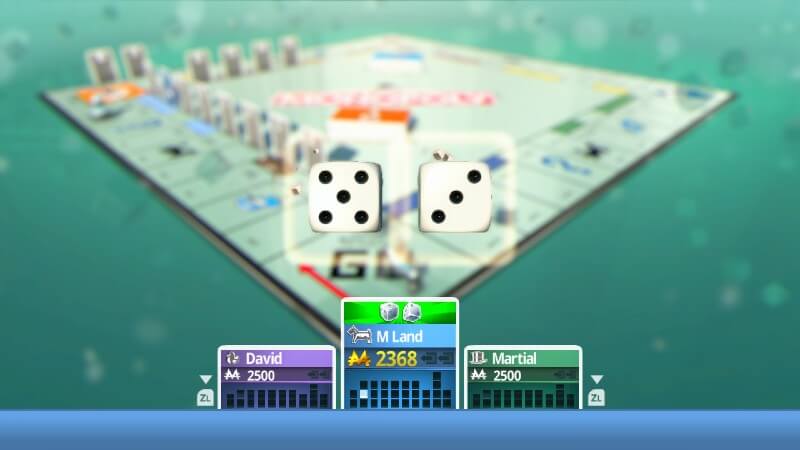 Especially when playing single player, you're eventually going to get bored and wish you could speed things up, and it'll be one of the main frustrations you have.
One way to play Monopoly faster on the Switch is to set up special goals. You can read more about those in my Monopoly Switch Instruction Guide.
How long does Monopoly take to load on Switch?
Monopoly on Nintendo Switch doesn't take long to load at all. It takes 18 seconds to go from starting the game to reaching the first main screen – the language option – if you use the '+' button to skip the opening logos.
It's worth noting that that's with the digital version of the game. If you buy the cartridge version, it will probably take 3-4 seconds longer.
Once you're starting a game, loading times are pretty minimal.
Some older Monopoly Switch reviews mention a loading bug that caused the game to stall on the load screen. However, it seems that this has been fixed and the game now has far fewer bugs and glitches than it had when it was first launched back in 2017.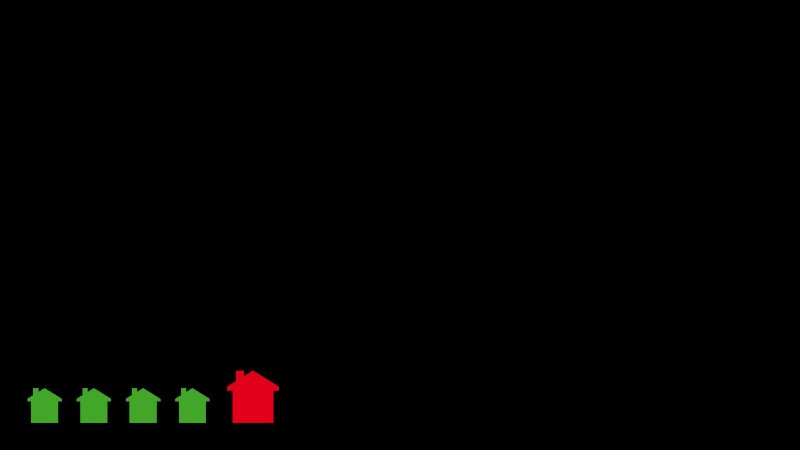 How much does Monopoly on Switch cost?
It's really important that you time it right if you want to buy the Switch version of Monopoly because the price can vary a lot.
If you're buying Monopoly for Switch on the Nintendo eShop, the standard price is $39.99, which is still a lot lower than a full-priced AAA Mario game. But it'll often go on sale, usually a few times a year, costing as little as $9.99.
Or, pick it up on Amazon, where there are usually deals to be had as well, both for the digital code and the cartridge version.
Reasons to Buy Monopoly for Nintendo Switch
Perfect for multiplayer – two controllers already available that can be shared
Choose to play on the TV, in Tabletop mode or Handheld mode when you travel
Lots of options to choose from for rules and boards
Online gaming is easy to join and fairly reliable
Reasonably priced – shouldn't cost you more than the physical board game
Reasons to Avoid of Monopoly for Nintendo Switch
By design, it's quite a slow-paced game once you're playing
Online dropout issues, while rare, are so annoying
The boards don't have a huge amount of variety
To conclude
Honestly, Monopoly on Nintendo Switch is so close to the perfect digital version of the game.
It's got loads of rules, some great Multiplayer options (both local and online), and the versatility of playing in all the different Switch modes at home and while traveling is ideal.
It's not a game you're going to come back to every night, and some extra longevity options would've been nice – the objectives are a little lightweight. And the slow game speed can be frustrating and slightly take the edge off the fun.
But it's Monopoly – and as a video game version, there's not a lot more you could do to get it so right. And credit to Hasbro – they love to charge extortionate amounts for DLC for other games, but they've not got anything expensive to pay extra for with this game. Yet, at least.
Don't forget to check out the Monopoly for Switch instructions too.
Related posts: