The UK Monopoly board properties are based on locations in London, England. If you want to know what these are, below you can see a list of all Monopoly properties on the UK board.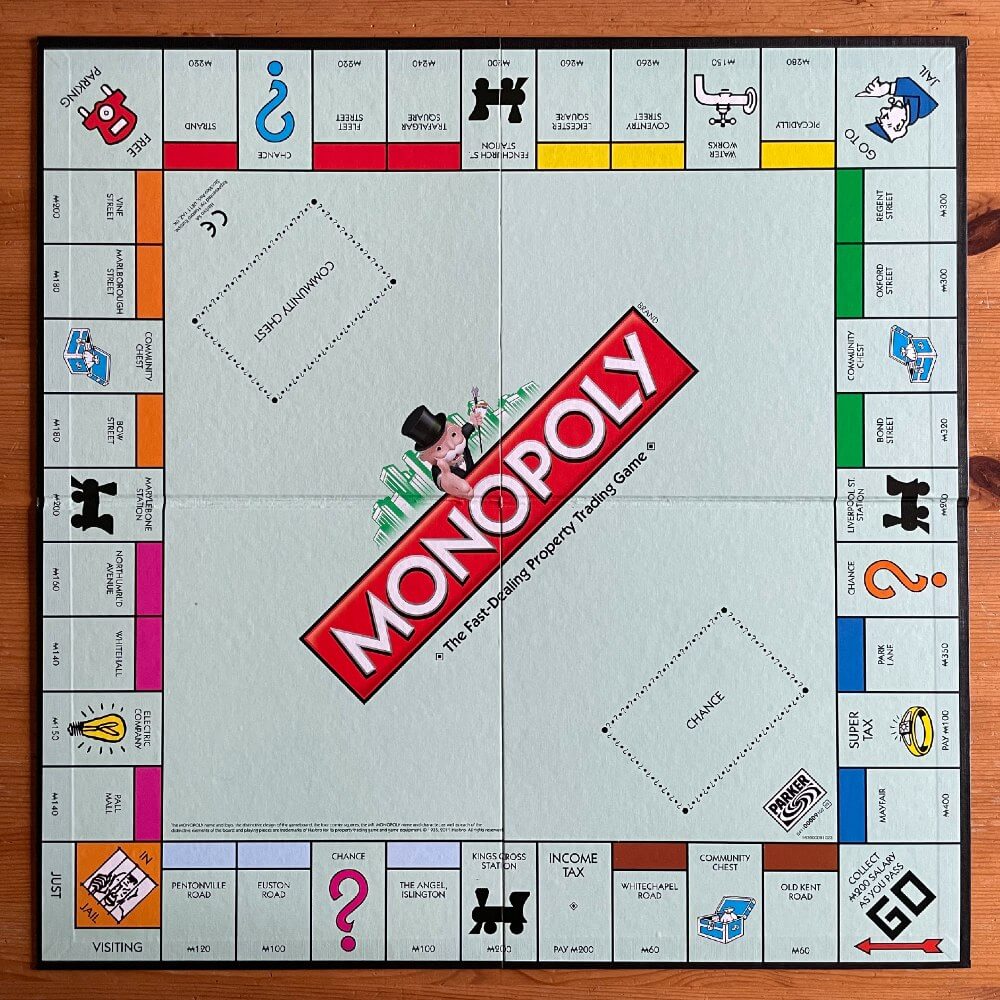 You can buy UK Monopoly at Amazon.co.uk or if you'd like to have a go at making your own, check out this guide: How To Make Your Own Monopoly Board.
What are the streets in Monopoly UK?
The UK Monopoly properties are:
Old Kent Road
Whitechapel Road
The Angel Islington
Euston Road
Pentonville Road
Pall Mall
Whitehall
Northumberland Avenue
Bow Street
Marlborough Street
Vine Street
The Strand
Fleet Street
Trafalgar Square
Leicester Square
Coventry Street
Piccadilly
Regent Street
Oxford Street
Bond Street
Park Lane
Mayfair
The list above only includes the streets, not all of the squares on the board as there's also stations, utilities, chance and community chest, the Go space, Free Parking, Go to Jail and Jail.
You'll find a list of all spaces on the UK Monopoly board here: List of all Monopoly Squares
What are the Monopoly stations on the British Monopoly board?
The four stations on a traditional London Monopoly board are, in order, Kings Cross Station, Marylebone Station, Fenchurch Street Station, and Liverpool Street Station. Each station costs £200 to buy and earns £25 in rent, although this increases if you own more stations.
Read more: Monopoly Stations (UK): Names, Rules & Best Strategy
Is Monopoly different in different countries?
The Monopoly game is licensed in over 100 countries. Many of these use their own unique version of the Monopoly board with local street names from that country.
For example, here's how Boardwalk is called on the different Monopoly boards for different countries:
Argentina – Obelisco
Australia – KIngs Avenue
Austria – Rhein Straße
Belgium – Rue Neuve / Nieuwstraat
Brazil – Brooklin
Canada – Stanley Park
Croatia – Ženevski trg
Denmark – Rådhuspladsen
Equuador – Mitad del Mundo
Estonia – Raekoja plats
Finland – Erottaja
France – Rue de la Paix
Germany – Schlossallee
Greece – Λεωφόρος Αμαλίας
Hungary – Dunakorzó
Iceland – Kringlan
Ireland – Shrewsbury Road
Italy – Parco della Vittoria
India – Mumbai
Iraq – Alzahria
Lituania – Gedimino prospektas
Luxembourg – Boulevard Royal Lëtzebuerg
Malta – L-Imdina
Mexico – Avenida Insurgentes
Netherlands – Kalverstraat
New Zealans – Queen Street
Norway – Rådhusplassen
Philippines – Ayala Avenue
Poland – Aleje Ujazdowskie
Portugal – Rossio
Russia – Arbat
Serbia – Kralja Milana
Singapore – Queen Astrid Park
South Africa – Eloff Street
Spain – Paseo Del Prado
Sweden – Norrmalmstorg
Switzerland – Zürich Paradeplatz
Turkey – Yeniköy
United Kingdom – Mayfair
United States – Boardwalk
Venezuela – Avda. Boyaca
Is there a British version of Monopoly?
The Classic British version of Monopoly has a board based on streets in London. The board was designed in 1935 and became the standard Monopoly board not just for the UK, but also for English-speaking Commonwealth countries such as Australia, New Zealand, Canada and South Africa.
Now, those countries all have their own versions of Monopoly, but the British version using the London properties remains the standard one for the UK.
Is there a Scottish version of Monopoly?
The Scottish edition of Monopoly was launched in 2001, featuring a board themed like the Scottish flag and Scottish towns and cities for each of the properties. There are also regional Scottish Monopoly versions based on places like Glasgow, Aberdeen and Dundee.
If you walk into a toy store in Scotland and buy a standard Monopoly set, you'll still get the one where the Monopoly street names are based on London locations. The Scotland one is considered a special edition.
You can sometimes find it in tourism shops, but the easiest place to buy it is online.
Which English town gets its own version of Monopoly?
Lots of British places have their own versions of Monopoly. These include not only big cities like Manchester, Birmingham and Glasgow but counties like Cornwall, Lancashire and Yorkshire and even small towns like Maidstone, Oundle and East Grinstead.
There are also some football club versions of Monopoly – so you can have a Manchester Monopoly game based on the city, and then a Manchester United game based on the football team.
How many squares are on a Monopoly board UK?
Each traditional Monopoly board has 40 squares. This is true not only of the UK Monopoly board but also of Classic Monopoly in other countries. Some special editions of Monopoly may have more or less than 40 squares.
What is the most expensive property on the UK Monopoly board?
The most expensive property on the UK Monopoly board is Mayfair. Costing £400 to buy, this is not only the most expensive property in the Monopoly game but also the most expensive area of London in real life.
You can also see the London Monopoly streets on a map.
What is the cheapest property on the UK Monopoly board?
The cheapest property on the UK Monopoly board is Old Kent Road which costs £60 to buy and has a rental value of just £2. Old Kent Road is the first Brown space on the UK Monopoly board after the Go space.
The Bottom Line
While the original Monopoly board was based on streets in Atlantic City, the UK Monopoly board features streets in London.
The property colours and values remain the same, but players will usually say pounds instead of dollars when talking about Monopoly money.
If want an advantage over your friends when playing Monopoly, I recommend that you find out which are the best UK Monopoly properties to buy.
Related Posts: