Making your own Monopoly board game can be a really fun activity. Not only do you get the pleasure of customizing your game to be exactly how you want it, but it can be much cheaper than it would cost to buy one.
Here's a photo of the first Monopoly board game I ever made, back in 2008! It may not look like it, but we actually had a lot of fun.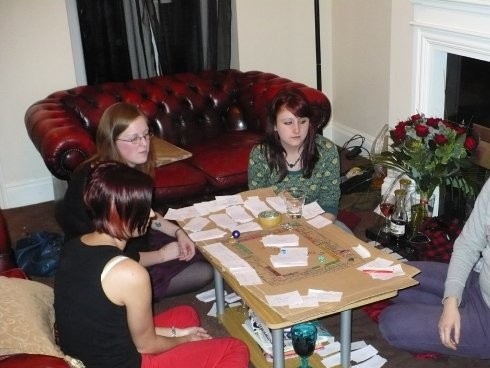 I've made several Monopoly boards over the years, and in this step-by-step guide, I'll give you all of the info, measurements, and advice you need to make your own Monopoly board game at home.
To make your own custom Monopoly board you'll need to:
Choose a theme for your DIY Monopoly game
List the streets you want to use
Decide your Monopoly board dimensions
Gather the materials
Make the Monopoly board
Make the title deed cards
Make the Chance and Community Chest cards
Make the money
Make the tokens
Find two dice
Play!
How to make your own Monopoly board
1. Choose a theme
Before you start making your board, it's good to spend some time thinking of a theme for your game.
The original Monopoly board was based on streets in Atlantic City and the UK board is based on streets in London. But you don't have to copy either of these.
The great thing about making your own Monopoly board is that you can base the street names on whatever you like. They don't even have to be streets.
Some ideas for Monopoly property names are:
Streets in your town
Places you've traveled to
Bucket list destinations
Members of your family
Animals or pets
Things from your favorite TV show
Bands that you like
2. List the streets
Once you've decided on a theme, you'll want to make a list of all of the streets in your Monopoly game. It's helpful to write these out on paper before you start to build your board.
You will need names for:
2 Browns
3 Light Blues
3 Pinks
3 Oranges
3 Yellows
3 Reds
3 Greens
2 Dark Blues
4 Railroads
If you want to, you can also think of alternative names for Water Works, Electric Company, Chance, Community Chest, Income Tax, and Luxury Tax. Or, you can just keep these as they are.
If you want to use all of the original Monopoly squares, then here's a list of all spaces on the Monopoly board.
You don't have to stick with the original colors if you don't want to either – when you're deciding how to make a Monopoly board, you can replace the colors if you wish – but it is much easier to stick with the existing ones.
3. Decide how big you want your Monopoly board to be
A classic Monopoly board is 19 1/2 inches (50 cm) square, but you can make your board any size you like. A bunch of students once created a Monopoly board that was 30 meters across, so if you want to beat the World record, then perhaps you can go even bigger?
You'll find it easiest if you stick to the classic Monopoly board sizes, though. That's because I already have a list of Monopoly dimensions that gives you all the exact sizes of the board, squares, cards, money, tokens, houses, and hotels in both inches and centimeters. I suggest that you follow this if you want to make everything line up perfectly.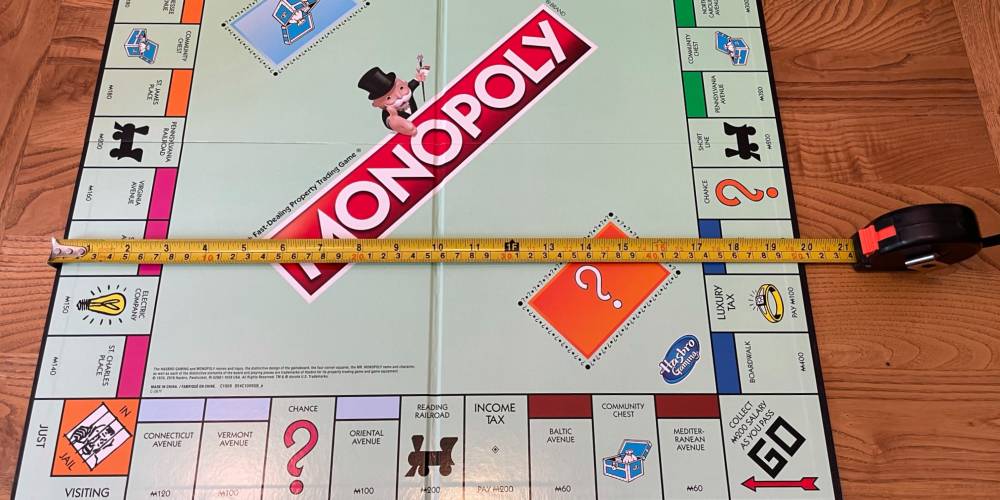 4. Gather the materials
Traditionally, Monopoly boards are made of paper and cloth fibers, although you can also get some luxury wooden Monopoly boards. The easiest way to make a Monopoly board at home is from a large piece of cardboard as this is easy to cut with scissors, yet sturdy enough to stand up to some use.
If you have the time and the patience, quilted Monopoly boards look absolutely stunning. But all of that embroidery is sure to take years to complete.
As well as a board, you're going to need some thin card for the Chance, Community Chest, and Title Deed cards as well as paper for the cash. You'll also need some scissors, a pencil, a long ruler and a collection of colored pens, crayons or paints.
5. Make the Monopoly board
Now it's time to make your Monopoly board. You'll want to draw everything out neatly using a pencil and ruler, making sure the spaces are even before going over the lines with a black pen.
If your board is 19 1/2 inches (50 cm), then start by drawing the corner spaces which are 2 1/2 inches (6.5 cm) square.
Not including the corners, there are 9 spaces on each side. These are 1 1/2 inches (4 cm) wide.
If you want something to copy, take a look at this Monopoly board template.
If you have a printer at home, you may decide that you want to print the board rather than draw it out. This is simple to do across six sheets of letter paper.
Once the outline of your board is ready, carefully color in the top of each space and write in the names that you've decided on.
You'll also want to write the price on each space. I've listed these here for you…
| Color | US Name | UK Name | Price |
| --- | --- | --- | --- |
| Brown | Mediterranean Avenue | Old Kent Road | 60 |
| Brown | Baltic Avenue | Whitechapel Road | 60 |
| Light Blue | Oriental Avenue | The Angel Islington | 100 |
| Light Blue | Vermont Avenue | Euston Road | 100 |
| Light Blue | Connecticut Avenue | Pentonville Road | 120 |
| Pink | St Charles Place | Pall Mall | 140 |
| Pink | States Avenue | Whitehall | 140 |
| Pink | Virginia Avenue | Northumberland Avenue | 160 |
| Orange | St James Place | Bow Street | 180 |
| Orange | Tennessee Avenue | Marlborough Street | 180 |
| Orange | New York Avenue | Vine Street | 200 |
| Red | Kentucky Avenue | The Strand | 220 |
| Red | Indiana Avenue | Fleet Street | 220 |
| Red | Illinois Avenue | Trafalgar Square | 240 |
| Yellow | Atlantic Avenue | Leicester Square | 260 |
| Yellow | Ventnor Avenue | Coventry Street | 260 |
| Yellow | Marvin Gardens | Piccadilly | 280 |
| Green | Pacific Avenue | Regent Street | 300 |
| Green | North Carolina Avenue | Oxford Street | 300 |
| Green | Pennsylvania Avenue | Bond Street | 320 |
| Dark Blue | Park Place | Park Lane | 350 |
| Dark Blue | Boardwalk | Mayfair | 400 |
6. Make the Title Deed cards
Once your board is complete, the next step is to make the title deed cards. Here's what these look like…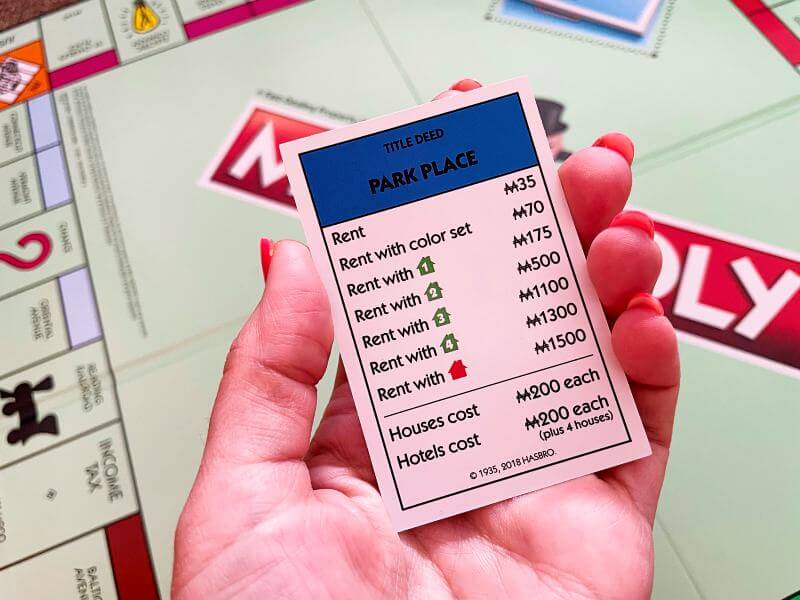 Monopoly Title Deed cards are usually 3 1/8 inches (8 cm) tall and 2 inches (5 cm) wide. It doesn't matter if yours are a little different, the main thing is that they're all the same.
I've added all of the information you need to make the Title Deed cards in the table below.
Monopoly Title Deed Template
Color
US Name
UK Name
Rent
Rent with color set
Rent (1 House)
Rent
(2 Houses)
Rent
(3 Houses)
Rent
(4 Houses)
Rent
(Hotel)
Houses Cost
Hotels Cost (plus 4 houses)
Price
Mortgage Value
Brown
Mediterranean Avenue
Old Kent Road
2
4
10
30
90
160
250
50
50
60
30
Brown
Baltic Avenue
Whitechapel Road
4
8
20
60
180
320
450
50
50
60
30
Light Blue
Oriental Avenue
The Angel Islington
6
12
30
90
270
400
550
50
50
100
50
Light Blue
Vermont Avenue
Euston Road
6
12
30
90
270
400
550
50
50
100
50
Light Blue
Connecticut Avenue
Pentonville Road
8
16
40
100
300
450
600
50
50
120
60
Pink
St Charles Place
Pall Mall
10
20
50
150
450
625
750
100
100
140
70
Pink
States Avenue
Whitehall
10
20
50
150
450
625
750
100
100
140
70
Pink
Virginia Avenue
Northumberland Avenue
12
24
60
180
500
700
900
100
100
160
80
Orange
St James Place
Bow Street
14
28
70
200
550
750
950
100
100
180
90
Orange
Tennessee Avenue
Marlborough Street
14
28
70
200
550
750
950
100
100
180
90
Orange
New York Avenue
Vine Street
16
32
80
220
600
800
1000
100
100
200
100
Red
Kentucky Avenue
The Strand
18
36
90
250
700
875
1050
150
150
220
110
Red
Indiana Avenue
Fleet Street
18
36
90
250
700
875
1050
150
150
220
110
Red
Illinois Avenue
Trafalgar Square
20
40
100
300
750
925
1100
150
150
240
120
Yellow
Atlantic Avenue
Leicester Square
22
44
110
330
800
975
1150
150
150
260
130
Yellow
Ventnor Avenue
Coventry Street
22
44
110
330
800
975
1150
150
150
260
130
Yellow
Marvin Gardens
Piccadilly
24
48
120
360
850
1025
1200
150
150
280
140
Green
Pacific Avenue
Regent Street
26
52
130
390
900
1100
1275
200
200
300
150
Green
North Carolina Avenue
Oxford Street
26
52
130
390
900
1100
1275
200
200
300
150
Green
Pennsylvania Avenue
Bond Street
28
56
150
450
1000
1200
1400
200
200
320
160
Dark Blue
Park Place
Park Lane
35
70
175
500
1100
1300
1500
200
200
350
175
Dark Blue
Boardwalk
Mayfair
50
100
200
600
1400
1700
2000
200
200
400
200
On the reverse of each card, you should write the name of the property, the mortgage value, and the unmortgage value (this is the mortgage value +10%).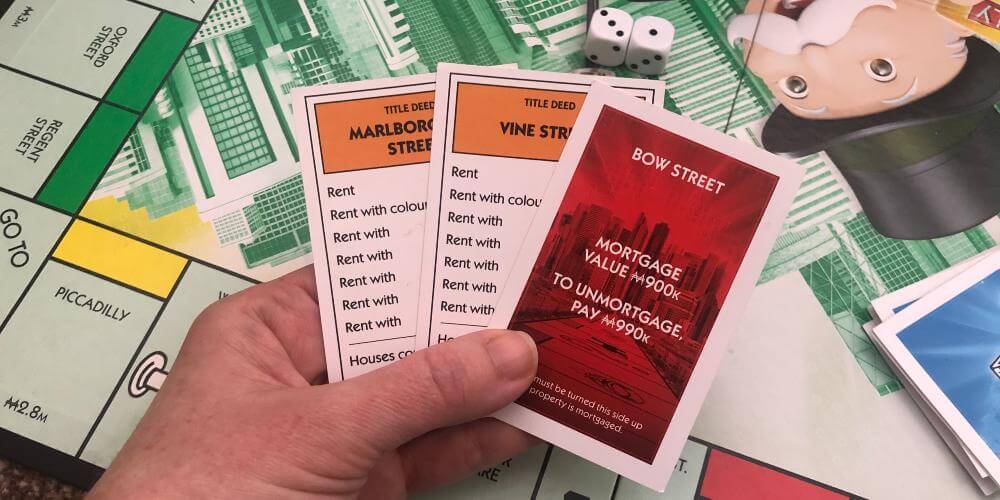 7. Make the Chance and Community Chest Cards
Now it's time to make your Chance and Community Chest cards. There are 16 of each of these and they're the same size as Title Deed cards.
If you're sticking with the classic Chance and Community Chest cards, then you can refer to this list of all of the Monopoly Chance and Community Chest cards. Note that the cards changed in October 2021, so you may want to use the newest version.
If you're making a personalized Monopoly board then writing your own Chance and Community Chest cards is a good idea. It can make your game really funny to play!
If you opt to make up your own cards, I recommend that you make them similar to the originals. So for each card that ends with 'Collect $100', your version should also say 'Collect $100'. Otherwise, you can upset the balance of the game too much. It would be a shame if the game ended early because you wrote 'Pay $2000' on a Chance card, wouldn't it?
If you have a printer at home, you can save time by using my free printable Chance and Community Chest card templates that allow you to add your own text.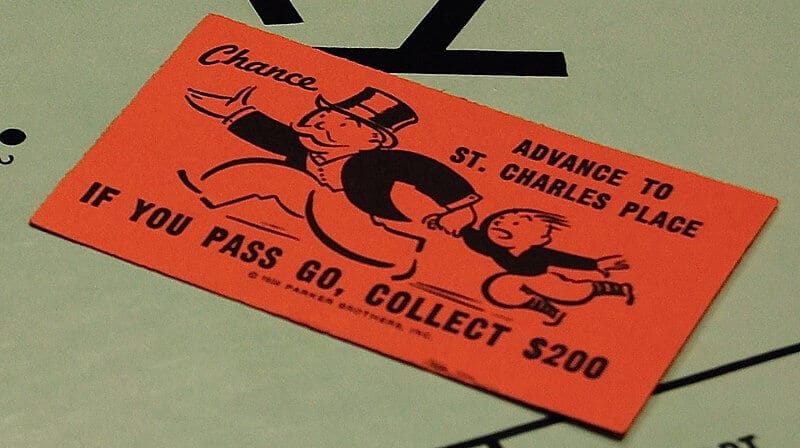 8. Make the Monopoly money
Making Monopoly money can take some time as you'll need to make 210 individual banknotes in the following denominations:
30 x $500 bills
30 x $100. Bills
30 x $50 Bills
30 x $20 Bills
30 x $10Bills
30 x $5 Bills
30 x $1 Bills
In classic Monopoly, each banknote is 4 inches wide by 2 inches high (10 cm x 5 cm).
If you plan to print your Monopoly money, then here are some free Monopoly money templates that you're welcome to use.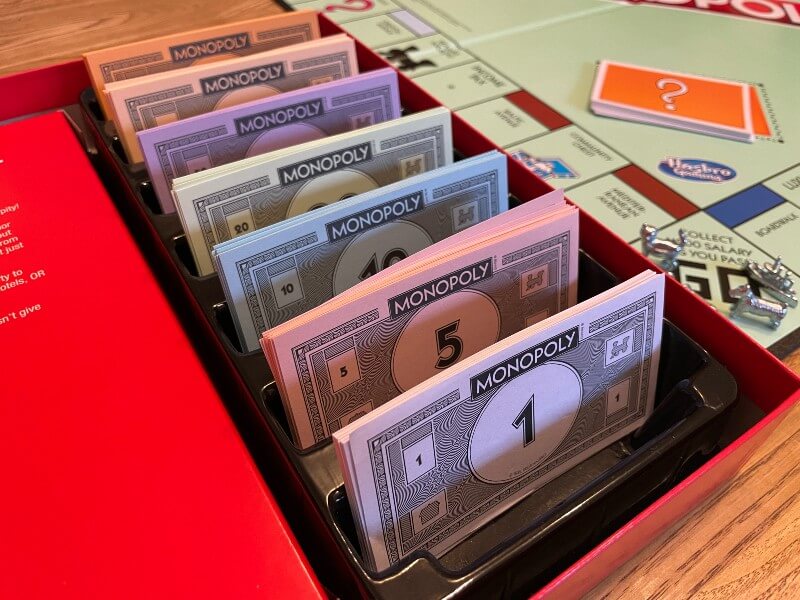 9. Make the tokens
When Monopoly was first invented, the game didn't come with any tokens. Instead, players were asked to use items from around the home such as buttons, coins, or charms.
Tokens were first introduced in 1935 and they have changed several times over the years. Here are the latest Monopoly playing pieces.
10. Source two dice
If you already have another board game that has dice then you can borrow these for your game.
Otherwise, this video will show you how to make dice from paper…
11. That's it!
Your homemade Monopoly game is now ready to play. Enjoy!
Of course, you won't have an instruction sheet for your homemade game, so if you have any queries over the rules, then be sure to use the rules section of this website to clarify anything you're unsure of.
Even if you know what you're doing, I also recommend that you take a look at these 16 Little-known Monopoly Rules That Everyone Gets Wrong. Many people are very surprised to discover that they've actually been playing Monopoly wrong their whole lives. Eek!
Here's another photo of me (on the right) with a homemade Monopoly board that we made back in the day. That's my friend Katie on the left. We've been playing Monopoly together since we were six and have been known to rip banknotes in half in disagreements over the rules!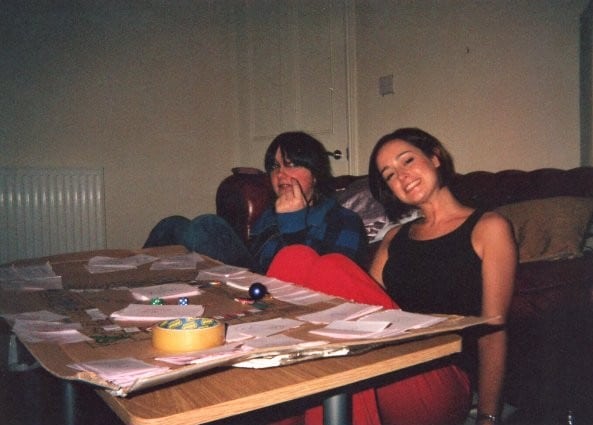 Easier ways to make your own Monopoly board
If you've read through all of those instructions and have decided that making your own Monopoly game sounds a bit too much like hard work, then don't worry. There are a couple of shortcuts that you can use to make a personalized Monopoly board in much less time.
1. My Monopoly
My Monopoly is an official Hasbro board game that allows you to create a personalized game using your own photos and captions. You can take photos from your phone, computer, or even straight from Facebook and print them out onto the My Monopoly sticker sheets.
2. Buy a personalized Monopoly board
If you like the idea of a personalized game, but would rather someone else make it for you, then take a look at www.personalisedmonopoly.com which is an official Hasbro website.
There are also plenty of sellers on Etsy who will make a custom game for you, as well as some businesses that do this online if you Google it, although I cannot vouch for the quality or legality of these personalized Monopoly sets.
Can you make your own Monopoly game and sell it?
The Monopoly game board, playing pieces, name and logo are all trademarks of Hasbro, Inc. You are not allowed to make your own Monopoly game and sell it, as you may end up with a lawsuit on your hands.
While there are some unofficial versions of Monopoly like Dog-Opoly and Cat-Opoly, these are different enough from the Hasbro game that these companies get away with it.
Final word
There are three main bits of advice I'd give to anyone looking to create your own Monopoly board:
Keep the structure simple – follow the existing template
Be as creative as you can be when you decide on properties and cards…
…but pick something you'll want to keep returning to, not a flash-in-the-pan idea
That last one's key, because if you put a lot of effort into your custom Monopoly set, you'll want to use it again and again. So it's nice to have a theme that won't get boring.
But if you need inspiration for the tokens to use, why not check out every token that's ever been used in a mainline Monopoly set?
Related Posts: