Monopoly is the world's most popular board game, played by over 500 million people across the world. So, it may come as little surprise that the game of Monopoly is featured in several official world records.
The ultimate authority on record-breaking achievements is Guinness World Records. The company has strict standards and policies governing what makes a world record.
I've searched through the Guinness World Records database to bring you this list of the most incredible Monopoly world records.
1. The biggest Monopoly boards
The world's largest permanent Monopoly board measures 9.44m x 9.44m. Opened in 2002, the game is located in a park in San Jose, California. It's made of granite and has scaled-up dice, tokens, houses, and hotels.
[Source]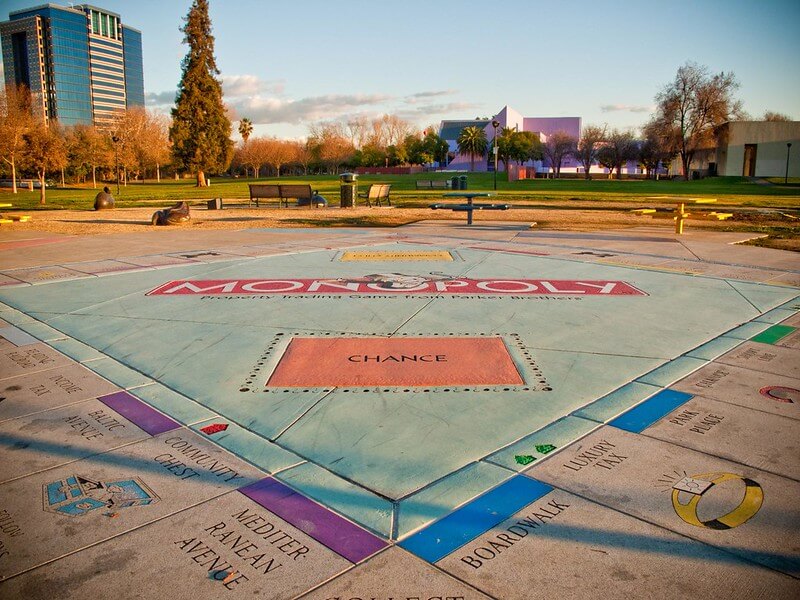 There is also a life-sized playable Monopoly board game in London, United Kindom that measures 15m x 15m, but this is not a permanent exhibit.
The largest Monopoly board ever made measured 30m x 30m. It was built by students of Wageningen University in the Netherlands. They also created supersize dice and other game markers.
[Source]
2. The largest collection of Monopoly games
The biggest Monopoly collection contains 2,249 items and belongs to Neil Scallan from Crawley, UK. The collection was officially verified on 5 September 2018 and was filmed as part of the BBC's 'Bargain Hunt' TV show.
The collection began in 2005. In 2021, Scanlon estimated that his Monopoly collection now contains over 3,100 different editions of Monopoly.
Despite having the largest collection of Monopoly games worth around £150,000, Scanlon admits to never having played the game for at least 20 years. This is because he prefers to keep his sets sealed.
[Source]
Read more: How Many Monopoly Versions Are There?
3. The largest Monopoly token
The world's largest Monopoly token is a life-sized Monopoly race car token which measures 9 ft 8 in long and 3ft 1 in wide. It was built on 28 November 2019 and is displayed at the Monopoly Dreams attraction in Hong Kong.
[Source]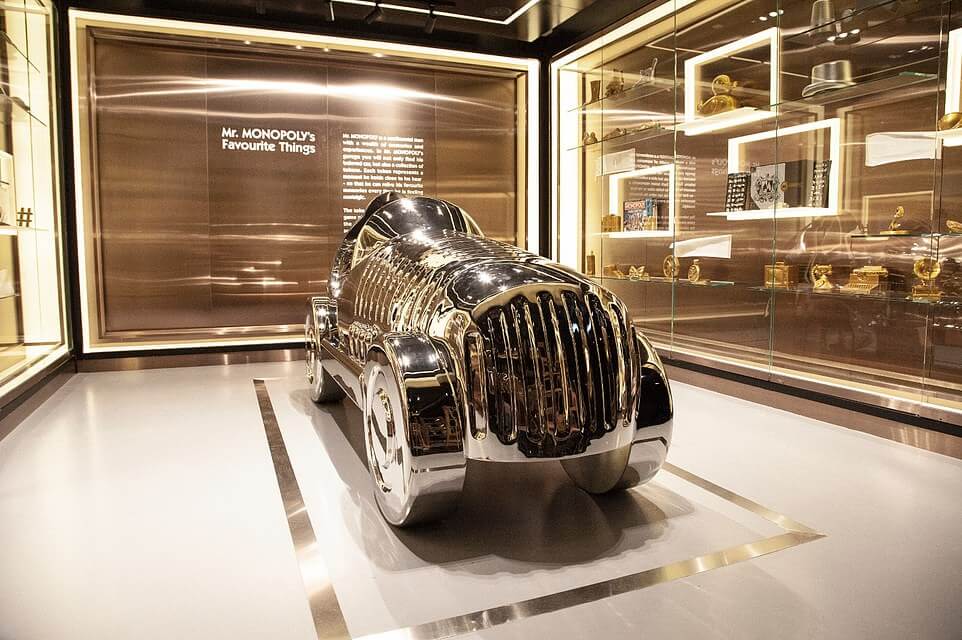 4. The most expensive Monopoly set
The most expensive Monopoly board game ever sold cost $2 million in 1988. Created by jeweller Sidney Mobell in San Francisco, USA, the board, houses and hotels are made from 23-carat gold and are decorated with rubies and sapphires. The spots on the dice are made with 42 full-cut diamonds.
I suppose if you won the lottery there are worse things you could buy than the most expensive Monopoly game ever. But you really wouldn't want to lose any of the pieces.
[Source]
5. The most people playing Monopoly at once
The largest number of people to have played Monopoly in a single venue was 733. This record was achieved in Tulsa, Oklahoma, USA on 12 January 2017. Participants played the officially licensed Rustic Cuff edition of Monopoly.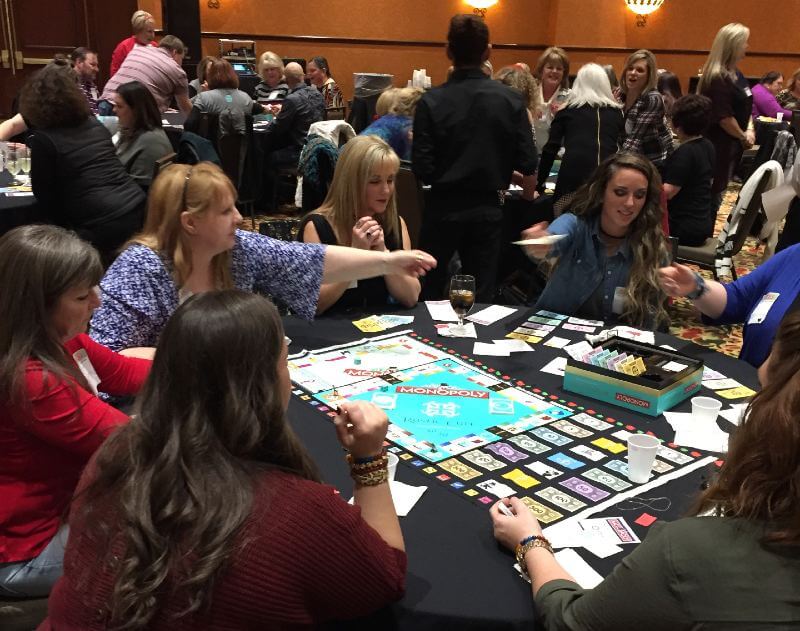 The largest simultaneous game of Monopoly across multiple venues involved 2,918 people across 21 locations worldwide. The game was organised by Hasbro and took place on 27 August 2008.
[Source]
6. The fastest time to visit every location on the UK Monopoly board on foot
On 5 August 2018, Alex Radford ran to every location on the UK Monopoly board in London. Beginning at Old Kent Road and finishing at The Angel Islington, the journey took 1 hour, 45 minutes and 35 seconds.
[Source]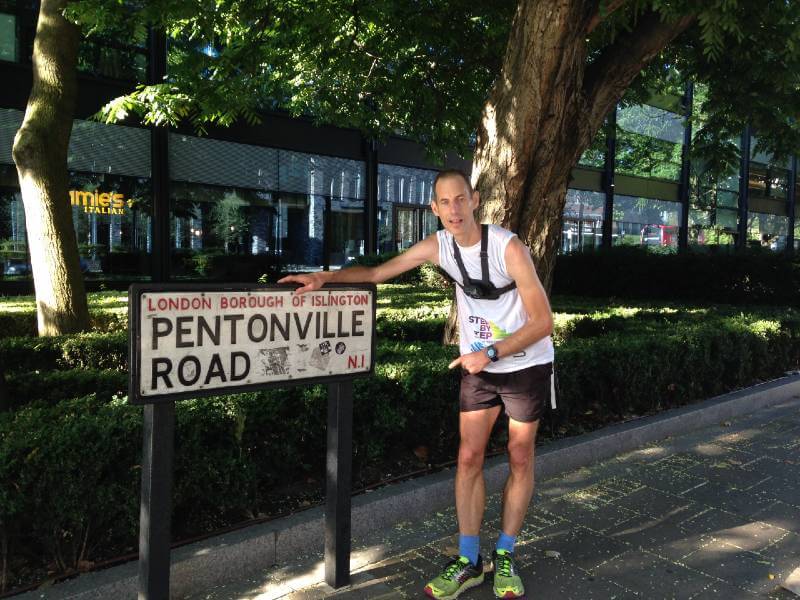 The distance travelled to visit every point on the London Monopoly board map varies depending on the route taken, but it's usually around 12 to 15 miles. The run includes some very busy pedestrian areas so it's best done in the early morning.
There is currently no record holder for the title of the fastest journey around the US Monopoly board on foot. There's also no record holder for the titles of the fasted time to visit every location on the UK Monopoly board by bicycle.
If you'd like to attempt these records in Atlantic City or London, you should contact Guinness World Records.
7. The longest game of Monopoly ever played
There is no official record for the longest Monopoly game ever played. A record such as this would be impossible to verify because there's no way of knowing if the game will be long or not when you begin to play.
In order to have a record accepted by Guinness, you would have to provide the organization with full details of the event in advance and have it verified by witnesses.
The National Museum of Play in Rochester, New York has an exhibit titled Monopoly: An American Icon. As part of this exhibit, there are some records for the longest Monopoly games…
World's longest Monopoly game – 1,680 hours over 70 straight days
Longest Monopoly game ever in a treehouse – 286 hours
Longest Monopoly game underground – 100 hours
Longest Monopoly game in a bathtub – 99 hours
Longest Monopoly game upside-down – 36 hours
Suggested read: How Long Should Monopoly Take?
If you'd like to try a very long game of Monopoly, then you should play Monopoly Longest Game Ever. In this interesting spin-off, the game doesn't end until someone owns every single property – and there are 66 of them. The game features only one die and tokens in the shape of tortoises and hares.
To conclude
Breaking Monopoly world records is not easy. If you get a world record, you would have to apply to Guinness World Records and have your attempt independently adjudicated.
Records such as 'the longest Monopoly game on record' are not possible to officially record as record attempts must be planned in advance.
However, there are some Monopoly world records that nobody has claimed. Guinness World Records also allow individuals to suggest new world records that they would like to attempt.
Feel free to pick up a copy of Monopoly The Longest Game Ever if you want a stab at an epic game. But if you just want to be famous because of Monopoly, it might be easier to try and win a world championship instead…
Related posts: