Monopoly doesn't always have to be family-friendly. If you're enjoying a few drinks at your games night with friends then turning Monopoly into a drinking game can seem like a fun way to spice up the evening.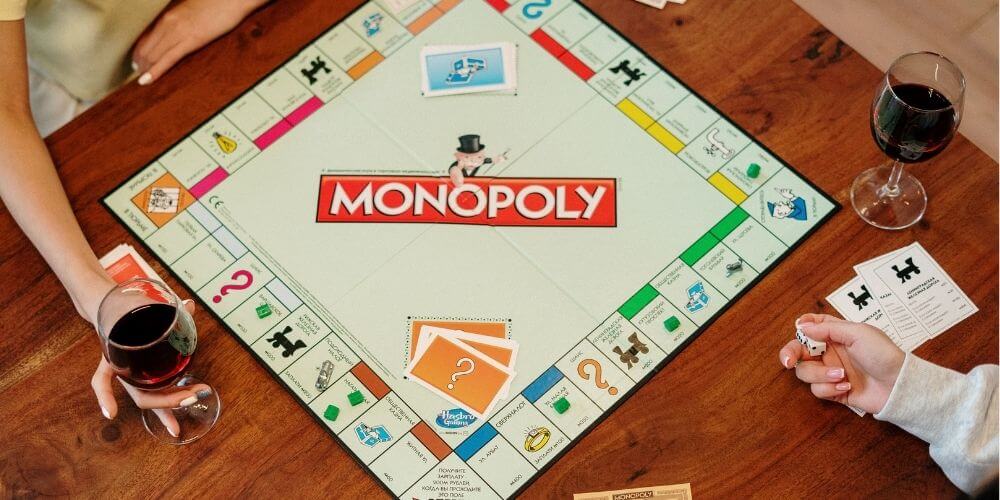 The rules of the Monopoly drinking game are pretty simple. You basically just take a drink when certain things happen in the game. You don't need any special board or equipment besides your Monopoly set, and some drinks.
Monopoly Drinking Game Rules
Here are the rules for the DIY Monopoly drinking game:
If you roll a double – Drink!
If you land on someone's property – Drink

!

If you land in jail – Drink!
If you have to mortgage property – Drink!
If you have to pay money to the bank – Drink!
When you pass go – Nominate someone to drink!
If you land on Free Parking – Everyone drinks!
And that's it!
You basically have to drink every time bad stuff happens to you. When you pass Go you get to celebrate by making a friend drink. And Free Parking is like a bit of a party as everyone will have a drink together.
Whether you drink a sip of beer or take a shot is up to you. But one thing I will say is to make sure you drink responsibly. Monopoly can be a long game so be sure to stop before anything gets out of hand.
Of course you could always add your own rules too – that's the beauty of DIY drinking games involving a Monopoly board.
Monopoly Drinking Games to Buy
If you fancy something even more fun than a drinking Monopoly game with the standard board, you'll find several games that have been specially designed with drinking games in mind. Check out some of these drinking board games…
1. Drinkopoly
This fun party game is suitable for any number of players between one and 69. Wa-heyy!
As you make your way around the board, past the bar and the strip bar, you'll have to perform special tasks. Some are funny, some are sexy and some are simply insane! If you want to get smashed, this is the game for you.
2. Wine-Opoly
A Monopoly game for wine lovers, this game is actually quite educational as you'll learn about wine while you play!
Suitable for two to six players, this game isn't so much of a drinking game, it's more of a fun game for wine lovers to enjoy along with a good glass of red.
3. Brew-Opoly
Another drinking-themed Monopoly game is Brew-Opoly. Marketed as a game for people who like to drink beer, this game will see you trading beers and purchasing brewpubs and microbreweries.
This game is suitable for two to six players, making it a fun alternative to Monopoly for beer lovers.
4. Cocktail-Opoly
If you love a Mojito, a Margarita, or a Martini, then this is the game for you. Two to six players can learn facts about cocktails while you play.
Just like the beer and wine versions, Cocktail-Opoly isn't a drinking game as such, but it works in a similar way to Monopoly and is the perfect game to play while you enjoy a drink with friends.
5. Drink-A-Palooza
A cross between Monopoly and drinking games like Beer Pong, Quarters, and Kings Cup, this popular party game has a Monopoly-style board with plastic cups in the middle. As you make your way around the board you'll need to toss balls into the cup, take sips, and do challenges.
This game is suitable for two to 12 players making it a fantastic drinking board game to get your party rocking.
Final thoughts
There are several ways that you can make Monopoly a drinking game. The easiest way is to follow the Monopoly drinking game rules above. You could also add in some of your own rules, such as drinking so many fingers' worth of a drink or taking a shot.
There are also other options if you want the best Monopoly games for adults that don't have to include drinking. Or if you want something even wilder, there's always Strip Monopoly that you could try.
But whatever you do, please remember to be responsible, and if you're playing a drinking game then drink plenty of water as you go!
Related Posts: