If you need an outfit for a costume party, then there are some great Monopoly-themed fancy dress costumes to choose from.
Whether it's a Halloween party, a letter M costume party or you just love Monopoly, I hope that you can take some inspiration from this list of fun Monopoly costumes…
1. Rich Uncle Pennybags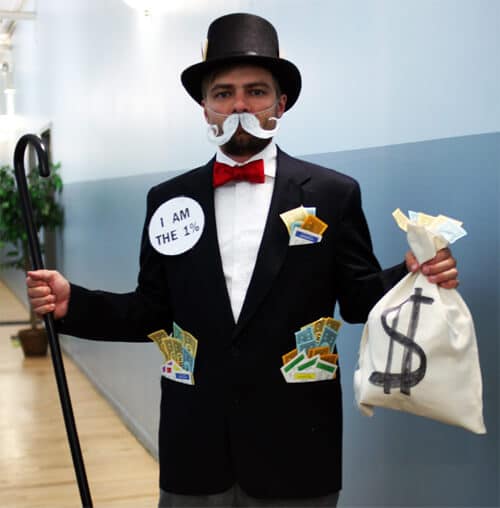 Of course, who else would be at the top of this list of Monopoly costume ideas than Rich Uncle Pennybags, AKA the Monopoly Man.
Ready-made Monopoly man costumes are hard to come by. But, the good news is that it's easy to put together a Monopoly guy costume from bits and pieces you already have at home and maybe a few extras that you can pick up on Amazon.
For a Monopoly man costume you will need:
One thing that you don't need when making a Mr. Monopoly costume is a monocle. That's because the Monopoly man never had a monocle, even though you may think that he did.
If you want to carry some cash, it's easy to print your own Monopoly money at home.
And who says that the Monopoly mascot has to be a man? If you'd rather make a Mrs. Monopoly costume, then you can easily adapt the male version to make a women's Monopoly costume. Make sure you keep the mustache from the Mr Monopoly costume though – that's iconic.
2. Jail Space
I love this Monopoly jail costume. Even at a Monopoly-themed costume party, you can bet that you'll have a unique outfit if you arrive in this costume.
This simple costume consists of a foam Monopoly jail with bars. You'll just need to provide your own black top and trousers.
If you're feeling crafty, perhaps you could save some money by making this costume yourself from an old cardboard box and some colored paper?
3. A Monopoly Board
This Monopoly board costume is so simple you could actually wear it every day, not just to a costume party.
Yes okay, so it's actually just a Monopoly board t-shirt. But if you're the kind of person who hates dressing up and wants the easiest Monopoly costume possible, then this is for you.
If you like the Monopoly board costume idea but want something with a bit more of a wow factor, you may wish to make your own Monopoly board costume from a large piece of card. Perhaps your face could be in the center of the board?
4. A Pair of Dice
A pair of dice is the ideal costume for couples. It's so simple and easy to wear – you just pull the costume on over your regular clothes and off you go, and it's two Monopoly game costumes in one.
As Monopoly has two dice, you'll need two people for this costume idea. It's a good costume to keep hold of though, as it can come in handy for future Halloween parties. And if you ever get invited to a Vegas or casino-themed party, you'll be ready.
5. Get Out of Jail Free Card
Another super simple Monopoly costume is this Get Out Of Jail Free card t-shirt.
This is actually a pretty cool t-shirt and I'd wear this to lots more places than a costume party.
While you could make your own Chance or Community Chest card costume, this one is pretty cheap and the reviews say that it's great quality too.
Suggested read: List of all Monopoly Chance & Community Chest Cards
6. Jake the Jailbird
A fun Monopoly costume for men, women, or even kids is Jake the Jailbird. He's the dude that's in jail on the Monopoly board.
You can't see too much of Jake on the board, which means that you can basically wear any jail outfit and pass for Jake the Jailbird.
7. Monopoly Money
Who knew that you could dress as Monopoly money for Halloween? Well, you certainly can with this Monopoly money-print cape!
One size fits all with this polyester and spandex cape. You just throw it over your shoulders and tie it at the neck.
Another plus point of this costume is that you can help yourself to as much of the buffet as you like without worrying about your pants getting tight.
8. Luxury Tax
Available for men or women and in a choice of white or gray, this Luxury Tax t-shirt would be ideal to wear to a Monopoly party.
This is an officially licensed Hasbro Monopoly t-shirt so you know it will be good quality. You can also get the same print on hoodies and vests.
9. T-Rex Token
Wait, you didn't know that there's a T-Rex in Monopoly? Well, there has been since 2017 when the T-Rex token was introduced along with the penguin and the rubber ducky. These tokens replaced the thimble, the boot, and the wheelbarrow.
This fancy dress costume might take a bit of explanation, and you might find it tricky to hold (or drink) your beer. But hey, if you want to stand out, this is the costume.
10. Rubber Ducky Token
Want a Monopoly costume for your kid? You can't get cuter than this rubber ducky costume!
If dad goes as the T-Rex and mom dresses as a penguin, you could even have a whole family of new Monopoly tokens.
To conclude
Hopefully, this article will have given you some good ideas for Monopoly costumes. Whether you create a homemade costume or just buy something that's ready to wear, I hope that you have a fantastic costume party.
Or if you're in the UK and you're looking for Monopoly fancy dress, maybe you've found the perfect Monopoly outfit now.
And if you're looking for Monopoly costumes for adults for a party you're hosting, why not make your own Monopoly board to play during the event?
Related posts: