One of the most common prizes in McDonalds Monopoly 2023 is the Selected Meal – there are loads of them up for grabs!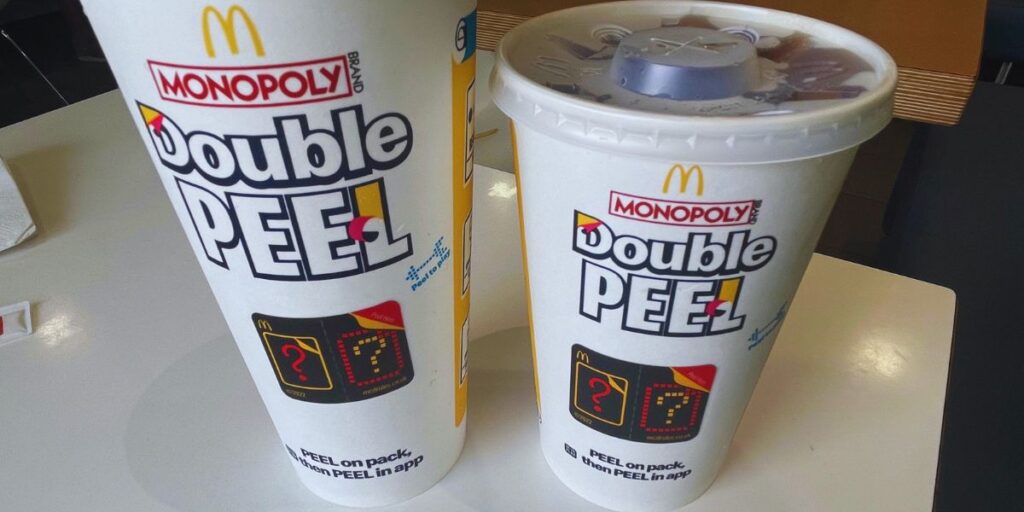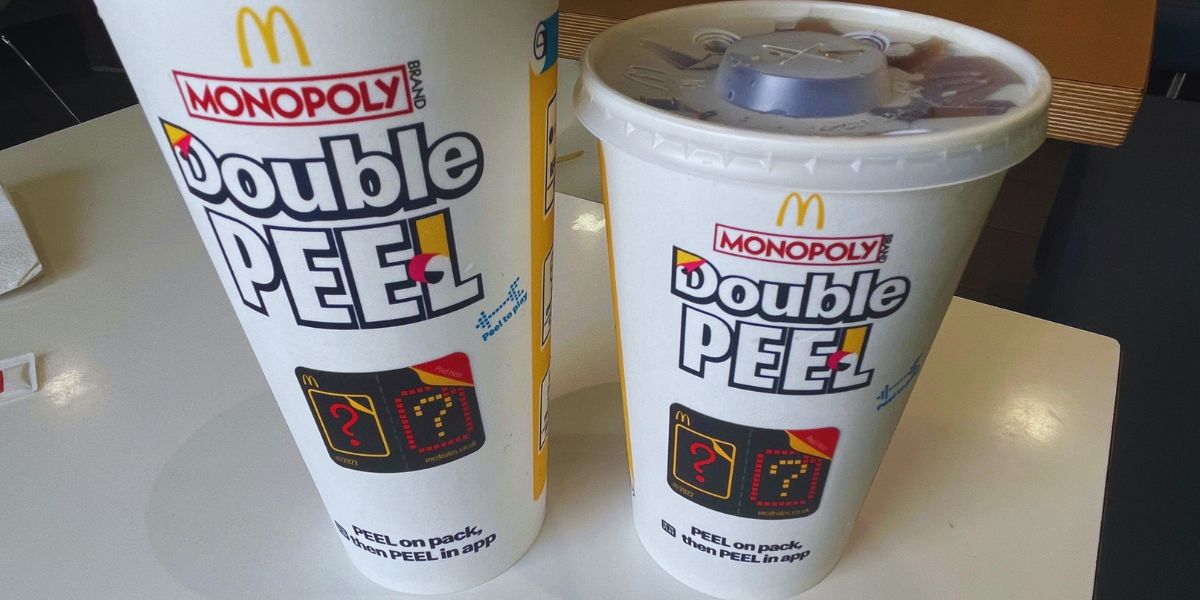 But what exactly is a Selected Meal – what can you choose from if you win?
Let's take a look.
What Does Selected Meal mean on McDonalds Monopoly?
A Selected Meal in the McDonalds Monopoly promotion refers to any Medium Extra Value Meal or any Medium Big Flavour Wrap Meal. You can't choose any meal from the menu, it has to be one of those listed as either Extra Value or Big Flavour Wrap.
The Extra Value Meal options include:
A Big Mac Meal
A Quarter Pounder with Cheese Meal
A McChicken Sandwich Meal
A 6 Chicken McNugget Meal
A Vegetable Deluxe Meal
A Fillet-O-Fish Meal
3 Piece Chicken Selects Meal
5 Piece Chicken Selects Meal
McPlant Meal
McCrispy Meal
McSpicy Meal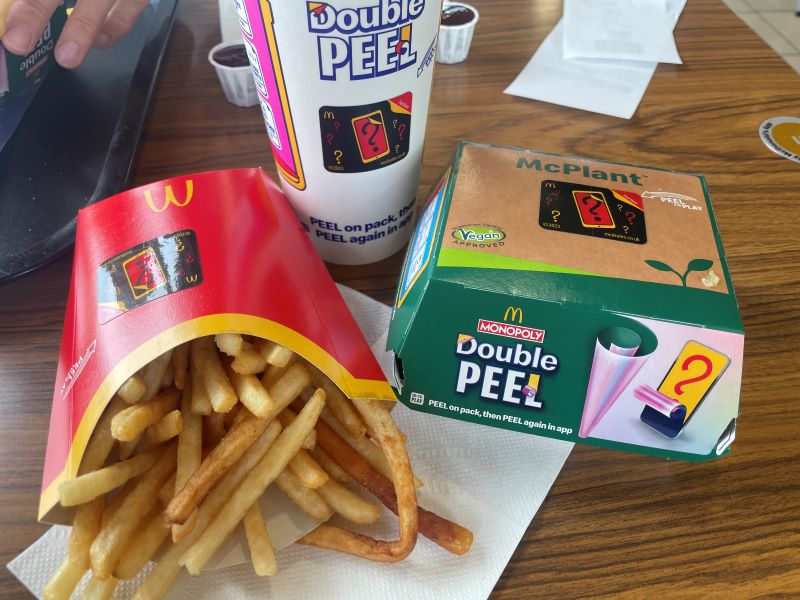 Each meal contains either the burger/sandwich/nuggets, a choice of medium fries, side salad, fruit bag or veg bag; and any medium soft drink, hot drink or bottle/carton drink. There'll be a surcharge if you choose a sugary soft drink due to the sugar tax in Britain.
The Big Flavour Wrap meals include:
The BBQ & Bacon Chicken One
The Spicy Veggie One
The Caesar & Bacon Chicken One
The Sweet Chilli Chicken One
Again, you get a side and a medium drink included as part of the meal.
How do you Win a McDonalds Monopoly Selected Meal?
In order to win a Selected Meal in the McDonalds Monopoly 2023 promotion, you need to complete the brown set of properties, including Old Kent Road (M500) and Whitechapel Road (M501). Old Kent Road is the rare property, making it harder to find, but there are still 2 million of the sticker to be discovered.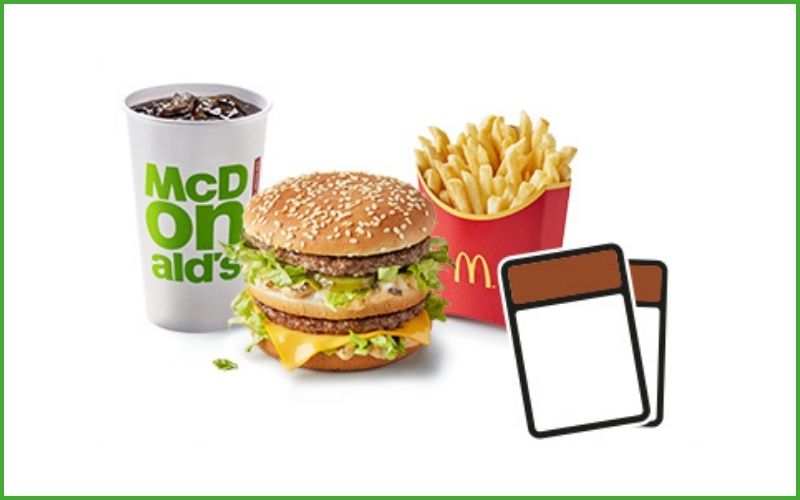 There are also 50,000 more digital stickers of Old Kent Road which you might be awarded when you scan your physical stickers in the McDonalds Monopoly app, meaning there's a total of 2,050,000 Selected Meals available to be won.
There are other food prizes that are more common, but they're smaller. The most common prize in the game is the instant win prize of an apple pie or fruit bag – there are over 9 million of those.
But when it comes to collecting property sets, the Browns is by far the most achievable.
Rules Around Claiming a Selected Meal in McDonalds Monopoly
There are some rules you need to be aware of when claiming a Selected Meal in the McDonalds Monopoly promotion.
Firstly, as I've already mentioned, if you want to upgrade your drink to include one with sugar – such as a regular Coca Cola – you'll need to pay extra because of the UK's sugar tax.
However, you can't pay to upgrade the meal to a large one. You can only get a medium fries and medium drink.
You can claim your prize in person or if you're ordering a McDelivery through the official McDonalds app online, but you can't claim it through any JustEat or UberEats orders.
Finally, the Selected Meal is not considered a food-voucher prize, because you have to collect the properties to win it. That means you can claim more than one at once. With food voucher prizes it's one per person, per visit, but you could claim your Selected Meal and then use a food voucher prize to get a free McFlurry as well, if you had one.
Final Word
If you're the kind of person who likes that winning feeling, but doesn't mind exactly what prize they actually get, then a Selected Meal in McDonalds Monopoly is a good one to aim for – with over 2 million available, you've got a great chance.
And now you know what the prizes are, you can start thinking about whether you'd grab yourself one of the Big Flavour Wraps, or if you're a McNuggets or Vegetable Deluxe kind of person.