One Direction were one of the biggest boy bands ever, having sold more than 70 million records worldwide. At the height of their fame, they were everywhere and had plenty of merchandise out to satisfy their dedicated fanbase, this even included a One Direction edition of Monopoly.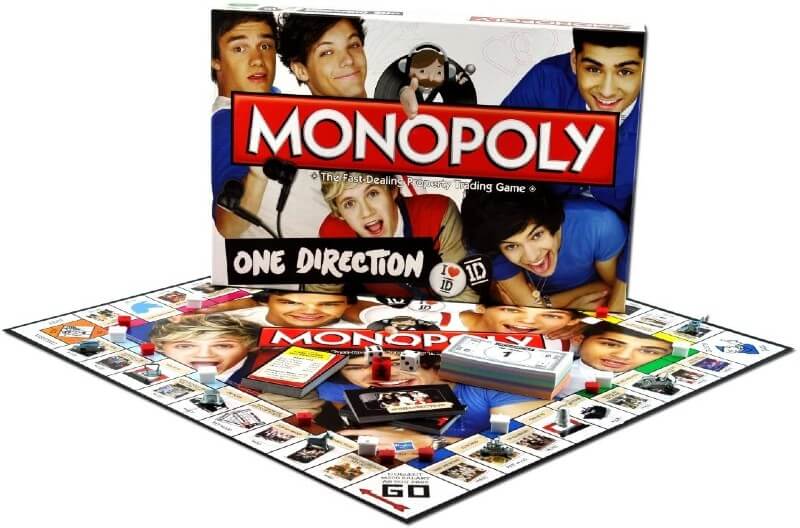 It's been a few years now since the band split but I know they still have a lot of fans.
One Direction Monopoly is one of the rarer versions of Monopoly out there. But, if you're a massive 1D fan then it's surely something that you should keep an eye out for.  
Monopoly One Direction board game – key facts
Released in 2004
Properties are based on songs, awards and tours
The playing pieces are standard Monopoly pieces
The game is rare, and so therefore expensive
Is There A One Direction Monopoly?
One Direction Monopoly was released in 2014 when they were probably the biggest band in the world. You can still buy new and unopened games online or pick up a second-hand version.
What's One Direction Monopoly Like?
As soon as you look at the game you will be in no doubt that this is a version of Monopoly dedicated to One Direction. The board and the box are both dominated by photos of the five original band members: Niall Horan, Liam Payne, Harry Styles and Louis Tomlinson and Zayn Malik. It's sure to be a design that pleases fans of the band.
Around the edges of the board, the One Direction theme has been expanded upon by having properties that show the journey that the band has been on together. Properties include things like the various music awards shows that they have appeared at (like the MTV awards), and songs that they have released. Some examples include 'forming on X-factor', 'dare to dream life as 1D', and 'what makes you beautiful'.
Instead of the stations, you have spaces that represent the tours that the boys have been on including America and Australia.
Instead of Chance and Community Chest cards, you get One Direction or This is Us cards. These are not all that different from the classic cards but have been given a slight One Direction vibe with messages like being sent to jail for queue jumping at a concert or 'awesome, you've won 'Where We Are' tour tickets on an online auction, collect $150'.
Elsewhere on the board, the need to pay taxes has been replaced by the need to buy concert tickets but the four corners retain the classic Monopoly artwork.
The money that is included in the game is a fairly standard Monopoly money design with just a small 1D logo to show that this is actually a licensed version of Monopoly.
One Direction Monopoly can be played by between two and six people. Before seeing the game I had imagined that the playing tokens would be tiny versions of the boys in the band so I was quite disappointed to find that they were just the standard Monopoly playing pieces; a hat, car, dog, iron, thimble, etc.
They are good quality metal pieces, but I had hoped for something a bit more One Direction-y.
For a close look inside the box, take a look at this unboxing video…
Where can I buy One Direction Monopoly?
One Direction Monopoly wasn't made for very long. This is probably because Zayn left the band the year after the game came out and the rest of the band called it a day in 1996, less than two years after the game was released.
Despite this fact, it should be possible to get your hands on a copy of the game on either Amazon or eBay.
As the game was released in the United Kingdom, One Direction Monopoly can usually only be bought on Amazon UK, but not on Amazon US.
This isn't a big problem if you are not based in the UK as you should be able to use your regular Amazon account to order it from anywhere in the world, you will just have to be prepared to pay a bit extra for shipping costs to the USA or elsewhere.
One Direction Monopoly usually costs around £80 to £150 (approx $100 to 200). So, it isn't exactly cheap, but this game's rarity makes it a great gift or purchase for big One Direction fans.
Many people see rare Monopoly games as an investment because, as long as you take care of them, they can go up in value over the years.
Other One Direction Merch To Consider
If you are a One Direction fan looking for some slightly more affordable merch, you may want to look at some of these products:
1. One Direction Top Trumps
If Monopoly isn't for you, the best of the One Direction games you can buy as an alternative is Top Trumps.
I think everyone must have played Top Trumps at some point so you'll no doubt be familiar with the rules which require you to compare scores against your opponent from various different categories.
In the 1D edition of the game, the cards feature various key events from their career such as when they first appeared on Big Time Rush, Twitter, or The Brits. Categories to compare include the year, the impact and the excitement rating of the event.
2. One Direction Autobiography
This One Direction Autobiography is a piece of official One Direction merchandise, a number one bestseller, and it tells the official story of the band.
As well as detailing the story from when the boys first got together on The X Factor, the book includes never-before-seen photos, drawings and notes from tours to help fans get closer than ever to all five members.
3. One Direction Musical Toothbrush
If you're looking for some merch that actually features the band's music then you can do a lot worse than this One Direction musical toothbrush since it will also help keep your teeth nice and clean. The toothbrush plays the song "Live While We're Young" for a full 2 minutes, which is a great way to make sure that you will be brushing for the recommended amount of time.
It is not just about the music though, this is a premium quality toothbrush with soft DuPont bristles and an ergonomic design that helps you to clean in all the awkward nooks and crannies. One Direction music and clean teeth, what more could you want?
Final Thoughts
One Direction Monopoly is a fun game, but its rarity means that it's now very expensive. If you do invest in a limited edition set, you'll want to make sure that you take good care of it, as it could be worth even more in the future.
There are many, many different Monopoly versions in existence, so if you can't find a One Direction version, I'm sure there's another one out there that you'll love as well!
Related Posts: