Everyone knows that Monopoly is a board game, but its influence has long since been felt in popular culture.
In this post, I will run through all the movies and TV shows that have been inspired in some way by Monopoly. There's a good mix, from documentaries to gangster heist movies.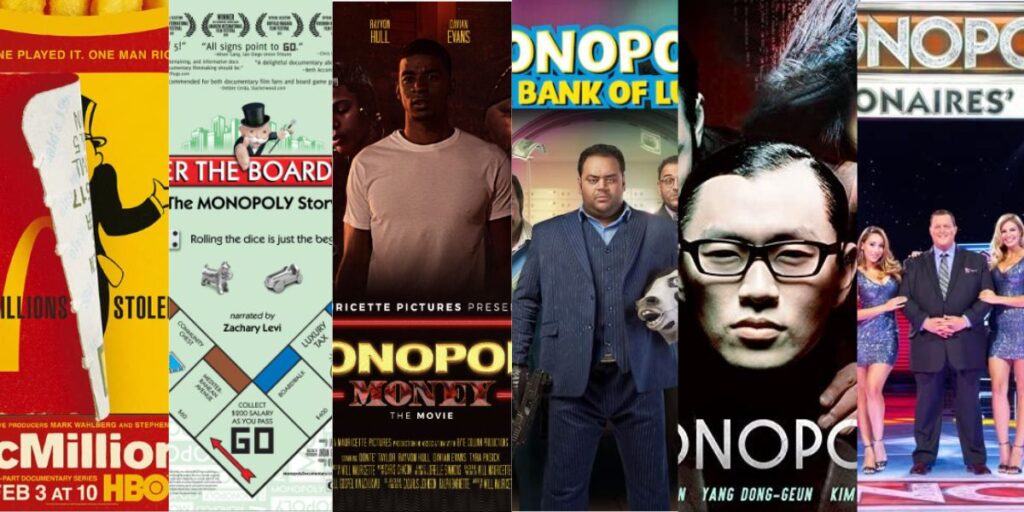 So, whether you're a die-hard fan of the game or simply looking for something to watch, this round-up of the best Monopoly movies and TV series will help you to find some great Monopoly-related entertainment.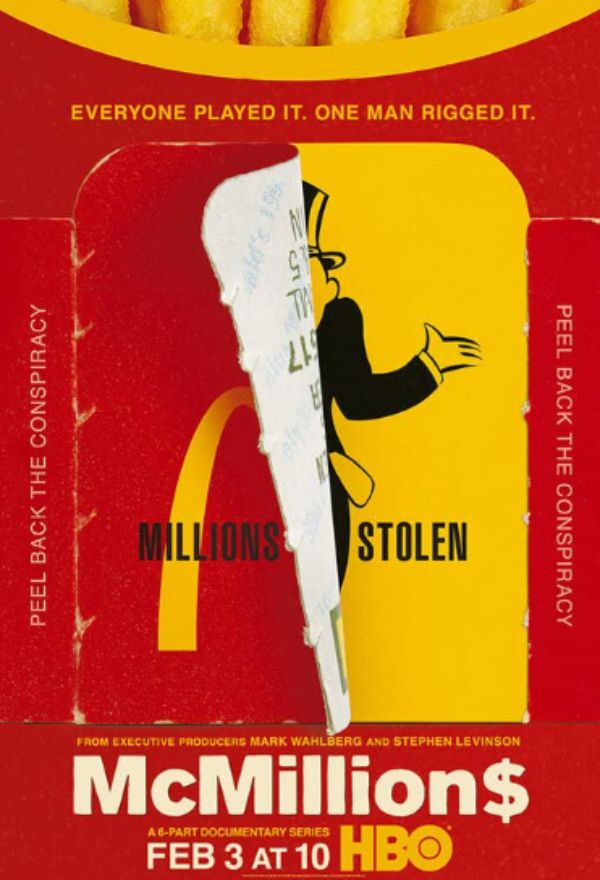 McMillions is a documentary television series that tells the incredible true story of one man and his group of accomplices who managed to swindle the fast food giant out of a staggering 24 million dollars!
McMillions was first shown on HBO in 2020 and takes you through the events of the McDonald's Monopoly game scandal that took place between 1989 and 2001. 
The show introduces you to the mastermind behind the scheme – a former police officer named Jerome Jacobson – and the cast of characters who helped him pull it off. The show has interviews with the criminals and the law enforcement officers that eventually brought them to justice.
The documentary is fascinating and the sheer scale of the fraud is mind-boggling. Jacobson and his accomplices were able to steal millions of dollars from Mcdonald's for years on end by manipulating the Monopoly game.
Their plan was simple – Obtain winning game pieces and then sell them on to unsuspecting buyers with a steep markup.
They were able to continue this scheme for several years undetected but eventually a tip-off from an informant to the FBI precipitated their downfall.
The FBI was able to piece together the evidence and in the end, justice was served on Jacobson and his gang.
It's a serious crime but the McMillions documentary presents it in an engaging and entertaining way. It's a must-watch show for anyone that is interested in true crime, Monopoly, or just a fascinating story.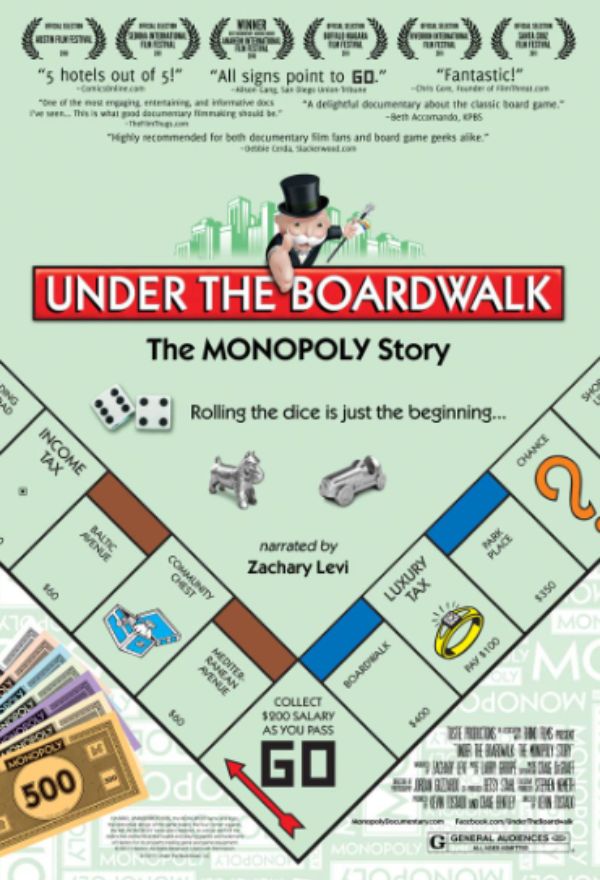 If you are a big fan of Monopoly then this is the one to watch. Under the Boardwalk: The Monopoly Story is a riveting 2010 documentary film that takes you from the game's origins back to the early 1900s and explores how it evolved over the years to capture the hearts of millions worldwide.
What makes this film stand out is its examination of the game's creator, Charles Darrow. While Darrow is widely recognized as the inventor of Monopoly, the documentary sheds light on the controversy surrounding his role in the game's development and the contributions of others who helped bring it to life (check out this post to find out who invented Monopoly).
Under the Boardwalk also looks into the game's cultural impact and its enduring popularity.
The show includes interviews with passionate fans from around the world and shows how Monopoly has captured imaginations for generations and has been adapted and reimagined in countless ways.
This documentary includes tons of information that is sure to captivate not only Monopoly enthusiasts but anyone interested in the history of board games.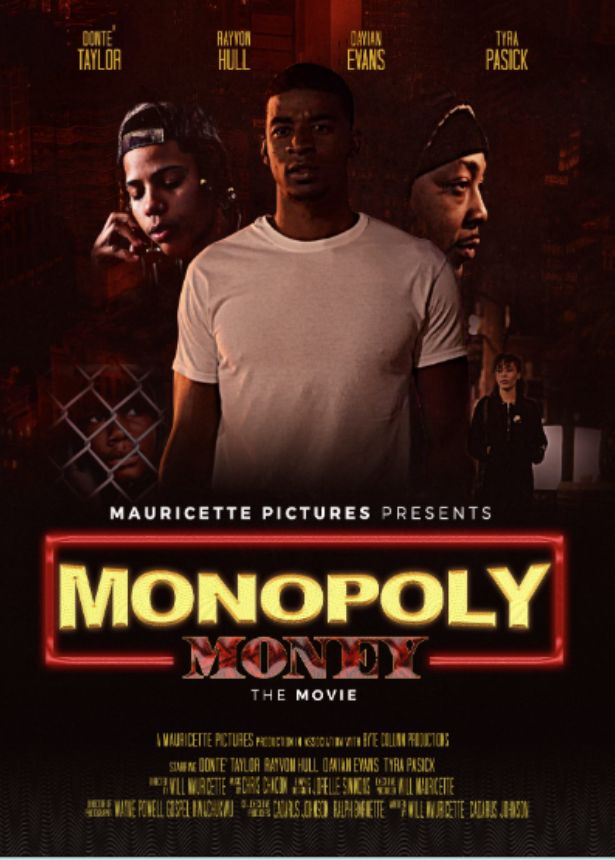 One of the ways that Monopoly has really made a mark on our culture is simply the idea of having piles of money lying around and having all the money that you could ever need.
This is perfectly illustrated by Monopoly Money – The Movie. This is a film about two best friends, CJ and Speedy, who are tired of struggling to make ends meet. They embark on a mission to find a quick and easy way to make more money.
They are determined to make money even if it means breaking the law and putting their lives on the line. Success brings them wealth, but jealousy starts to brew when a notorious gang member, Brickz, becomes envious of their success.
In this gripping and fast-paced thriller, Brickz will stop at nothing to take down CJ and Speedy. As events unfold, the two friends realize that they are in too deep and that escaping their dangerous lifestyle won't be easy.
The movie is a cautionary tale of the price one pays for taking shortcuts and making bad choices. There's not a whole lot of Monopoly in it!
This 2017 movie follows a similar theme of relating the famous bank in Monopoly to the pursuit of riches through crime.
The movie centers on Saleh, a disgruntled banker, who is unjustly fired from his bank job. He decides to team up with his coworker, Amr, and their quirky friend, Ze'ro, to pursue their dream of riches through a life of crime. They make a plan to rob the bank and the trio sets their sights on making it big.
As you might expect, things don't go according to plan and their scheme is not as foolproof as they thought.
In this action-packed thriller, Saleh, Amr, and Ze'ro soon discover that the life of a criminal is not as glamorous as they had imagined, and they must face the consequences of their actions. Will they be able to outsmart the law and make their dreams a reality, or will their plan come crashing down around them?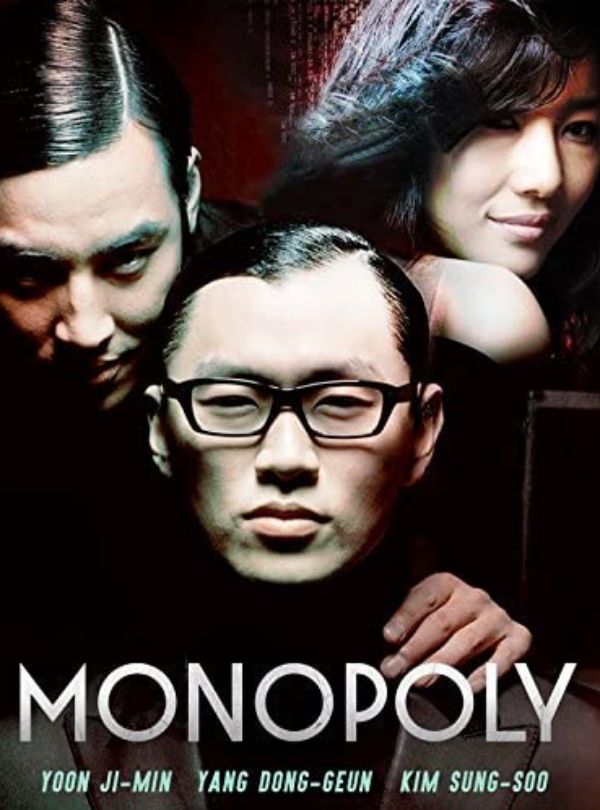 It's interesting how many of the movies inspired by Monopoly relate to people living a life of crime. I can see why this is, it's the piles of money connection. But why has no one written a Monopoly horror movie?
I'd love to see a Monopoly scary movie where a serial killer strikes at a property on each of the real-life streets as he works his way around the board. It would be terrifying knowing yours was the next street at risk! Maybe he could roll a die and your street gets skipped, but what happens next time around…..I'll start working on the script right now….
Anyway, Monopoly (2006) is a fictional movie set in Korea. The main character is Kyung-ho, a brilliant computer programmer who has the keys to the online networks of all the banks in Korea.
While going about his usual routine, he unexpectedly meets John, a charming businessman, who introduces him to the high life of the wealthy. As Kyung-ho gets caught up in the lavish lifestyle, he discovers hidden desires that he never knew he had.
Kyung-ho discovers John's secret project and is asked to use his programming expertise to withdraw small amounts of money from all the bank accounts in Korea. With complete trust in John, Kyung-ho joins the plan to pull off a massive con game against Korea.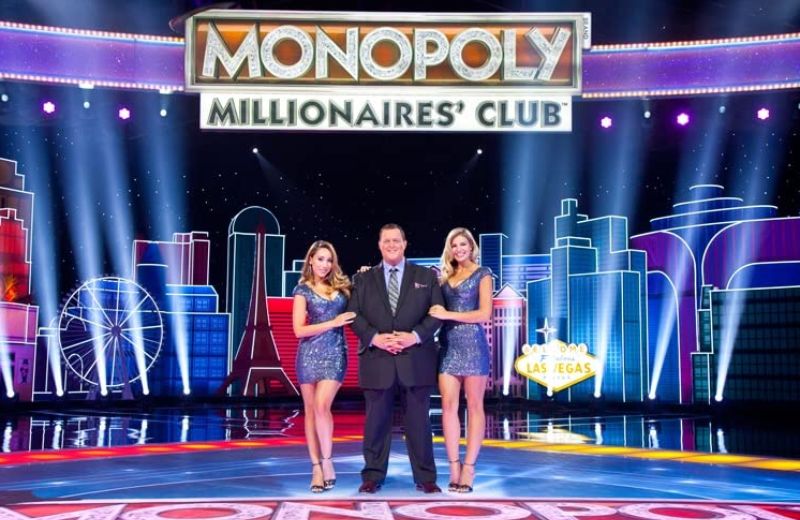 If you are looking for a Monopoly TV series that is actually linked to the format of the board game then Monopoly Millionaires Club is the one for you.
It was a game show hosted by Billy Gardell. The show ran from 2015-2016 and featured contestants playing a variety of games based on the board game Monopoly. These included Advance to Boardwalk, Bank Buster, Community Chest, and Park It. Each episode ended with a round called "Go for a Million," which has a top prize of $1,000,000.
7. A Future Official Monopoly Movie?????
There have been plans to release a movie based on the board game Monopoly for nearly two decades!
So far nothing has come out but there have been some high-profile names involved. The owners of Monopoly (Hasbro) are seemingly keen to capitalize on the popularity of Monopoly in a similar way to their Transformers franchise.
Back in 2008, it was announced that Ridley Scott would direct a movie adaptation of the board game. The idea for the film was developed by Scott and writer Frank Beddor (known for There's Something About Mary).
It revolved around a charming underdog with an obsession with Monopoly who suddenly finds himself living in a real-life Monopoly world. He then had to defeat the notorious Parker Brothers, (the original manufacturer of the game before being bought out by Hasbro).
To be honest, I had to check this multiple times to ensure that this wasn't a spoof story, but apparently, it was a real idea! Anyway, for some reason, it was never made.
The idea of a Monopoly movie remained though and in 2015 Randall Emmett disclosed that filming for the Monopoly movie was scheduled to commence in the summer. The producer revealed that the film would draw inspiration from the 1985 film The Goonies with a story revolving around a group of young people trying to escape from the clutches of an evil adult.
Again nothing happened.
The most recent update on the movie was in 2019 when it was announced that Kevin Hart would star in the film with Tim Story as director.
So far there has been no further update or release but maybe one day the movie will get released in some form….. I think they should try my Monopoly scary movie idea…..
To conclude
So, those are all the Monopoly Movies and TV shows.
The best one for fans of Monopoly is definitely Under the Boardwalk: The Monopoly Story. It is a great retelling of the story of Monopoly over the years and well worth a watch.
McMillions is also a great documentary although it is less directly related to Monopoly itself.
Related Posts: