Ready to try your luck with the McDonalds Monopoly game in Canada? The game may be over for 2023 already, but it will be back in 2024 I'm sure. But, don't just turn up at your nearest restaurant and order whatever you like – not all of the McDonalds Monopoly menu items come with game pieces!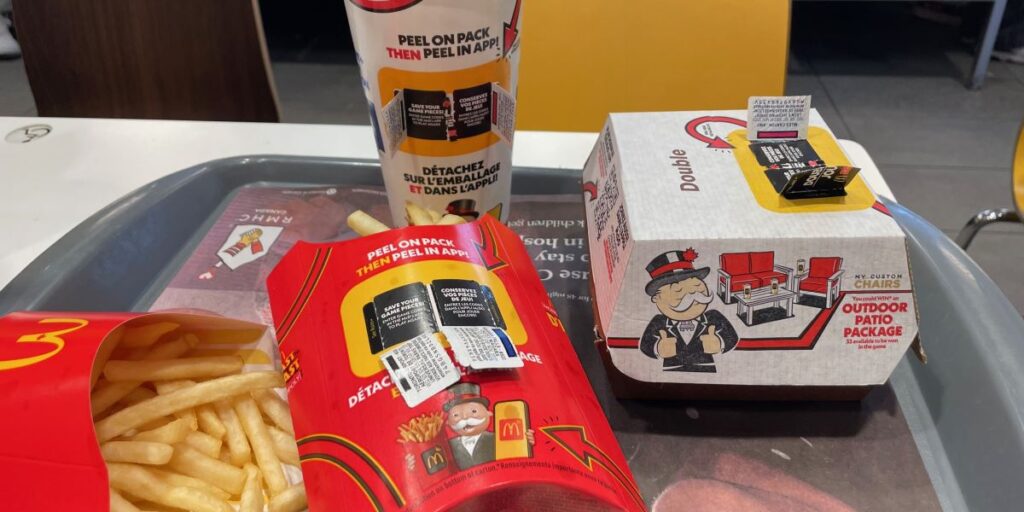 You don't want to spend all your money on a meal just to find out that you've missed out on some chances to win. So, let's take a look at all the McDonalds Monopoly food items Canada players can enjoy, if they want to collect those vital game pieces.
How Many Game Pieces Do McDonalds Monopoly Eligible Items Come With?
All eligible food items in McDonalds Monopoly Canada come with one Game Piece, which includes two separate Game Stamps. The only exception is the 20 Nugget Sharer box, which comes with two Game Pieces (four Game Stamps).
In some countries, the McDonalds Monopoly food items come with different numbers of game pieces attached, so you need to plan your food order even more carefully if you want maximum value.
But in Canada, as long as you choose your food from the list of food items that have a game piece attached, you'll always get the same number – unless you're in the mood for a lot of chicken nuggets.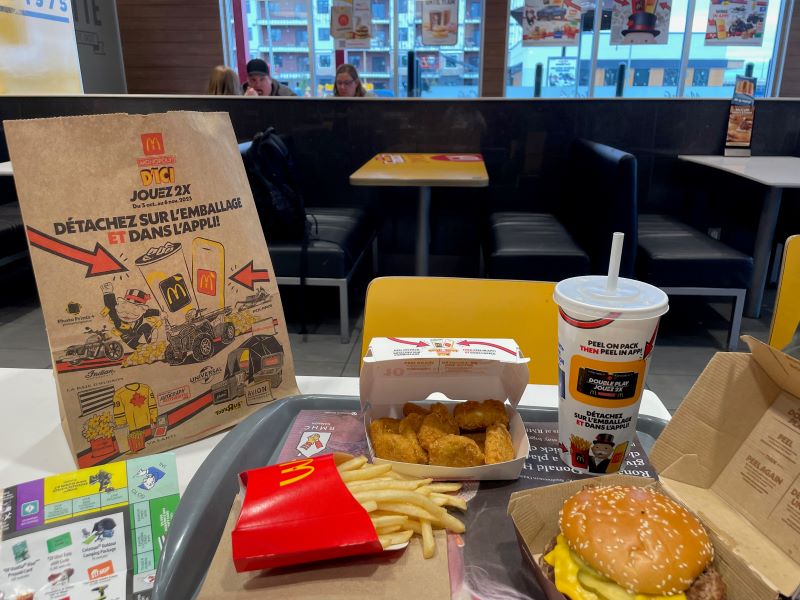 What McDonalds Items Have Monopoly Game Pieces?
Here's the full list of McDonalds Monopoly items with stickers in Canada:
Selected Medium or Large McCafe Drinks (Premium Roast Brewed Coffee, Tea, Mocha, Latte, Cappuccino, Americano, and Hot Chocolate)
Extra-Large McCafe Coffee or Tea
Medium or Large Fountain Soft Drinks
Medium or Large Triple Thick Milkshakes
Big Mac
Double Big Mac
Quarter Pounder
Quarter Pounder with Cheese
Double Quarter Pounder with Cheese
Quarter Pounder BLT
Double Quarter Pounder BLT
McChicken
Spicy Habanero McChicken
McCrispy
Spicy McCrispy
Bacon Deluxe McCrispy
Spicy Bacon Deluxe McCrispy
10 or 20-piece Chicken McNuggets
Large Fries
Egg McMuffin
BLT Egg McMuffin
Bacon 'N Egg McMuffin
Sausage 'N Egg McMuffin
Hash Brown
Do You Have to Buy a McDonalds Monopoly Food Item to Get a Game Piece?
You don't have to buy any McDonalds food items to play McDonalds Monopoly. You can, if you prefer, request one via mail. You need to send a self-addressed envelope to the McDonalds offices, and they will send you back one game piece.
If you want to do this, you need to make sure you add your return address to the outer envelope as well, and make sure that your return envelope has sufficient postage attached. Then, send it to:
2023 Monopoly "Coast to Coast" Game at McDonald's Game Piece Request,
P.O. Box 12491
Saint John
New Brunswick
Canada E2L 5E7
To be clear, this is only the address to request game pieces. You shouldn't post any winning game pieces or other comments to this address.
Final Word
Now you know which food items are the ones that come with game pieces, you can plan your order to give yourself the best chance of winning a prize.
Of course, there's no guarantee you will win – so make sure you're still prioritising the food you actually want to eat!
When the promotion next returns, choose your food items carefully and good luck!
Related Posts: