Most of the prizes you can win in Maccas Monopoly New Zealand are instant wins – there are literally millions of prizes up for grabs each year, including over 7 million food items, vouchers, appliance bundles and more, many of which are worth over $1,000.
But some of the best prizes are only available when you collect all the properties within a colour set – including the top prize of a car. And to do that, you'll need the hard-to-find property stickers, because not all of them are common.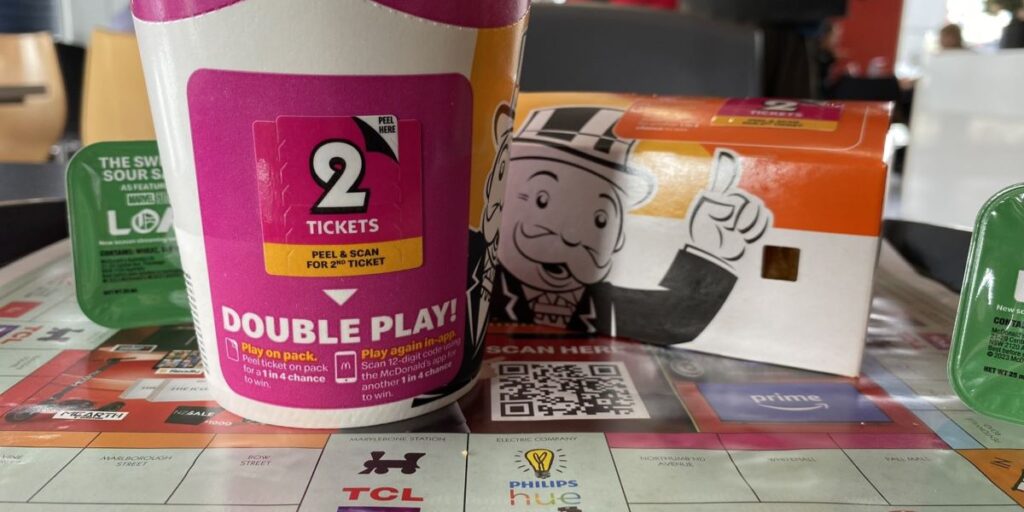 Let's take a look at the rare property pieces in the Maccas Monopoly game, including what they'll win you and what to do if you find one.
What Are the Rare McDonalds Monopoly Pieces in 2023 in New Zealand?
These are the rare pieces and prizes from the 2023 Maccas Monopoly game in New Zealand. It's likely that the rare pieces will be the same in the 2024 game, though the prizes could change.
| Piece | Colour | Voucher No. | Prize | Number Available |
| --- | --- | --- | --- | --- |
| Park Lane | Navy | N521 | Oppo Reno8 Smartphone | 5 |
| Regent Street | Green | N505 | 10 Night South Pacific Cruise | 1 |
| Piccadilly | Yellow | N517 | $10,000 Travel Gift Card | 1 |
| Fleet Street | Red | N501 | Whole Home Appliances Package | 2 |
| Marlborough Street | Orange | N516 | $1,000 The Iconic Gift Card | 5 |
| Whitehall | Pink | N519 | Weber Family Q+ Premium BBQ | 10 |
| Euston Road | Blue | N524 | Isuzu D-MAX LX SUV | 1 |
| Old Kent Road | Brown | N503 | Year of Food Delivery | 2 |
| Fenchurch St Station | Stations | N511 | TCL TV & Soundbar | 2 |
Maccas Monopoly NZ is similar to Maccas Monopoly in Australia, in that the best prizes aren't always reserved for the 'better' properties in the regular Monopoly game. The Navy set actually has the lowest-value prize in the game.
And yet it's not the one you have the highest chance of winning, as there were only 5 smartphones up for grabs, whereas there are 10 BBQs you could win.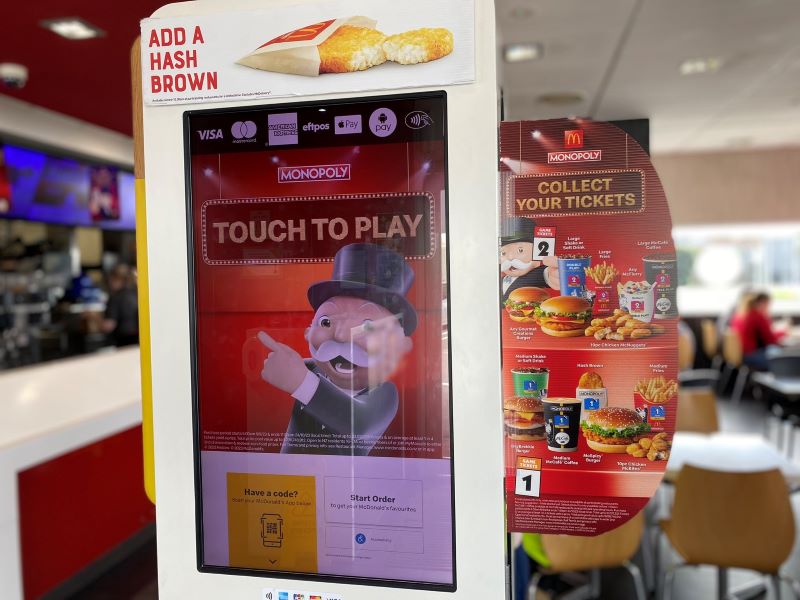 What is the Rarest Property in Maccas Monopoly?
The rarest properties in McDonalds Monopoly NZ for 2023 were Regent Street (green), Piccadilly (yellow), and Euston Road (blue). This was only one of each of these to be found.
That makes these the hardest tokens to find. If you got one, I really hope you made sure to get the rest and claim your prize!
How to Win the Car in McDonalds Monopoly
To win the top prize of an Isuzu D-MAX LX SUV in Maccas Monopoly 2023, you needed to collect all the light blue properties – The Angel Islington, Euston Road, and Pentonville Road. There was just one car available and you could only get it by completing the property set.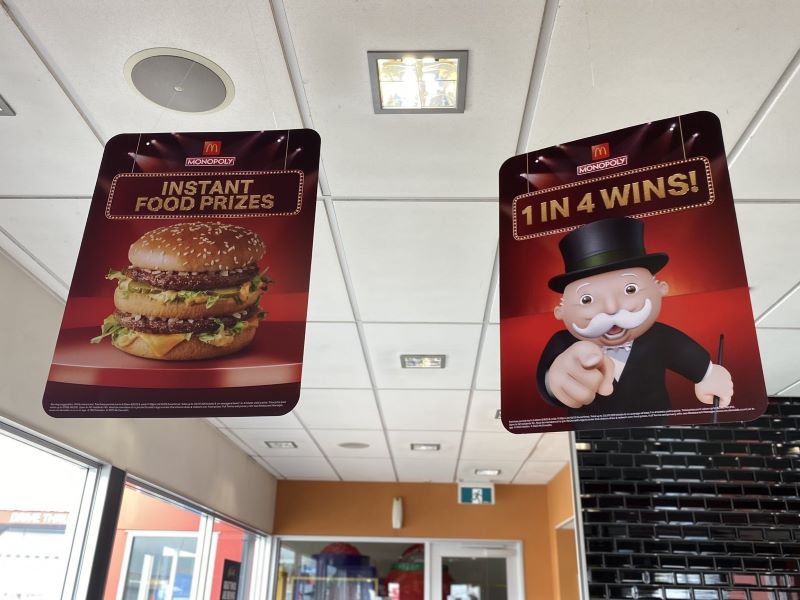 Euston Road is the rare light blue property token, so that's the one you'll want to look out for the most in future promotions too. The Angel Islington and Pentonville Road are common, which means you'll probably find quite a few of those if you're playing regularly.
You can also be awarded those two tokens digitally if you get a Chance card and scan it into the McDonalds app. But the only way to get Euston Road is to find the physical sticker. Otherwise, someone could get the digital one and win it before you are able to claim your sticker – that wouldn't be fair, would it?
If you do find Euston Road, make sure to keep it safe and get out there to buy a lot more food until you get the other light blues that you need!
What To Do If You Find a Rare Maccas Monopoly Card
If you find a rare McDonalds Monopoly property, the first thing to do is register it on the My Maccas mobile app. That way, you've secured the ticket in your name, and if you lose it then nobody else can claim it.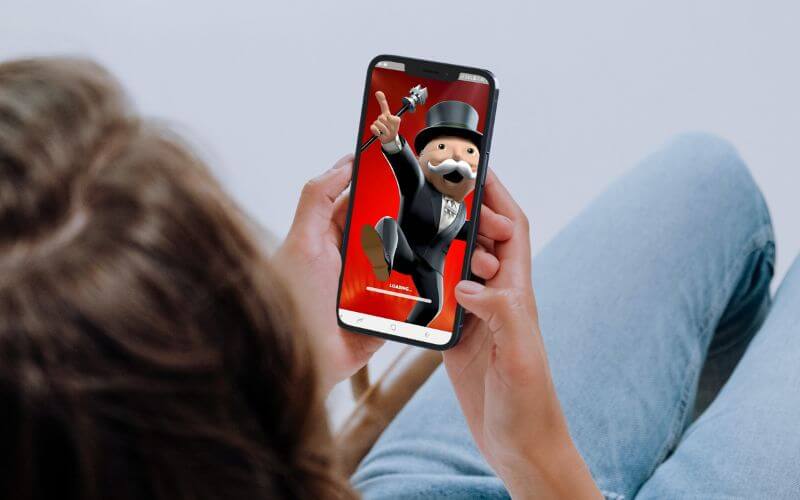 But you don't want to lose it, because you will need it to claim your prize, even once it's been registered. So find somewhere safe to put it until you also get the rest of the colour set.
Once you have the complete set, register all the properties on the app and there'll be an option to redeem your prize. Follow the steps on the app and the prize will be yours.
What you shouldn't do is try to buy the properties that you're missing, or try to sell a rare property card. Trading or selling Monopoly tokens is against the Ts&Cs of the promotion and will invalidate any claim. Don't risk it!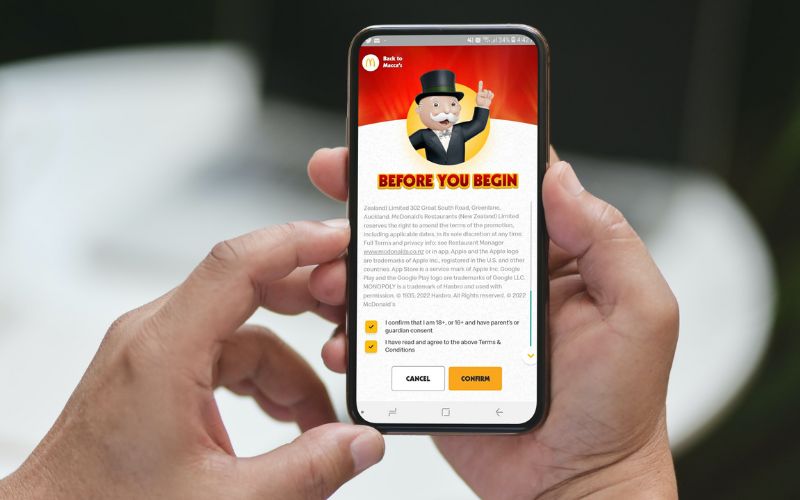 The Rare McDonalds Monopoly Tickets in Each Colour
Navy
The rare navy property in Macca's Monopoly New Zealand is Park Lane – voucher number N521. If you got Park Lane and also found Mayfair, you'd win an Oppo Reno8 smartphone worth $899.
Green
Regent Street was the rare green property in McDonalds Monopoly NZ in 2023. The voucher number is N505, and if you managed to complete the green set then you'd win an incredible 10-night South Pacific cruise for up to 4 people, worth $8,000.
Yellow
The rare property in the yellow colour set in Maccas Monopoly NZ 2023 was Piccadilly (voucher number N517). Finding Piccadilly alongside Leicester Square and Coventry Street won you a $10,000 travel gift card.
Red
The rare red property in Maccas Monopoly NZ 2023 was Fleet Street, with a voucher number of N501. The prize for completing the full red property set in 2023 was a Whole Home Appliance Package worth $4,500.
Orange
Marlborough Street was the rare orange property in this year's Maccas Monopoly NZ. The prize for completing the orange set in 2023 was a $1,000 The Iconic gift card. Marlborough Street's voucher number is N516.
Pink
The rare pink property in 2023's Maccas Monopoly NZ game was Whitehall – voucher number N519. Find that property, as well as Pall Mall and Northumberland Avenue, and you'd have won a Weber BBQ worth $1,099.
Blue
Of the blue properties in McDonalds Monopoly New Zealand, the rare one for 2023 was Euston Road, voucher number N524. Find all three blue properties and you'd have won the top prize for 2023, an Isuzu D-MAX LX SUV worth $62,490.
Brown
Old Kent Road was the rare brown property in Maccas Monopoly 2023 in New Zealand. Finding this property (voucher number N503) as well as Whitechapel Road would win you a free food delivery every week for a year, for a total value of $2,600.
Stations
There are four stations in McDonalds Monopoly NZ, but the rare one to look out for is Fenchurch St Station (voucher number N511). Find all four stations in 2023 and you'd win a TCL TV with soundbar.
The Bottom Line
Maccas Monopoly 2023 is over, and there were some incredible prizes to be won – provided you found the rare properties.
The prizes for the 2024 promotion might change, but the rare properties usually stay the same – so now you know what to look out for when the game returns in September.
If you have any more questions about the game, check out this guide to McDonalds Monopoly NZ 2023.