Most of the prizes you can win in Maccas Monopoly New Zealand are instant wins – there are literally millions of prizes up for grabs, including over 7.5 million food items, vouchers, appliance bundles and more, many of which are worth over $1,000.
But some of the best prizes are only available when you collect all the properties within a colour set – including the top prize of a car. And to do that, you'll need the hard-to-find property stickers, because not all of them are common.
Let's take a look at the rare property pieces in this year's Maccas Monopoly game, including what they'll win you and what to do if you find one.
What were the rare McDonalds Monopoly pieces in 2022 in New Zealand?
| Piece | Colour | Voucher No. | Prize | Number Available |
| --- | --- | --- | --- | --- |
| Park Lane | Navy | N793 | Volkswagen T-Cross R-Line SUV | 1 |
| Regent Street | Green | N810 | Battery Powerstation | 5 |
| Piccadilly | Yellow | N800 | World of Warcraft Gaming Pack | 1 |
| Fleet Street | Red | N805 | $5,000 The Iconic E-Gift Card | 2 |
| Marlborough Street | Orange | N796 | $10,000 Flight Gift Card | 1 |
| Whitehall | Purple | N802 | TV & Soundbar | 1 |
| Euston Road | Blue | N808 | Free Fuel For 1 Year | 1 |
| Old Kent Road | Brown | N817 | Ultimate Gardening Kit | 2 |
| Fenchurch St Station | Stations | N816 | Home Theatre | 2 |
Maccas Monopoly NZ is similar to Maccas Monopoly in Australia, in that the best prizes aren't always reserved for the 'better' properties in the regular Monopoly game. It's true that Navy gets the car, but then the second best prize (in terms of value) is the orange property set.
The lowest value prize is also the one that there is the highest chance of winning – complete the green set and you'll get a battery powerstation worth $300.
What is the rarest property in Maccas Monopoly?
The rarest properties in McDonalds Monopoly NZ for 2022 were Park Lane (navy), Piccadilly (yellow), Marlborough Street (orange), Whitehall (purple) and Euston Road (blue). This is only one of each of these to be found.
That makes these the hardest tokens to find. If you got one, I really hope you made sure to get the rest and claim your prize!
How to win the car in McDonalds Monopoly
To win the top prize of a Volkswagen T-Cross R-Line car in Maccas Monopoly 2022, you needed to collect both Park Lane and Mayfair properties. There was just one car available and you could only get it by completing the property set.
Park Lane is the rare navy property token, so that's the one you'll want to look out for the most in future promotions too. Mayfair is common, which means you'll probably find quite a few of those if you're playing regularly.
You can also be awarded Mayfair digitally if you get a Chance card and scan it into the McDonalds app. But the only way to get Park Lane is to find the physical sticker. Otherwise, someone could get the digital one and win it before you are able to claim your sticker – that wouldn't be fair, would it?
If you do find Park Lane in future Monopoly promotions, make sure to keep it safe and get out there to buy a lot more food until you get the Mayfair you need!
What to do if you find a rare Maccas Monopoly card
If you find a rare McDonalds Monopoly property, the first thing to do is register it on the My Maccas mobile app. That way, you've secured the ticket in your name, and if you lose it then nobody else can claim it.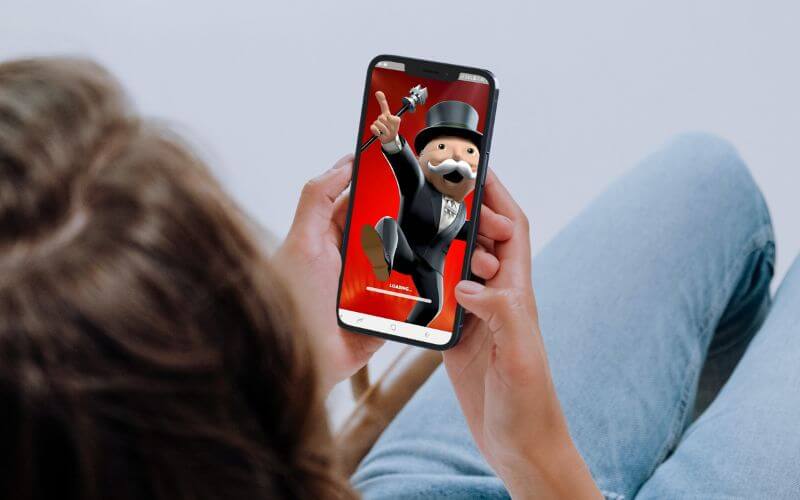 But you don't want to lose it, because you will need it to claim your prize, even once it's been registered. So find somewhere safe to put it until you also get the rest of the colour set.
Once you have the complete set, register all the properties on the app and there'll be an option to redeem your prize. Follow the steps on the app and the prize will be yours.
What you shouldn't do is try to buy the properties that you're missing, or try to sell a rare property card. Trading or selling Monopoly tokens is against the Ts&Cs of the promotion and will invalidate any claim. Don't risk it!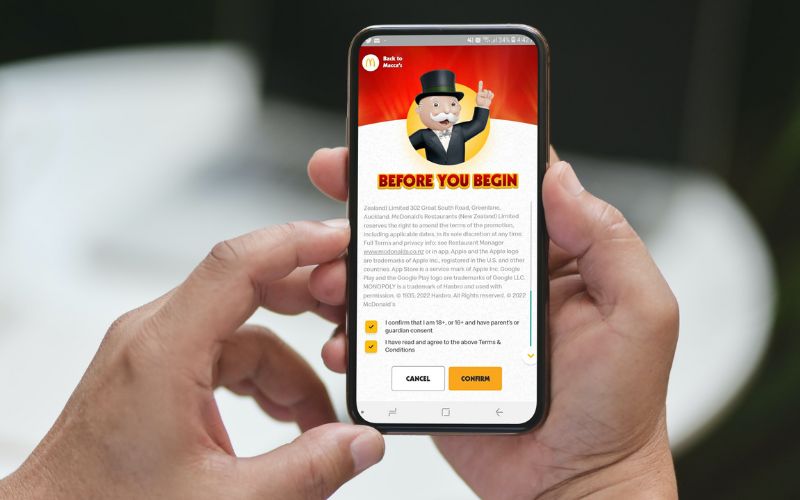 The rare McDonalds Monopoly tickets in each colour
Navy
The rare navy property in Macca's Monopoly New Zealand is Park Lane – voucher number N793. If you get Park Lane and also find Mayfair, you'll win a Volkswagen T-Cross R-Line SUV, worth over $45,000.
Green
Regent Street is the rare green property in McDonalds Monopoly NZ in 2022. The voucher number is N810, and if you manage to complete the green set then you'll win a battery powerstation worth almost $300.
Yellow
The rare property in the yellow colour set in Maccas Monopoly NZ 2022 is Piccadilly (voucher number N800). Finding Piccadilly alongside Leicester Square and Coventry Street wins you a World of Warcraft gaming bundle worth over $8,500.
Red
The rare red property in Maccas Monopoly NZ 2022 is Fleet Street, with a voucher number of N805. The prize for completing the full red property set this year is a $5,000 Iconic E-Gift Card.
Orange
Marlborough Street is the rare orange property in this year's Maccas Monopoly NZ. The prize for completing the orange set is one of the best in the game – a $10,000 travel gift card. Marlborough Street's voucher number is N796.
Purple
The rare purple property in 2022's Maccas Monopoly NZ game is Whitehall – voucher number N802. Find that property, as well as Pall Mall and Northumberland Avenue, and you'll win a TV and soundbar combination worth almost $5,500.
Blue
Of the blue properties in McDonalds Monopoly New Zealand, the rare one for 2022 is Euston Road, voucher number N808. Find all three blue properties and you'll win free fuel for a year from Caltex, with a value of $3,650 (so $10 per day).
Brown
Old Kent Road is the rare brown property in Maccas Monopoly 2022 in New Zealand. Finding this property (voucher number N817) as well as Whitechapel Road will win you an Ultimate Bahco Gardening Kit with a value of over $1,200.
Stations
There are four stations in McDonalds Monopoly NZ, but the rare one to look out for is Fenchurch St Station (voucher number N816). Find all four stations and you'll win a home theatre system worth almost $1,500.
The Bottom Line
Maccas Monopoly 2022 is already finished, but you can always try again next year, when there'll be even more prizes to be won.
And if you don't win, at least you get some delicious McDonalds food to enjoy.
If you have any more questions about the game, check out this guide to McDonalds Monopoly NZ 2022.