There are rumours that fly around every year that nobody actually wins the big prizes on McDonalds Monopoly.
So, are they true? Is the 2023 McDonalds Monopoly top prize of £100,000 really up for grabs, or is it cynical marketing to just try and hook people into buying more food?
Let's take a look.
Has Anyone Ever Won McDonalds Monopoly?
There are millions of winners of McDonalds Monopoly every year, thanks to the huge range of prizes that are offered. But in terms of the top prizes, there are winners, but they aren't always reported on.
One of the best things about the McDonalds Monopoly game is that it's actually pretty easy to win a smaller prize, including millions of instant win food prizes.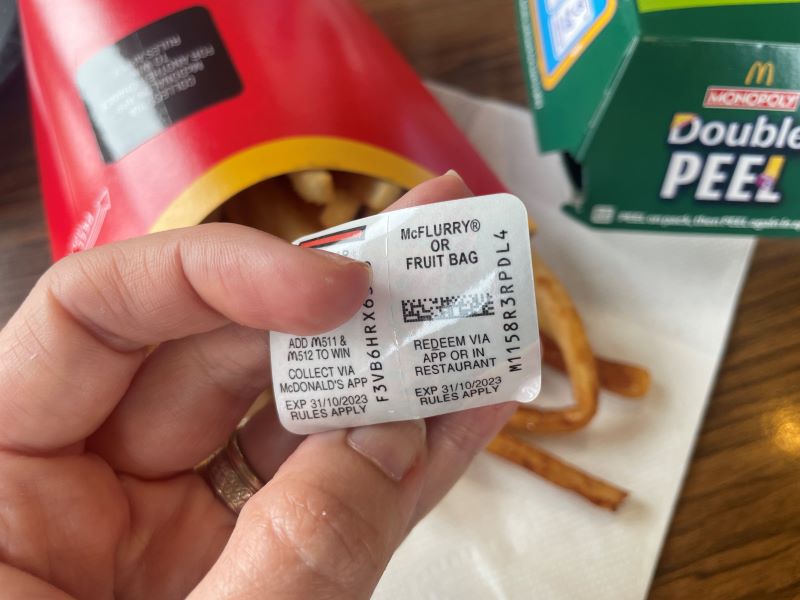 Sure, it might not be too exciting to win a free apple bag or side salad, but it's better than winning nothing.
And then there are larger instant win prizes, as well as the Collect & Win prizes. They're a lot rarer but people do win.
Has Anyone Ever Won £100k on McDonalds Monopoly?
While the winners' details haven't always been made public, people do win the £100k cash in McDonalds Monopoly. But that doesn't mean that all of the prizes will be claimed every year.
McDonalds doesn't always reveal much information about the winners. They have been quoted as saying that in 2022 there were three £100k winners, along with five people who won a MINI car and 26 people who won a holiday.
There's no obligation for winners to reveal their details or go public, so there's a good chance that people do win the £100k and then don't tell anyone.
It's a huge sum of money, but at the same time, it's not something that's going to see you suddenly buying yachts and mansions all over the world, so it'd be quite easy to keep it quiet.
And a lot of people probably prefer it that way, so that they don't get 'friends' asking to borrow money all of a sudden.
Has Anyone Ever Won Mayfair on McDonalds Monopoly?
Mayfair – the rare Dark Blue property in McDonalds Monopoly that unlocks the top prize – has definitely been won before as we know that people have won the £100k prizes.
However, it doesn't mean that all of the Mayfair stickers will be found every year. In fact, there's a really good chance they end up in the bin, since a lot of people don't really care about the McDonalds Monopoly promotion, and don't even peel their stickers. Crazy, right?
This year there are five Mayfair properties to be won – four as physical peel stickers, and one as a digital peel. It'll be interesting to see how many of the Mayfair properties are found.
How to Know if You Won McDonalds Monopoly
There are several ways you can win McDonalds Monopoly – you will either complete a property set, or you'll get an instant win either on the physical sticker or when you scan it in the McDonalds app.
If you complete a property set, you'll need to scan them in the app. The app will let you know when a set is complete, and it'll tell you what prize you've won.
With physical stickers that offer an instant win, you'll know you've won as soon as you peel the sticker. You can then follow the instructions on the sticker to claim your prize. If it's a food item prize, and you're still in the McDonalds restaurant, you can claim it immediately if you want to!
If it's a digital instant win, you'll find out you've won as soon as you scan the ticket or enter the code manually. The app will tell you what you've won, and how to claim it.
Final Word
Don't believe the rumours that nobody wins McDonalds Monopoly. It's true that not every prize will be claimed, but there will be big winners in 2023 again.
And it could easily be you, so why not head down to your local McDonalds now to try your luck? Or order a delivery, if you want those stickers delivered to your door. Just don't forget to order the right food items to maximise the stickers you get.