If you're like me, you'll want to play Monopoly as much as possible, but it just isn't practical to carry a Monopoly board everywhere.
Instead, card games like Monopoly Deal are ideal for train journeys, vacations, lunch breaks, or at home. But what if you fancy a change?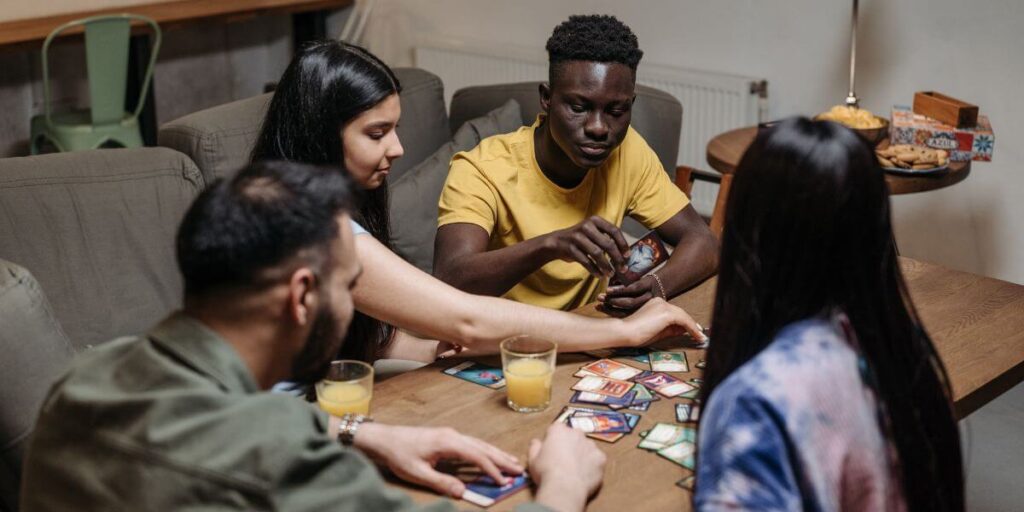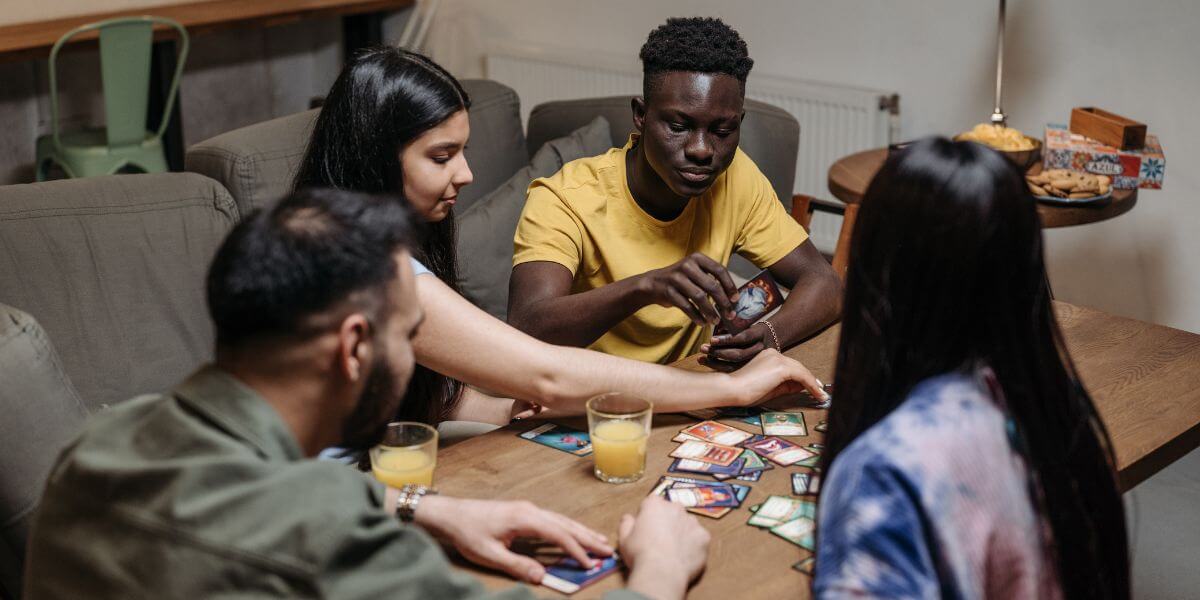 If so, there's good news! There are plenty of games on the market similar to Monopoly Deal. So join me as I discover the ten best games like Monopoly Deal.
One thing's for sure, a good time's on the cards!
The best card games like Monopoly Deal:
Monopoly Bid
Uno
Monopoly: The Card Game
Scrabble Slam
Pit
Biblios
Bohnanza
No Thanks!
7 Wonders Duel
Bang!
Released in 2020, Monopoly Bid is another card game based on Monopoly, in which players compete to collect matching sets of properties. It's an ideal game for children aged 7 and above and is perfect for families to play together.
Like Monopoly Deal, Monopoly Bid is a fast-paced card game where the aim of the game is to collect sets of properties. It's a bit simpler than Monopoly Deal and has fewer cards, making it especially suited to younger players or Monopoly fans in a hurry!
The speed of the game makes Monopoly Bid the ideal way to get your Monopoly card game fix if you're short on time.
You can read my full Monopoly Bid review here.
You may well already be familiar with Uno, as it's been around since the 1970s, and much like Monopoly, there has been a wide range of themed decks and video games released based on the concept.
Uno's one of my personal favorites, and it may well be the non-Monopoly game I've spent the most time playing! It's just so addictive!
The aim of the game in Uno is to get rid of all your cards. You do this by matching cards by the number on them or by their color. Action cards make gameplay a little more exciting, for example, by allowing you to change the color in play, or forcing your competitors to pick up cards.
Originally released in 1999 and no longer in production, the somewhat unimaginatively titled Monopoly: the Card Game will be a little harder to get hold of than Monopoly Deal.
If I'm honest it's probably not quite worth the effort to find a copy unless you're a completist, even though, like all Monopoly games, it is still great fun to play. The game wasn't made by Hasbro, but it was officially licensed by Hasbro. It was actually made by Winning Moves.
Obviously, this card game shares a little more in common with a certain other famous board game, but it's also a bit like Monopoly Deal too!
So, then, just how is Scrabble Slam like Monopoly Deal? Well, it's a card game version of a timeless classic board game, offering a fast-speed and highly portable way of playing an old favorite.
The gameplay in Scrabble Slam involves spelling three-letter words with your cards, so it's not too tricky. If you're a fan of card-based versions of board games, like Monopoly Deal, you'll love it! And it's well worth a look if word games are your bag. Indeed, word games are currently all the rage thanks to the runaway success of Wordle!
Pit is perhaps a lesser-known game, but it has a surprisingly long history, having been first released in 1904, meaning it's almost as old as Monopoly, but much less famous!
The game involves bidding for and trading commodities, so quite similar to Monopoly, then. And like Monopoly, Pit was first produced by Parker Brothers and is today made by Hasbro.
Much like Monopoly Deal, the game is fast-paced and card-based and is almost certainly the first card game of its type. It's a must-own for gaming historians, but it's great fun to play for everyone!
The card game Biblios is similar to Monopoly Deal in as much as it's a card-based game that involves collecting sets of cards, and the mechanism of collecting your set includes auctioning cards to other players.
I think Monopoly Deal fans would definitely enjoy playing Biblios. The setting is perhaps a little unusual, but it's one that will especially appeal to history buffs, book lovers, or, indeed to anyone who's just looking for something a little different to play.
In Biblios, you take the role of an abbot in a monastery in the Middle Ages. Your goal is to amass an extensive library of books (the in-game cards). Due to the relative complexity of the game and its somewhat esoteric setting, Biblios is best suited to older players, perhaps teenagers and adults.
Younger children may find Biblios a little dry, complex and slow compared to Monopoly Deal. A game can take around 50 minutes, so it's definitely one for when you have a lot of free time on your hands.
A bit of a farm-based twist on the card trading formula, with the aim of the game being to "plant" bean cards, then harvest your crop to sell it for gold.
Bohnanza's cards are charmingly illustrated with brightly-colored cartoons, adding an extra layer of fun to the gameplay. Bohnanza is a touch more complex than Monopoly Deal, so it's probably best suited to older players, from teens to adults would be my recommendation. There's a lot of fun to be had if you're looking for a change from the property trading of Monopoly Deal.
Like Uno, No Thanks! uses numbered cards. Also like Uno, the rules are rather simple, making it a fun, engaging game for all ages.
Another similarity to Uno is that you should try to avoid picking up cards, and the winner is the player with the lowest score. Where No Thanks! differs from Uno is that gameplay involves chips as well as cards.
Playing a chip allows you to avoid picking up a card, but chips are worth -1 point, so it's also in your interest to hold onto as many of them as you can. While it's a fun game to play, the addition of chips can make it a little more complicated, and it's another part of the game to try not to misplace, if you're anything like me!
No Thanks! is especially recommended for Uno fans looking for a new challenge. The chips add an extra layer of strategy to No Thanks! Making it better suited to older players, and it goes without saying that I'd ignore the recommended upper age limit! Much like Monopoly Deal, No Thanks! Is a fast-paced card game.
One of the newer games featured in my article, 7 Wonders Duel was first produced in 2015. It's similar to Monopoly Deal in as much as the game involves collecting sets of cards and playing action cards.
However, one important thing to note about 7 Wonders Duel is that it is for two players only, which means it's not a great choice for family game night! However, for two siblings aged 10 or above, or for a parent and child to play it could be the ideal choice.
It's an especially good game for children who are curious about history or science. The aim of the game is to ensure your civilization becomes the dominant one, which may sound a little dry, but in actuality, 7 Wonders Duel is an exciting, often tense, fast-paced game.
This Spaghetti Western-themed card game boasts some beautifully illustrated cards, but the somewhat violent nature of its gameplay makes Bang! Best suited to teens or older, so it's perhaps not one to pick up for younger kids.
That being said, Bang's quite a simple game to play, so if you don't mind your kids indulging in a good old-fashioned shoot-out via cards, then by all means get the whole family a-duellin' with this rootin' tootin' card game! If you enjoy the card-based strategy of Monopoly Deal, but are looking for something with a little more action, then Bang! Is the card game for you!
My Recommendation
Well, all of the games mentioned in this article are more than worth buying, as they all offer loads of fun. If you want a Monopoly-themed card game (and why wouldn't you?) then I heartily recommend Monopoly Bid!
On the other hand, if you ever feel like a break from Monopoly (unthinkable, I know), then Uno is an all-time classic and well worth picking up.
So, there's no one game like Monopoly Deal I can recommend above all the others, as it really does depend on your personal preferences and what you're looking for in a game. That said, I think two of the games like Monopoly Deal in this article are stone-cold classics that should be in everyone's game collection, and best of all, they're suitable for all ages to play!
My two gaming essentials like Monopoly Deal are Monopoly Bid and Uno. However, you true gaming connoisseurs out there will probably want to pick up all ten games I've mentioned in this article (and I don't blame you!)
Also, did you know how to play Monopoly Deal online? Maybe to freshen things up you just need to play against other players you don't normally
Related Posts: