Monopoly and Christmas go hand in hand. Thousands if not millions of families around the world get together at Christmas to play a game of Monopoly. It is a great way to get the whole family, young and old, to spend some quality time together whilst trying to make each other go bankrupt!
So, wouldn't it be great and even more Christmassy to play an actual Christmas-themed version of Monopoly? Yes, it would! And luckily you can.
There are now a few Christmas-themed Monopoly games available and I will tell you all about them in this post, starting with my favorite…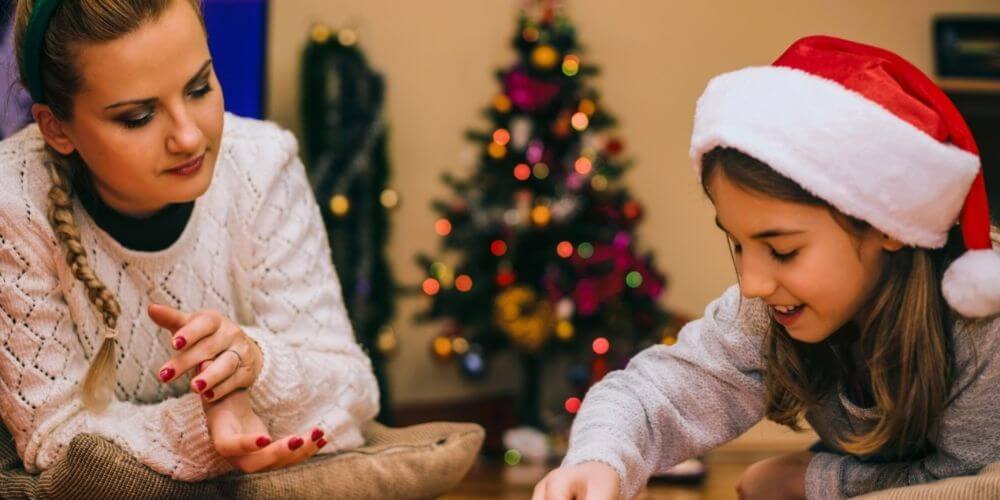 Is there a Christmas version of Monopoly?
There is a Christmas version of Monopoly available called Monopoly Christmas Edition. It's only available in the UK but can be shipped to other countries. There are also Monopoly games that are tied in with Christmas movies like Elf, The Nightmare Before Christmas, and A Christmas Story. 
The best Christmas Monopoly board game options are:
Monopoly: Christmas Limited Edition
Monopoly: Rudolph the Red-Nosed Reindeer
Monopoly: A Christmas Story
Monopoly: The Nightmare Before Christmas
Monopoly: Elf
Christmas-Opoly
List of Christmas Monopoly Games
1. Monopoly: Christmas Limited Edition
This is my favorite Christmas Monopoly game and after taking one look at the board there can be no mistaking that this is a Christmas edition. The center of the game board has massive Christmas presents and Santa's sleigh flying through the snowy night sky. Around the edge, all the squares are adorned with snowflakes (even the corner ones that are normally left the same as classic Monopoly).
But it doesn't stop there, this game is wall-to-wall Christmas. Let's start with the tokens. If you were making a Christmas game with playing tokens what would you want?
Santa? Check. A snowman? Check. Rudolph? Yep, he's in there too. And so is a turkey, an elf, and a Christmas pudding. So, they've done a good job on the tokens and they're all made of metal too.
As you go around the board you don't buy boring old properties. Nope, it's Christmas, so you buy Christmassy things like a Christmas Tree, Christmas Fairy, Holly, Mistletoe, and Santa himself.
So far so Christmassy, but what about the railroads? These tick all the right boxes too, the railroad stations are gone, instead, you travel by reindeer of course!
And there are no Chance or Community Chest in this game, instead, you have "Santa's Sack" and "Christmas Crackers" and I love that there is now a Scrooge Tax and Christmas Party Cost to pay instead of regular taxes.
Sadly, it can't all be good news, whilst the houses and hotels are called grottos and workshops, they look just like the normal Monopoly pieces which is definitely a missed opportunity. Still, overall this is a great Christmas Monopoly.
The other bad news is that this is only available on Amazon UK. It's not the end of the world though, you get it delivered to the US or most other places in the world. You'll just have to pay a bit extra for shipping. And remember to leave enough time for delivery if you want it to arrive in time for the Big Day!
2. Monopoly: Rudolph The Red-Nosed Reindeer
Rudolph The Red-Nosed Reindeer Monopoly is based upon the long-running and much-loved tv special of the same name. The game board features a large image of Rudolph and Hermey, but somehow it doesn't feel quite so Christmassy as the version above. I think it could be the lack of Santa.
It is still clearly a Christmas game though and is sure to please fans of the TV special, or anyone feeling a bit nostalgic. The game comes with nice tokens that are made from pewter, you can choose to play as either Rudolph, Santa, Hermey, Yukon Cornelius, Bumble, or Sam the Snowman.
As you travel around the board you can purchase various properties that are locations from the show, including the Toy Workshop, Abominable Mountains, and Christmastown.
Instead of Community Chest and Chance cards, you get Gold and Silver cards. These do a good job of mixing the world of Monopoly with the world of Rudolph the Red-Nosed Reindeer with messages like 'Miss elf practice to fix doll's teeth' and 'Who wants a misfit toy? You do! Advance to square wheeled train'.
3. Monopoly: A Christmas Story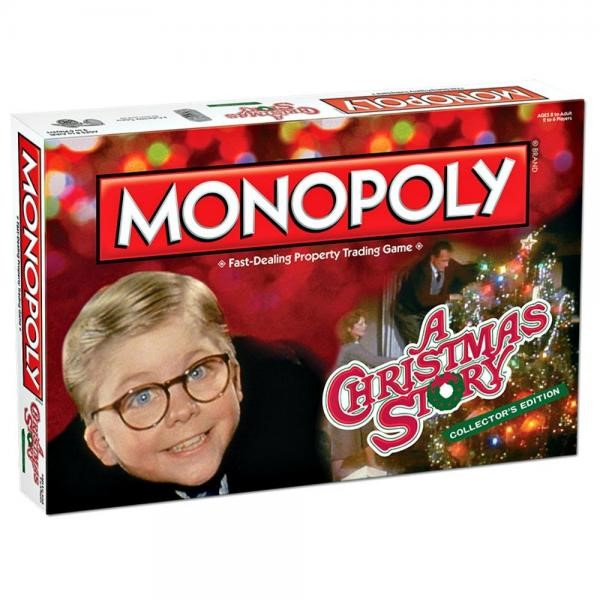 This is the perfect Monopoly set for anyone who is a fan of the classic holiday movie 'A Christmas Story'. The game board is covered in photo images taken from the movie that will be instantly recognizable to many and likely to bring a smile to your face before you even begin to play.
The game is a fairly straightforward adaptation of classic Monopoly. As you work your way around the board you don't buy streets but locations and items from the movie. You can buy things like the BB Gun, Christmas Socks, Hubcap Full of Nuts, and Randy's Snowsuit.
You can play as one of six collectible tokens: Fragile Crate, Ralphie's Bunny Suit, Leg Lamp, Bar of Soap, Broken Glasses, and the Old Man's Car. Instead of paying taxes, you have to pay to pick out a Christmas Tree or pay off the Surly Elves. A Major Award and Triple Dog Dare cards take the place of the standard Chance and Community Chest cards.
4. Monopoly: The Nightmare Before Christmas
Another Christmas edition of Monopoly is tied-in to the brilliant Nightmare Before Christmas movie. This time you can move around the board as one of 6 metal tokens, Jack Skellington, Sally, Evil Teddy, Oogie Boogie, Zombie Duck, or Mayor's Hearse.
As you go round you can buy, sell, and trade locations from the movie including Under the Bed, The Hinterlands, Oogie Boogie's Casino, Sally's Alley, Spiral Hill, Dr. Finkelstein's Laboratory, and Jack's Tower.
The cards in this version are Christmas Presents and Halloween Presents with actions like 'go for a ride in a walking bath tub'. The place of the railroads is taken by different tows including Easter Town, St Patrick's Day Town, and Valentine's Day Town.
There are actually several versions of this game available. The gameplay described above is the same in all of them but the board design is a little different. If you're not sure which to get, see all of the Nightmare Before Christmas Monopoly sets compared.
5. Monopoly: Elf
Elf Monopoly is the perfect game of Monopoly for fans of this classic Christmas comedy. The game board is dominated by a close-up of Will Ferrell's Elf surrounded by candy canes, giving it a good Christmasy feel.
The properties are all locations from the movie and include some of the more memorable scenes like Papa Elf's House and Hobbs and Son publishing. There are six sculpted tokens to choose from: Santa's Sleigh, Polar Bear Cub, Jack-in-the-Box, Mailroom Coffee Mug, Santa's Bag, and Maple Syrup.
In this game, the houses have been renamed apartments and hotels renamed skyscrapers but the pieces look suspiciously like the normal ones. Community Chest cards have been renamed Christmas Cheer and Chance cards are now Christmas Spirit. They are a slight mix of Elf and Monopoly with messages like 'Escape the Central Park Rangers – Get out of Jail Free'.
6. Christmas-opoly
When I played Christmas-opoly I did not enjoy it at all. I mean, it was the middle of summer and we were in a tent, but still, this isn't a good game in my opinion.
The problem comes because this isn't an official Monopoly game. So it lacks quality and feels just like what it is – a cheap imitation of Monopoly.
On the plus side, it's pretty affordable and you should be able to pick it up easily. The game looks very Christmassy and I do like the 'Collect $200 as you pass Ho Ho Ho' in place of the traditional Go space.
Christmas Monopoly FAQs
How do you play Christmas Monopoly?
Christmas Monopoly is played in much the same way as classic Monopoly. Each Christmas Monopoly game has slight variations in the type of property you buy or the cards that your read but none of the games described in this post have special rules. 
Is Christmas Monopoly good?
Christmas Monopoly is great! Playing Monopoly at Christmas is a tradition in many households so why not make it extra special by playing a Christmas edition of the game that can really help you get into the Christmas spirit? 
My Christmas Monopoly Recommendation
I definitely feel that it is worth the effort of getting Monopoly: Christmas Edition. It's by far the game that best captures the joy of the holiday season.
It's also the most inclusive when playing with your friends and relatives since you don't need to have seen or have loved a movie to understand all the references since everyone knows about Christmas!
If you're the family that prefers Christmas themed video games then maybe you'd prefer to check out the best Monopoly video games for your festive entertainment.
Related Posts: