Alec Monopoly is one of the most iconic graffiti artists in the world – but does that translate into financial success?
He is widely known for his dramatic street art pieces, packed with color and often themed around his use of 'Mr. Monopoly' from the board game of the same name. But has street art made him rich?
Let's find out.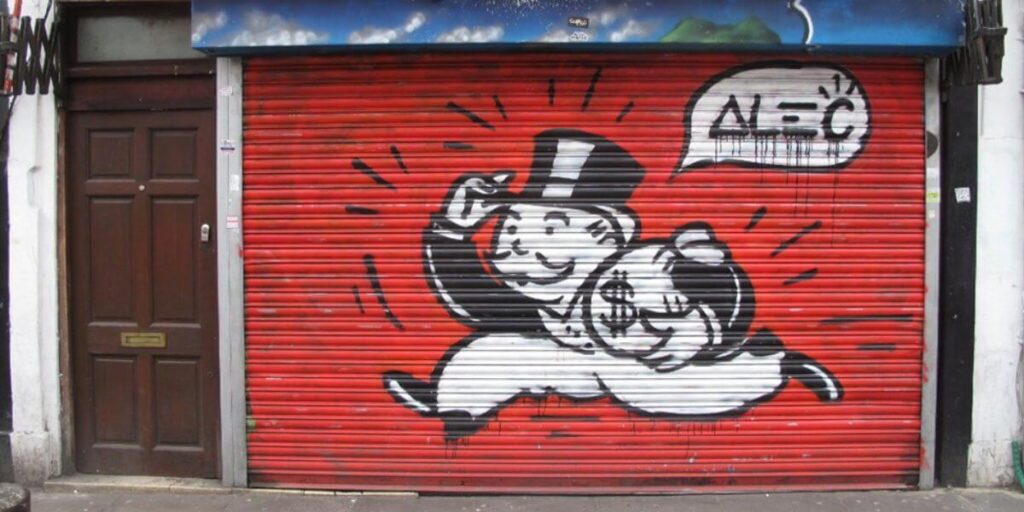 Before we answer the question, it's important to clarify what 'net worth' actually means. Because you might see some stats about the artworks that Monopoly sells, and wonder how that translates to his actual net worth.
What is net worth?
Net worth is the value of a person's assets, minus their liabilities. So basically, it's the total value of any money you own, and any saleable assets, minus any debts or outgoings that would need to be paid off from your fund, say if you were to die.
It's not as straightforward as asking how much Alec Monopoly makes, because everyone earns money and spends money. But net worth is the best evaluation of how rich a person is.
If you earn $1,000 a month but have zero liabilities, you're going to have a better net worth than someone who earns $50,000 a month but has $50,000 of liabilities.
How much is Alec Monopoly worth?
Alec Monopoly's net worth is believed to be somewhere between $12-15 million, but it's impossible to know the exact figure due to his sponsorship deals and larger sales being private. Based on his expected earnings from larger commissions, and his prior art sales, this estimate seems reasonable.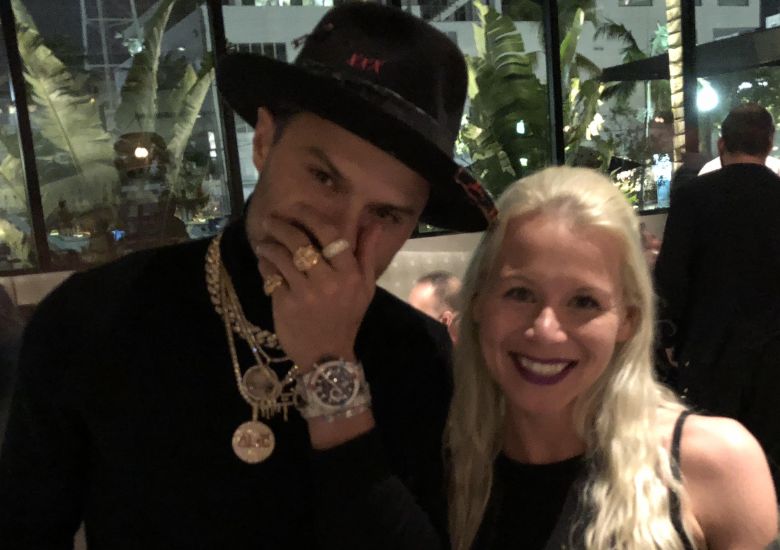 For comparison, the estimated net worth of Damien Hirst, one of the most famous living artists in the world, is around $1 billion, while the estimated net worth of Banksy, the British graffiti artist, is close to around $50 million.
But these are all estimates – it is impossible to know the net worth of someone without knowing their personal financial situation (source).
Alec Monopoly likes to flaunt his worth by sharing a lot of content showing the expensive items he owns. It's not uncommon to see Alec on Instagram showcasing designer clothes and watches, or with luxury cars.
His possessions will likely be a part of his net worth, if they are an asset that he owns. But, if these luxury items are rented, loaned or bought with credit, they would actually be liabilities that wouldn't contribute to his net worth at all.
Is Alec Monopoly rich?
Alec Monopoly is likely to be rich by most people's standards, although it depends on your definition of rich. He works with high-profile celebrity clients, and his estimated net worth would certainly make him rich in most people's eyes.
There have been surveys carried out to determine what people view as being the threshold to be considered wealthy. These surveys estimate that someone needs to have a net worth of between $1.9 million and $2.6 million to be thought of as wealthy, and around half of those figures to be "comfortable" (source).
Based on those figures, and what we do know of Alec Monopoly's net worth estimate, it would certainly be fair to call him rich.
Read more: Alec Monopoly Facts
How does Alec Monopoly make money?
Alec Monopoly makes money by selling his own paintings, as well as commissioned larger pieces typically for celebrities. He is also a brand ambassador for the Swiss watchmaker TAG Hauer, which will likely include a significant retainer as part of his contract.
While Alec Monopoly is primarily known for his street art, he does create other artworks in order to generate an income.
After all, if he only painted large murals he wouldn't stand to make much money at all, since he doesn't own the land that he tags. Remember that street art is technically illegal – hence why Alec Monopoly originally created his fake name, to protect his persona.
That's why he also creates other artworks to sell to the public, and his larger pieces that celebrities commission him to make.
He has sold works previously to musicians Robin Thicke, Miley Cyrus and Snoop Dogg, and also collaborated on works with Madonna and the actor Adrien Brody (source).
One of the most expensive pieces of work that Alec Monopoly has completed recently, that we know the value of, is a $500,000 boxing belt for social media influencer and amateur boxer Jake Paul.
This is surpassed by a watch that Alec has posted about himself, which he created for a "crypto billionaire" friend of his. The value of this watch is around $700,000, according to Alec himself.
It's also worth noting that Alec does post to his own YouTube channel which, at the time of writing, has over 40,000 subscribers.
This will likely be another revenue stream for him, although due to his infrequency in posting videos it won't be huge.
In total, his YouTube videos have had just over 3 million views. With an average RPM of $4 per thousand views, it's likely that Alec Monopoly has earned only around $12,000 from YouTube so far.
How much is an Alec Monopoly painting worth?
Alec Monopoly paintings vary in price depending on the size and style of the work. His cheapest paintings sell for around $10,000 while his most expensive works are currently valued at closer to the $100,000 mark. He has also created other works that aren't paintings which are cheaper.
Understanding the total value of Alec Monopoly's art sales does help us understand more about his likely net worth, although remember that the value of his sold artworks doesn't include private sales to celebrities and we don't know the value of his collaboration contracts either.
According to Heritage Auctions Alec Monopoly has sold a total value of $1,435,087.50 of paintings, stencils and other unique items (including decorated plates).
Some of the most notable of those sales include:
Campbell's Soup featuring Mr. Monopoly – sold for $52,500
Mr. Monopoly – sold for $51,250
Wall Street Crucifix featuring Mr. Monopoly – sold for $45,000
DJ Monopoly – sold for $32,500
There is another website selling official Alec Monopoly artworks for a higher value – this includes:
ATM Monopoly – estimated value of $79,950
Monopoly Money Tag – estimated value of $89,950
Piano Monopoly – estimated value of $99,950
You can bid for these now on Artsy.net.
How much is an Alec Monopoly print?
Alec Monopoly prints are not sold by Alec Monopoly himself but are typically printed by independent stores. Expect to pay anything in the region of $15 to $90 for a print of his artworks, depending on the size you buy.
You may find some that cost more, but these tend to be larger canvas prints or paintings recreating his work. These often appear on sites like eBay or Etsy and can be valued up to $500 or potentially even more.
If you want to own an Alec Monopoly artwork, it will, of course, be significantly cheaper to buy a print rather than an original.
It's also worth remembering that print sales generally won't affect Alec Monopoly's net worth unless he has struck a deal with a seller.
Normally, artists don't sell their own prints, but focus their efforts on selling original pieces and earning the big bucks by working with celebrities who want specially commissioned items.
Final word
While we may not know the exact net worth of Alec Monopoly, it's clear that he is a rich man. The estimated net worth figures that are bandied around of between $12 and $15 million comfortably put him in this bracket, and his most recent works see him creating incredibly valuable pieces for some of the biggest celebrities in the world.
He certainly likes to flaunt his wealth on his social channels, often to excess, but it's worth remembering that this is part of his persona too, and he may exaggerate his lifestyle to perpetuate his image.
But even if he does, we know just from his art sales alone that he has made significant money in his career, certainly more than your average street artist would. Between those sales and his commissioned projects and partnerships, the estimated net worth is likely to be around that $15 million mark.
Related Posts: