Alec Monopoly is a graffiti artist who's famed for using the Monopoly Man character in his artwork.
Originally from New York City, Alec Monopoly has accumulated vast wealth and has sold his Monopoly-themed paintings for many thousands of dollars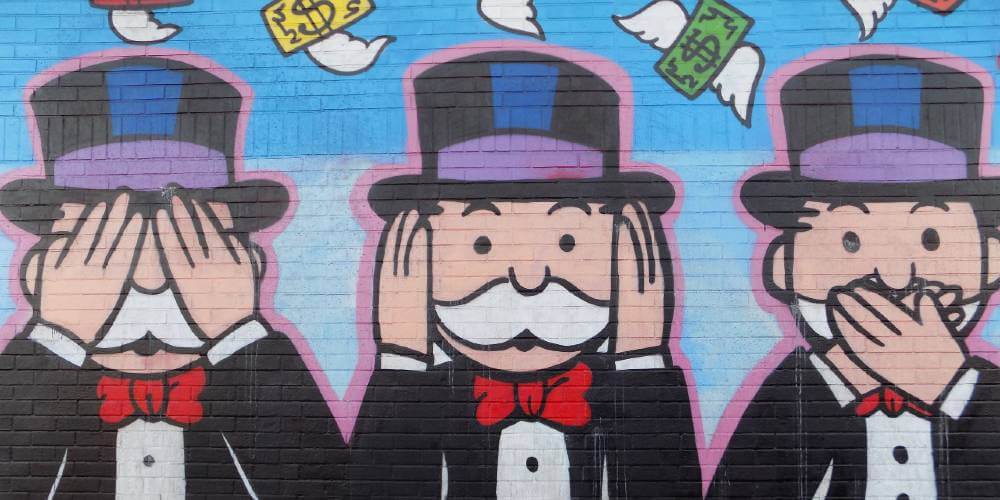 But who is Alec Monopoly and should you buy his art? Read on for sixteen facts about the most famous graffiti artist since Banksy…
16 quick Alec Monopoly facts:
He used to wear a mask for anonymity
His paintings are generally worth $50,000+
He has an estimated net worth of $15 million
He used a ghost artist for five years
He is believed to be still dating Instagram influencer Alexa Dellanos
He does play Monopoly!
His watches cost $600,000+ to buy
He is primarily known for graffiti-style art
You can buy a print for as little as $15
He now lives in Los Angeles
His artwork retains value and may be a good investment
He is a US-born artist
He is not Banksy, despite speculation
Statues that he has created have sold for $27,500
His custom Birkin bags have asking prices of $75,000+
His mum has become a little bit famous for attending his events
1. Why does Alec Monopoly wear a mask?
The reason why Alec Monopoly used to cover his face was that he's done a lot of illegal graffiti on the streets of New York and he was worried about being arrested by the police. He no longer wears a mask after accidentally revealing himself in a video.
Alec Monopoly used to worry about the legal repercussions of his graffiti art, causing him to move from New York to Los Angeles – a city where street art is more accepted and the law is more lenient. But still, he kept his face covered in public.
In June 2019, Alec Monopoly accidentally revealed his face in front of cameras at DJ Khaled's son's second birthday party. Nothing much happened after that and so, in January 2020, Alec Monopoly decided to finally reveal his face to the world in a YouTube video.
Just two months after Alec Monopoly ditched his masks, the rest of the world began wearing them as the pandemic took hold. Talk about timing!
2. How much is an Alec Monopoly painting worth?
Alec Monopoly's most expensive painting, a 30- x 40-inch canvas with acrylic and spray paint, titled simply as 'Mr. Monopoly', sold at auction for $51,250 on July 8th 2020. A lot of his other paintings have sold for similar prices, and he takes on custom commissions for much higher prices with famous names.
Another painting of Alec's, entitled 'Gold Bull' sold for $50,000 on that same day and a few months later, Alec Monopoly sold a painting by the name of 'Wall Street Crucifix' for $45,000.
You can see photos of the high-priced artwork on the Heritage Auctions website.
3. How much is Alec Monopoly worth?
It's claimed that Alec Monopoly has a net worth of $15 million as of 2022. He has sold hundreds of paintings, many for five-figure sums. He's also worked with brands such as TAH Heuer, Forever 21 and Jacob & Co.
On Alec Monopoly's Youtube channel and Instagram account, the graffiti artist loves to pose with flash cars such as his Lamborghini and Ferrari F8 Spider. He boasts about buying a watch that costs 'as much as a house' and eating $500 truffles in Milan.
Even when much of the world was in lockdown, Alec Monopoly was bust traveling the globe, spending time in Dubai, Egypt, and Italy and posting the videos on his YouTube channel.
In September 2020, Alec Monopoly and his girlfriend made a video called "SNEAKING INTO FRANCE DURING COVID 19 TRAVEL BAN!!" when they took a private jet from the UK to France.
Read more: Alec Monopoly's Net Worth Explained
4. Did Alec Monopoly use a ghost artist?
For five years, between 2010 and 2015, Alec Monopoly used a ghost artist called Mike Mozart to come up with the designs for many of his pieces. The relationship ended in 2016 in a public fallout.
All was well until the two artists for the first five years, but unfortunately, they had a feud and parted ways in January 2016. After this, Mike Mozart, also known as MiMo, publicly claimed that he was the 'creative force behind Alec Monopoly' and that he 'wasn't paid for the first two years of their collaboration'. [Source]
Clearly, Mike Mozart is very upset over his dealings with Alec Monopoly. So much so, that for three years he ran an Instagram account called @realghostartist where he made claims about Alec Monopoly's art skills (or lack of them).
In these Instagram photos (example below), Mike Mozart alleged that Alec Monopoly could only draw the Monopoly Man well if he traced the image from a pre-drawn outline.
5. Who is Alec Monopoly dating?
Since 2018, Alec Monopoly has been dating Instagram influencer Alexa Dellanos. Alec's model girlfriend reportedly earns thousands of dollars by collaborating with brands and posting pictures on Instagram, where she has over 10 million followers.
Alexa loves to post photos of herself in skimpy bikinis as she travels the world with her boyfriend Alec. According to The Sun newspaper, Alexa credits her Instagram success to her $17,000 worth of cosmetic surgery that includes breast augmentation, lip fillers, and buttock enhancements.
However, she has since had much or her surgery 'reversed', with more surgery.
So if you were wondering, is Alec Monopoly single? As far as we know he is not – sorry if you were hopeful!
6. Does Alec Monopoly play Monopoly?
In an interview with Huffington Post, Alex Monopoly was asked if he used to play Monopoly as a child. He replied that he 'still plays it' and would always be the race car token.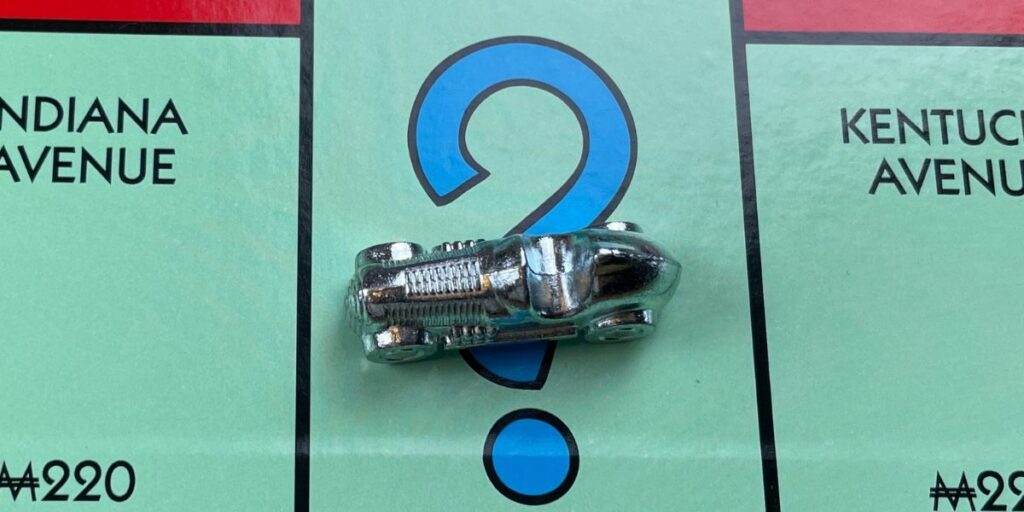 It was when Alec was playing Monopoly in 2007 that he realised that Rich Uncle Pennybags is similar to disgraced financier Bernie Madioff. That's when he started to use the Monopoly Man character as a symbol for Wall Street (source).
As well as drawing the Monopoly Man, Alec's artwork often includes other money-themed characters such as Scrooge McDuck and Richie Rich.
7. How much does an Alec Monopoly watch cost?
Alec Monopoly watches – designs created for the company Jacob & Co – cost $600,000 to buy. The watches feature small Monopoly characters and are made using various precious gemstones.
Got $600,000 to splash on a new watch? Think that Rollies are so last season?
Well, maybe Alec Monopoly's design for Jacob & Co. will be right up your avenue? This colourful piece of art has four arms and features tiny hand-painted Monopoly characters.
It's made from 18-karat rose gold with sapphires, crystals and a one-carat diamond that rotates once every minute.
A photo couldn't possibly do this 3D watch justice, so here's a video.
Now, what time is it?
8. What kind of art is Alec Monopoly?
Alec Monopoly primarily produces graffiti-style artwork that uses post-pop color. Many of his works reference popular culture, with Monopoly being his primary 'gimmick' although he does use other references in his work as well.
While Alec Monopoly started off creating street art, he has adapted his graffiti style in order to produce paintings for the public to purchase, along with other fashion items, often in collaboration with major brands.
9. How much is an Alec Monopoly print?
An Alec Monopoly print created by an independent store will typically retail for between $15 and $90 depending on the size of the piece. Larger canvases or recreation paintings can sell for up to $500 but they are not produced by Alec Monopoly himself.
Expect to pay a lot more for an original Alec Monopoly – but if you want one of his artworks in your home and you don't have thousands to spend, then a print is a better option.
10. Where is Alec Monopoly?
Alec Monopoly now lives in Los Angeles. His home is situated in Benedict Canyon, which is situated above Beverly Hills and does have a 90210 zip code, but it is within the Los Angeles boundary and around 15-minute drive into Beverly Hills itself.
Alec Monopoly moved to Los Angeles back in 2006 – previously he had lived in New York, but relocated due to the more relaxed laws around street art.
11. Is Alec Monopoly art a good investment?
Alec Monopoly art does hold its value, with paintings being sold for thousands of dollars on auction sites. Many pieces now have asking prices that are getting close to six-figures even if his most high-profile sales have been at around $50,000.
I can't tell you whether it is a good investment because that would be financial advice, and it's not something I can give without being a professional art or finance expert!
But art is generally seen as a reasonable investment by most people, although the artist could become a controversial figure and cause values to drop. If you do want to buy an Alec Monopoly painting as an investment, understand you do so at your own risk.
12. What nationality is Alec Monopoly?
Alec Monopoly is American. He is believed to have been born in 1986 and spent his first 20 years around the New York area, before he later relocated to the west coast of the country.
While Alec is a US native, he has traveled the world as part of his career, and his artworks have been produced and sold internationally.
13. Is Banksy Alec Monopoly?
Despite having similar styles, Banksy and Alec Monopoly are not the same person. Banksy is a British artist who tends to create more politically-charged street art. He is also more secretive than Alec Monopoly, with no public profile.
In terms of success, Banksy is a little ahead too, with an estimated net worth of around $50 million compared to the $15 million net worth of Alec.
You could also argue that Alec tends to treat his fame differently – he likes to flaunt his wealth more, unlike Banksy who keeps his head down and avoids the public eye.
14. How much is an Alec Monopoly statue?
The value of Alec Monopoly statues can vary and he tends to sell more paintings than sculptures, but according to Heritage Auctions, he has sold two Richie-Rich based statues for $27,500 each.
They aren't small installations either – one measures three feet tall while the other is almost five-feet tall. So don't think you can buy a small little statue for your desk – you're looking at both a hefty investment and needing a lot of space to show it off!
15. How much is an Alec Monopoly Birkin?
The Hermes Birkin bags that Alec Monopoly has painted are custom orders and so the price is not publicly known. The bags typically cost $15,000 to $25,000 uncustomized and sellers are asking for at least $75,000 to sell them on.
There are very few examples of people selling their Alec Monopoly Birkins because why would you? They're very cool and very rare.
But at the time of writing, there is one available for sale on eBay with a price of almost $84,000.
16. Who are Alec Monopoly's parents?
Alec Monopoly's father has not been mentioned in the public, but his mother Alexandra Andon has often been pictured attending Alec's parties and events. She is not particularly famous herself and keeps her social accounts private.
While we don't know too much about Alec Monopoly's parents, we do know a little more about his brother, Avery Andon. Avery is Alec's manager and also the founder of ArtLife.com, a website that sells artworks from major artists including – of course – Alec himself.
Final word
Despite Alec Monopoly's significant social media presence, a lot of it is bluster and boasting about his wealth – there are still some facts we don't know about him for sure.
But what we do know is that his artworks sell for a LOT of money, and Alec Monopoly art is some of the most valuable board-game based art in the world.
Don't forget to check my Alec Monopoly net worth guide too if you want to know more about the value of his catalog.
Related posts: