Alec Monopoly is a graffiti artist who's famed for using the Monopoly Man character in his artwork.
Originally from New York City, Alec Monopoly has accumulated vast wealth and has sold his Monopoly-themed paintings for many thousands of dollars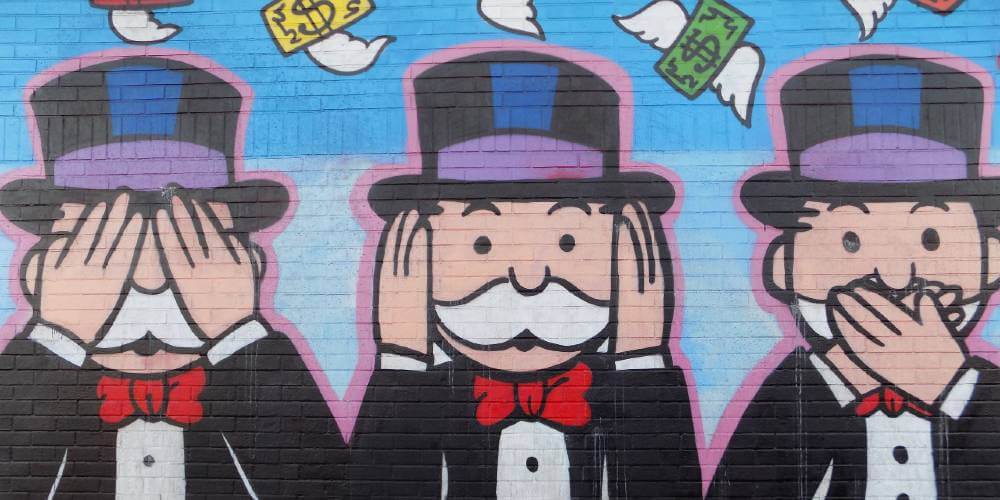 But who is Alec Monopoly and should you buy his art? Read on for six insane facts about the most famous graffiti artist since Banksy…
1. Alec Monopoly covered his face for years
Long before the rest of the world was wearing face coverings, Alec Monopoly was hiding his face behind medical masks, bandanas, or his own hand.
The reason why Alec Monopoly covered his face was that he's done a lot of illegal graffiti on the streets of New York and he was worried about being arrested by the police.
This worry caused Alec Monopoly to move from New York to Los Angeles – a city where street art is more accepted and the law is more lenient. But still, he kept his face covered in public.
In June 2019, Alec Monopoly accidentally revealed his face in front of cameras at DJ Khaled's son's second birthday party. Nothing much happened after that and so, in January 2020, Alec Monopoly decided to finally reveal his face to the world in a YouTube video.
Just two months after Alec Monopoly ditched his masks, the rest of the world began wearing them as the pandemic took hold. Talk about timing!
2. Alec Monopoly's paintings have sold for $50,000
Alec Monopoly's most expensive painting, a 30- x 40-inch canvas with acrylic and spray paint, titled simply as 'Mr. Monopoly', sold at auction for $51,250 on July 8th 2020.
Another painting, entitled 'Gold Bull' sold for $50,000 on that same day and a few months later, Alec Monopoly sold a painting by the name of 'Wall Street Crucifix' for $45,000.
You can see photos of the high-priced artwork on the Heritage Auctions website.
3. Alec Monopoly has a net worth of $15 million
It's claimed that Alec Monopoly has a net worth of £15 million as of 2022. He has sold hundreds of paintings, many for five-figure sums. He's also worked with brands such as TAH Heuer, Forever 21 and Jacob & Co.
On Alec Monopoly's Youtube channel and Instagram account, the graffiti artist loves to pose with flash cars such as his Lamborghini and Ferrari F8 Spider. He boasts about buying a watch that costs 'as much as a house' and eating $500 truffles in Milan.
Even while much of the world has been in lockdown, Alec Monopoly has been traveling the globe, spending time in Dubai, Egypt, and Italy and posting the videos on his YouTube channel.
In September 2020, Alec Monopoly and his girlfriend made a video called "SNEAKING INTO FRANCE DURING COVID 19 TRAVEL BAN!!" when they took a private jet from the UK to France.
4. Alec Monopoly hired a ghost artist by the name of Mike Mozart
For five years, between 2010 and 2015, Alec Monopoly used a ghost artist called Mike Mozart to come up with the designs for many of his pieces.
All was well until the two artists had a feud and parted ways in January 2016. After this, Mike Mozart, also known as MiMo, publicly claimed that he was the 'creative force behind Alec Monopoly' and that he 'wasn't paid for the first two years of their collaboration'. [Source]
Clearly, Mike Mozart is very upset over his dealings with Alec Monopoly. So much so, that for three years he ran an Instagram account called @realghostartist where he made claims about Alec Monopoly's art skills (or lack of them).
In these Instagram photos (example below), Mike Mozart alleged that Alec Monopoly could only draw the Monopoly Man well if he traced the image from a pre-drawn outline.
5. Alec Monopoly's girlfriend has over 7 million Instagram followers
Since 2018, Alec Monopoly has been dating Instagram influencer Alexa Dellanos. Alec's model girlfriend reportedly earns thousands of dollars by collaborating with brands and posting pictures on Instagram.
Alexa loves to post photos of herself in skimpy bikinis as she travels the world with her boyfriend Alec. According to The Sun newspaper, Alexa credits her Instagram success to her $17,000 worth of cosmetic surgery that includes breast augmentation, lip fillers, and buttock enhancements.
6. Alec Monopoly still loves to play Monopoly
In an interview with Huffington Post, Alex Monopoly was asked if he used to play Monopoly as a child. He replied that he 'still plays it' and would always be the race car token.
It was when Alec was playing Monopoly in 2007 that he realised that Rich Uncle Pennybags is similar to disgraced financier Bernie Madioff. That's when he started to use the Monopoly Man character as a symbol for Wall Street.
As well as drawing the Monopoly Man, Alec's artwork often includes other money-themed characters such as Scrooge McDuck and Richie Rich.
7. You can buy an Alec Monopoly watch for $600,000
Got $600,000 to splash on a new watch? Think that Rollies are so last season?
Well, maybe Alec Monopoly's design for Jacob & Co. will be right up your avenue? This colourful piece of art has four arms and features tiny hand-painted Monopoly characters.
It's made from 18-karat rose gold with sapphires, crystals and a one-carat diamond that rotates once every minute.
A photo couldn't possibly do this 3D watch justice, so here's a video.
Now, what time is it?
8. Alec Monopoly's dog has 10,000 followers on Instagram
In November 2019, Alec Monopoly bought a grey French Bulldog puppy and called him Truffle. The dog has over 100 photos on Instagram, with over 10,000 people following to see pictures.
It's not the cutest dog ever, it's got a lazy eye and it looks a bit scruffy. But, it's Alec Monopoly's dog, so it's famous.
Related posts: