The most common prizes in McDonalds Monopoly Canada 2023 were the food prizes, and while you're most likely to pull a voucher for some free fries, a free cheeseburger, or a free donut, there were also over 1.6 million "Free Sandwich" prizes up for grabs too.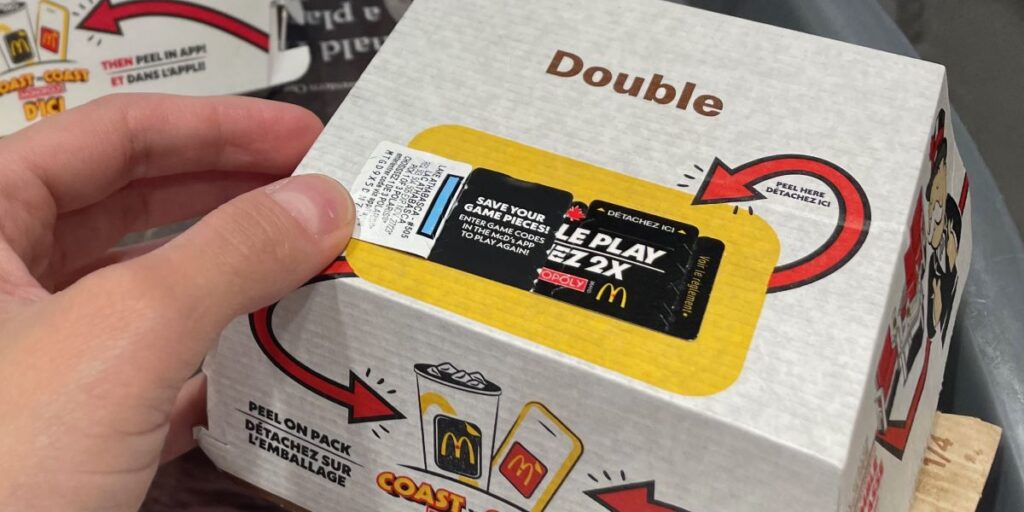 But what does that mean – what could you claim with your McDonalds Monopoly sandwich coupon? And how do you get your free sandwich?
Let's take a look.
What is Considered a Sandwich for Monopoly at McDonald's?
When you win a Free Sandwich in the Monopoly McDonalds Canada game, you can claim any of the following:
Big Mac
Quarter Pounder with Cheese
McChicken
Filet-O-Fish
Hamburger
Cheeseburger
Double Cheeseburger
McDouble
Junior Chicken
The value of these sandwiches varies, so depending on your choice, the prize is worth between $2.49 (Hamburger) and $6.99 (Big Mac, Quarter Pounder with Cheese).
Unfortunately, the McPlant is not included in the free sandwich offer – so if you're a vegetarian or vegan, you may need to give the prize to someone you know. If you're a pescetarian, you can at least enjoy the Filet-O-Fish.
It's also important to note that you only get the sandwich – you don't get a meal, and you can't upgrade it to a meal either. You can, of course, pay for your own fries and drink separately, and it'll be cheaper than buying the whole meal outright since the burger is free.
How Do You Redeem the Monopoly Sandwich Prize at McDonalds?
You can claim your McDonalds Monopoly sandwich prize in any McDonalds restaurant in Canada. You can either hand over the game piece in the restaurant or at the drive-thru, or you can register the code on the McDonalds app.
When claiming the prize in the restaurant, you can either do it at the counter, at the drive-thru, or at a self-service kiosk.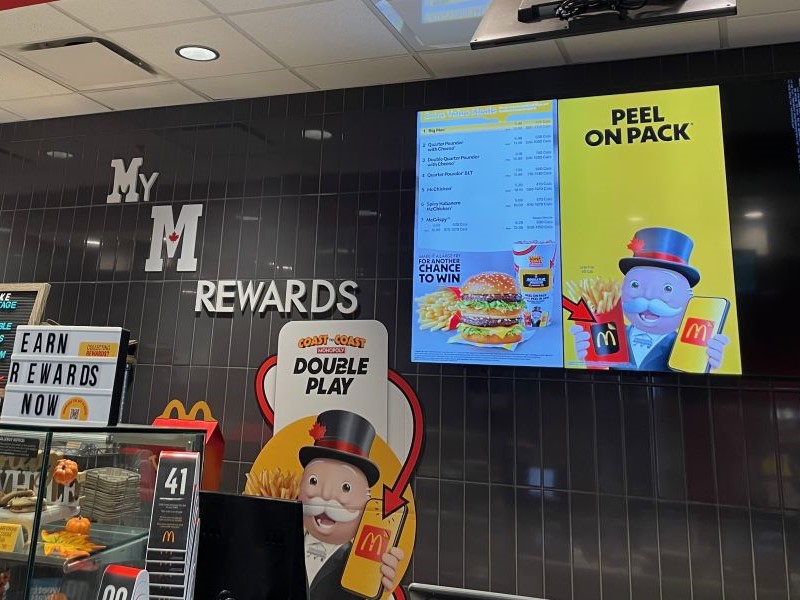 If you're ordering at the drive-thru, be sure to tell them that it's a free prize you're claiming when you place the order – don't wait for the payment window to claim it.
On a self-service kiosk, you can choose the 'Offers and Coupons' tab to place your order, but you will be directed to a counter to show your prize game piece and to pay.
For app prizes, you can still claim in the restaurant in the same ways as above, or you can apply your free prize to a McDelivery order, as long as you place it through the McDonalds app.
You also can only claim one food prize per person, per restaurant visit or McDelivery order – so bear that in mind if you get lucky and win a lot of prizes.
Final Word
Now you know what sandwiches you're able to claim at McDonalds, you can prepare to go and claim your free prize. Unless you're a vegetarian or vegan, but then you can at least hand it off to a friend or family member.
Don't forget that you can only claim one food prize per person at a time, so take along some friends if you have a number of prizes to claim at once.
The promotion may be over for 2023 already, but the prize will likely be the same in 2024, so you can look forward to winning some free sandwiches and, maybe, some bigger prizes too!
Related Posts: