Many people have old versions of Monopoly in their homes and, like anything that's a bit old, it's common to wonder if old Monopoly games are worth anything.
The short answer is that the game might be worth something but you're unlikely to get rich from it. It's perhaps surprising that most Monopoly sets are worth less than $200, even if they're old and in good condition.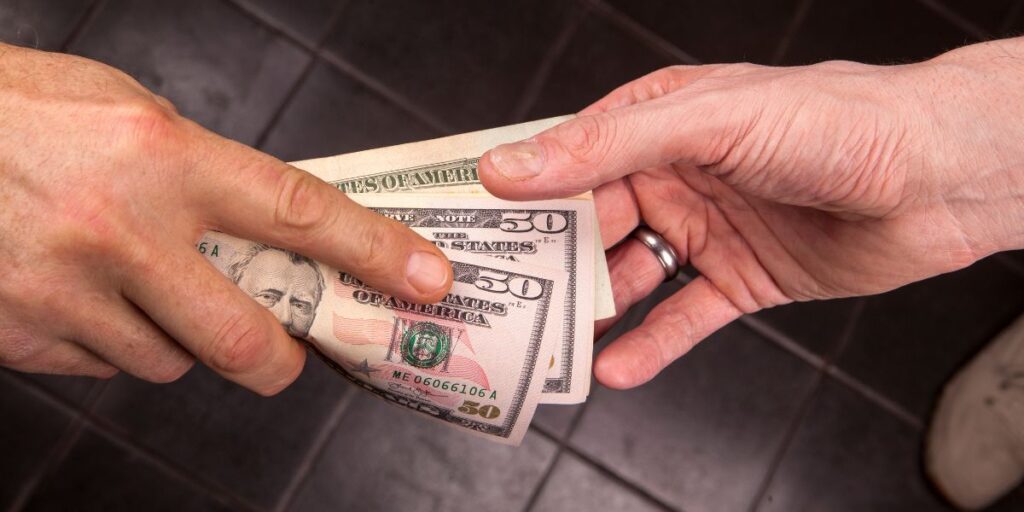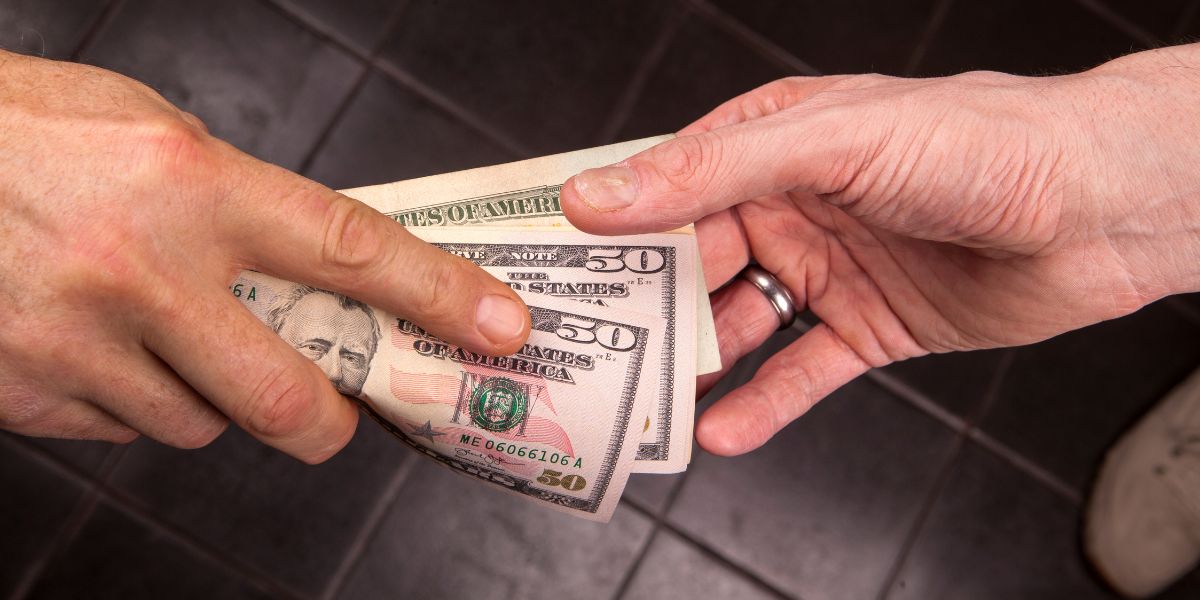 The true value of a game will depend on exactly how old and rare it is, and its condition. There are one or two very valuable editions so keep reading to find out more about whether your version of Monopoly might be worth selling.
Vintage Monopoly game value – the most valuable sets:
Original Monopoly (Charles Darrow hand-made)
1991 Last Edition
White Box and Black Box Editions
Gay Monopoly
1935 Trade Mark Edition
1935 Patent Pending Edition
1935 US Patent Office Edition
Fine Edition
50th Anniversary Monopoly
South Park Monopoly (2012)
Pokemon Monopoly
What Is An Original Monopoly Game Worth Today?
The earliest editions of Monopoly were hand drawn by Charles Darrow in 1933. There weren't that many made and only a few have survived to this day so they're very valuable. The highest price ever paid for a Monopoly set was $146,500 in 2010.
This particular Monopoly set is worth so much because it's the earliest known Darrow set to survive, it's the only one of circular shape and it's the oldest set that includes the rules. (Source)
Given that this was some time ago, I think that it's reasonable to assume that if you have an original Monopoly game at home that it would be worth even more than this!
To be honest, you would be very lucky to have one of these editions in your possession but there are some other versions of Monopoly that are quite valuable.
The age of a Monopoly set is an important factor that can increase its value but rarity is the most important thing. Monopoly was so instantly popular in 1935 that thousands upon thousands of copies were released in just a few years and many of these are still around so they're not as valuable as you might expect.
In contrast, some relatively new games like the 2012 South Park edition, certain editions of Pokemon Monopoly, and the unofficial but very rare Gay Monopoly sets are more valuable than you might expect.
The Most Valuable Monopoly Games
Now, let's take a look at some of the most valuable Monopoly sets of all time, so you can be inspired by how much your old game might be worth…
Original Monopoly – Hand-Made by Charles Darrow
Charles Darrow's handmade Monopoly set (1933) pic.twitter.com/BDwNvWECAE

— Scott Kerr (@scott_kerr) December 15, 2018
This is the oldest and most valuable version of Monopoly. It was hand-made by Charles Darrow who is credited as the inventor of Monopoly (although he took a lot of inspiration from The Landlord's Game).
Charles Darrow decided to make the game himself after Parker Brother initially declined the opportunity to make the game.
You might think he could only hand produce a few dozen boards, but he made 5,000 copies of the game with help from his family. Unlike the most famous version of the game, the game board is circular and drawn on oil cloth rather than cardboard.
The highest price that an original Monopoly game has sold for was $146,500. The Strong National Museum of Play in Rochester, New York bought it for their collection in 2010.
The 1991 Last Edition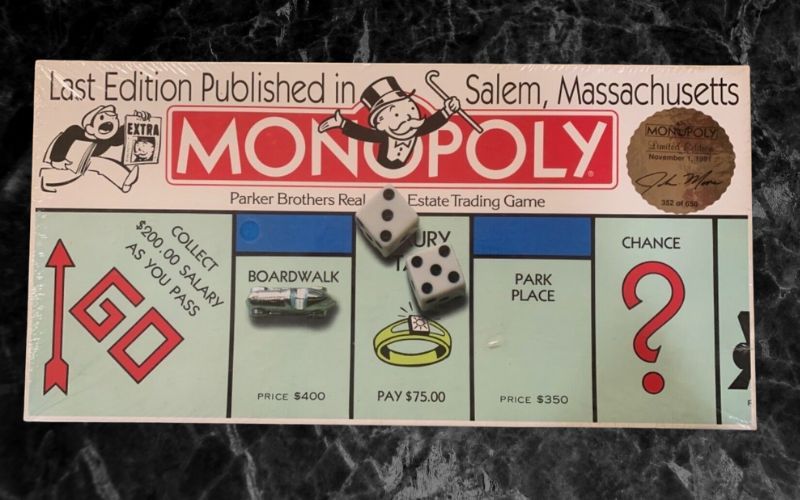 Hasbro bought the rights to Monopoly in 1991 and swiftly took the decision to close the manufacturing plant in Salem, Massachusetts where most of the early games had been produced.
To commemorate the end of an era, 650 copies of the Last Edition were published in Salem and one was given to each of the employees at the factory.
This makes it one of the rarest, if not the rarest, version of Monopoly in existence. Most of the copies remain with their original owners, but a few have found their way into the private collections of board game enthusiasts.
Last Editions are rarely sold so it's hard to gauge how valuable they are. A copy was sold on eBay in 2008 for $2100 and it's easy to see how a copy sold today could fetch a far higher price.
White Box and Black Box Editions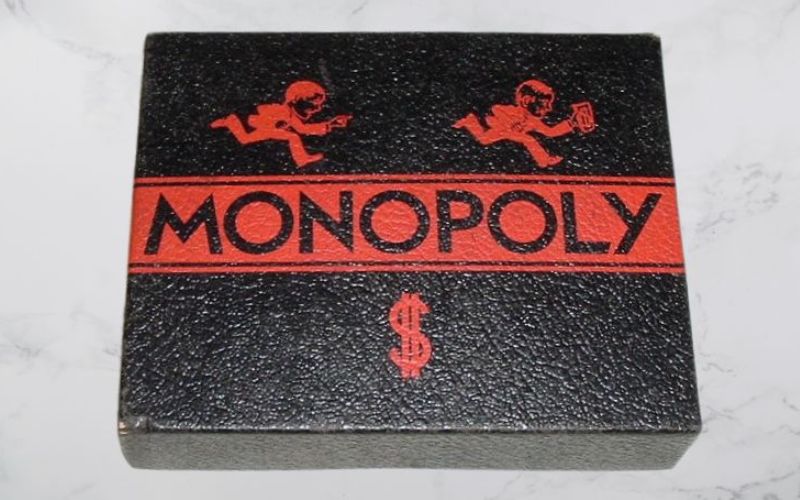 These editions were produced in 1934 and pre-date the Parker Brothers era. They're extremely rare and the ones that are known about are already in the hands of avid collectors. There were 1000 white box Monopoly games released and 7500 copies of the black box edition were made (though many of these weren't released).
As they're rare and old versions of Monopoly, the Black Box and White Box editions are among the most valuable Monopoly sets. They're so hard to find that there haven't been any recent sales to estimate a price from but it's likely to be several thousand.
Gay Monopoly
This is an unofficial version of Monopoly that was briefly on sale in the 1980s before production was halted due to copyright infringement. It was released by 'Parker Sisters' and featured a circular journey around properties representing famous gay landmarks like Castro Street, Provincetown, and Oscar Wilde's Waterworks.
Not many copies of the game were made and few survive to this day. Complete copies are worth around $800.
1935 Trade Mark Edition
When Parker Brothers first obtained the rights to Monopoly in 1935 they put their name and a Trade Mark label on the box. This first run limited edition of around 25,000 copies is an important part of any serious Monopoly collection. Despite this, it's not hugely valuable – the 1935 Monopoly game value is typically between $350 and $1,000.
1935 Patent Pending Edition
In 1935, Parker Brothers began putting a Patent Pending label on the boxes before the game was registered at the U.S. Patent Office. This replaced the Trade Mark label that they had been using previously. There was a limited run of this edition but there were still tens of thousands produced so they're not super rare.
A copy of this edition is worth between $300 to $900 depending on the condition.
1935 US Patent Office Edition
Once again Parker Brother switched their label. Once the patent had been registered (still in 1935) they started to use a label that said Registered In U.S. Patent Office. This is the most common of the early editions and as so many were produced the value is only around $40 for a well-used set.
Even one in mint condition is only worth around $70, which seems very little for something that has been cherished and cared for nearly a century.
Fine Edition
In 1946 a Fine Edition of Monopoly was released to the public. It was produced in either a white or brown box with colorful cash and metal tokens.
This set is highly sought after by collectors but the value is still on the low side between $50 and $100 depending on whether it's the white or brown box and the enthusiasm of the buyers.
50th Anniversary Monopoly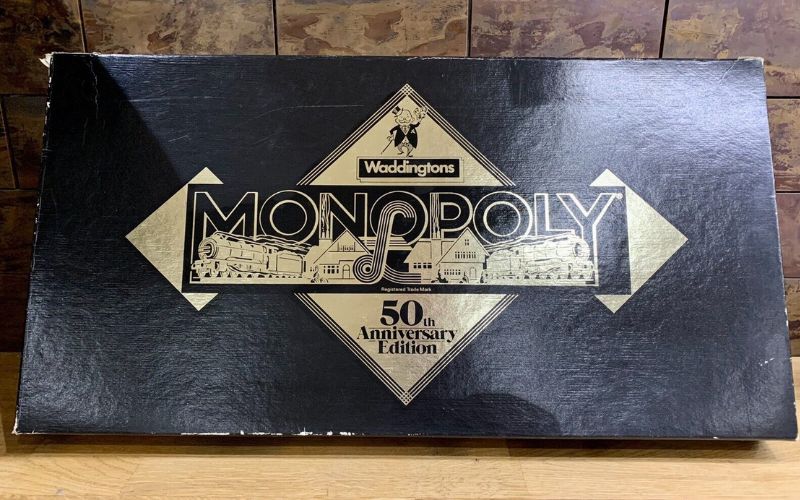 In 1985 Waddingtons produced a limited number of 50th Anniversary editions to celebrate the year that Parker Brothers originally bought the patent. This version has a black box with a diamond label and the inside has the familiar board with a black border.
It wasn't a particularly limited run of the game and there are plenty of copies around, but if you have an unopened mint condition copy it should be worth a little over $50.
South Park Monopoly (2012)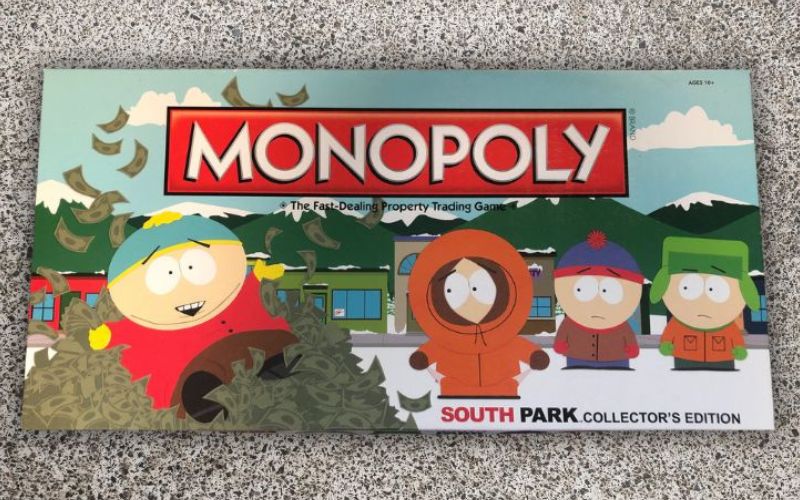 It's not all about the age of a Monopoly set. This relatively recent 2012 South Park version of Monopoly had a limited print run and can fetch around $200 for a used set or $300 for an unopened version.
If you just want to play South Park Monopoly you can pick up a very similar reprinted edition far cheaper.
Pokemon Monopoly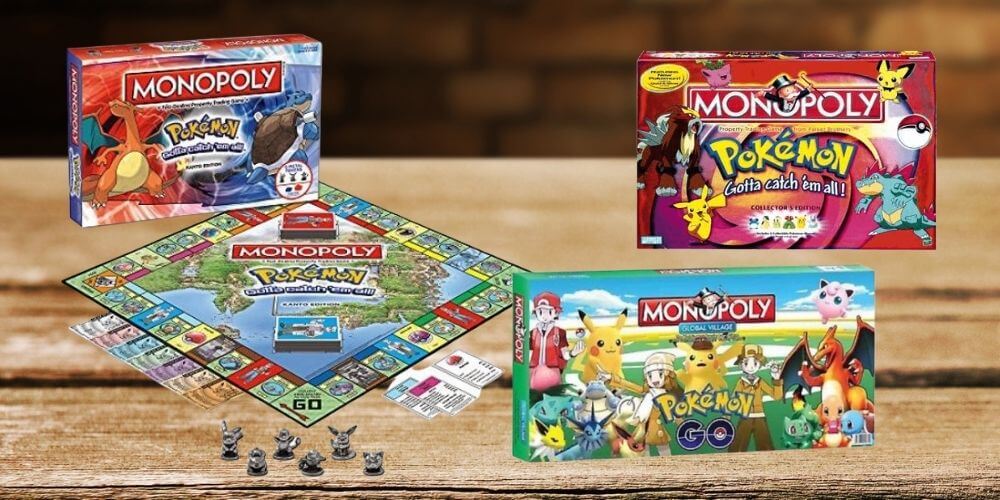 There are a few different Pokemon editions of Monopoly and some aren't worth much. But if you have the Gold & Silver Collector's Edition it could be worth around $200 if it's in great condition (and about $250 if you have never even opened it)
The Most Valuable Monopoly Pieces
Sometimes, Monopoly playing tokens can be valuable on their own. As with the full sets, the sheer popularity of Monopoly and the huge numbers of sets that have been sold means that values are not as sky high as you might hope.
The most valuable pieces by far are the ones that were made during the 1940s using compressed paper and sawdust. During the war years, manufacturers were not able to use metal to create the playing tokens so they had to look for alternatives.
Many sets came with simple wooden tokens in a skittle shape, but some sets were supplied with shaped tokens made from compressed paper and sawdust.
These were very fragile and as a result, not many have survived in good condition. The limited original run plus their fragility has given them rarity value. A set of these wood pulp composite pieces should fetch upwards of $150
Which Monopoly pieces are worth money?
Here are some of the most valuable sets of Monopoly pieces. Price estimates are based upon a full set in good condition:
Wood Pulp composite pieces from the 1940s ~ $150
1930s pewter tokens ~ $50
Super Mario tokens ~ $25
Pokemon tokens (1999) ~ $25
Final Thoughts
So there you have it. Some versions of Monopoly are quite valuable, but on the whole, I would say lots of them are worth less than you might have expected.
Unless you have one of the very rare original versions of Monopoly there is no life-changing money to be made from old Monopoly sets. But, there are a few sets that could pay for a nice vacation if you're lucky enough to own one and decide to sell it.
If you're not too sure what version you have, take a look at my post – How Old is My Monopoly Game?
Related Posts: